10 février 2012
5
10
/

02
/

février
/

2012
13:25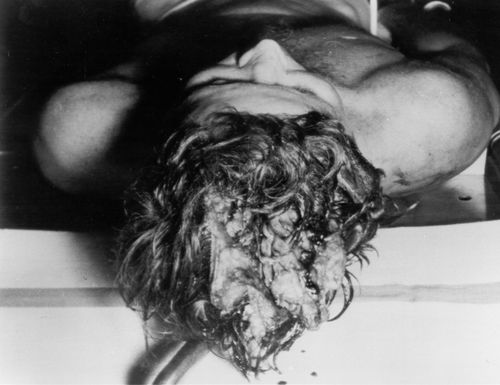 The fetus took shape when the umbilical organ was severed the day of
medical surgery as NECRONY splatter urine liquid with a gore death metal
eviscerate the cadaveric bowel.Unspeakable suffering germinate an infection
in my strong inside when for the first time a fever ramp up listening to the
' Severe Malignant pustule ' demo, that was not sweet room music reserved
for whiners...Therefore,it would be undeniable to say,they were not influenced
by the inconsumable CARCASS transmetting a ideolatry.It is of utmost
importance they had not followed the swedish trend,intended to be respected.
Embrionic death embrace Anders.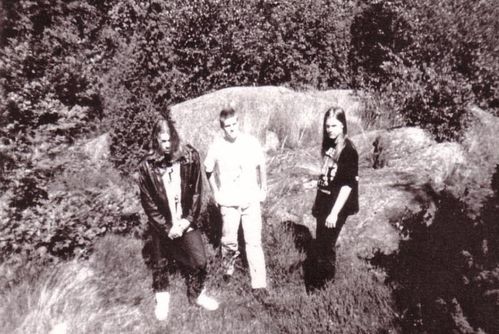 01 - Hello Anders!What is history of NECRONY please?

We were three guys,fans of CARCASS,then during summer 1990 we
started the band under name NECRONY.Then we replaced by
NECROGENIC and finally by NECRONY.In decembre we made our
first track ' Masticator Of A Swollen Carcass ' and in february
1991 we had six tracks so we got a contract for a 7' on Poserslaughter
Records on Germany,that we recorded in june and entitled ' Mucu-
Purulent Miscariage '.He was released in december 1991 and beginning
1992,we changed of guitarist,the current line-up is : me, Anders
Jakobson - bass and vocals,Rochard Alriksson - Drums and vocals
and Jimmy Lundmark - Guitar
02 - In retrospect,are you satisfied of your killer demo? What was the
reactions for it?

I think it is good but we are another band now.We have increased in all
possible directions.The reactions were great,better that what could hope
for
03 - So how happened the recording of your 7'ep then?

It was great!we rehearsed intensively before recording,it's why there
wasn't any big problems
04 - What are your lyrics about for people who do not know you yet?

Essentially descriptions about the putrefaction of the human body,
insane pathology,morbid,sickness and devouring.


05 - Have you some particular influences?What are your favourites
bands?

Mostly English bands like CARCASS,BOLT THROWER,CATHEDRAL,
PARADISE LOST and NAPALM DEATH(not the ' Harmony Corruption '
album!)but also of course some bands like GRAVE,CADAVER,CANNIBAL
CORPSE,ASSUCK,CARNAGE ect...In our favourite bands,there's of course
much to Death/Grind but also another kind of bands like MESSUGAH,
DEAD KENNEDYS,MY BLOODY VALENTINE,FIELDS OF THE NEPHILIM,
SKIDROW,DINOSAUR Jr,RUSH,METALLICA ect.....
06 - What do you think of the last CARCASS album?

A masterpiece from metal.I love it and all they have done it before.
Few people think that it's a commercial album for of CARCASS but I
love it!!!As long as they have their own style, I worship them.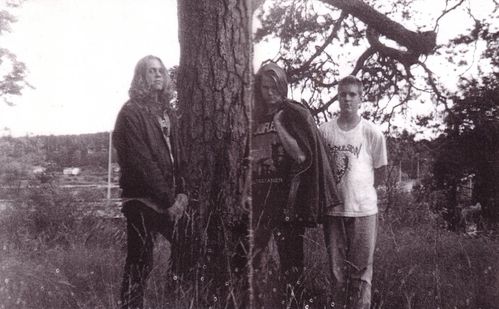 07 - What is your general view on the Swedish underground scene?

Some good bands,some less good bands?Too much ' Sunlight-bands '.

08 – have you done some concerts?

No!Maybe in future.


09 - What do you do beside music?

Meet friends and fuck my girfriend in the ass ,make a zine,listen to
music,watch TV and movies ect...

10 - Now a funny question!Do you think you'll still listen to Death Metal
when you'll be 60 years old? haha


I hope so!I will gather all my good children and play then some
CARCASS tracks and tell them ' This is what grown listen to 10 years
ago ' and they will have it and listen to their tecno-rave-techno stuff!


11 - Otherwise,do you have good relations with other bands?

Yes,most death metal swedish bands are in contact with each other.
Some I know are EDGE OF SANITY,SUFFER,ALTAR,GOD MACABRE,
ENTOMBED,TRAUMATIC ect....

12 - What do you know about France?

Many,The Effel tower,Elysée fields,The Louvre.We eat snails!We drink a
lot!!!Your language is quite interesting(I studied it during three years).
We have a pretty good football team.Controls from postoffice,very strict!!!
And other thingslike The Revolution(Fredom,Equality,Fraternity),tricolor
flag ect....


13 - What are your plans in future?

Working on next track to released a album or a split-LP with DEAD
(Germany).Maybe a concert,writting letters,sell our stuff.

14 - Last comment to end this interview?

Thanx for this interview,buy our demo for 5$,Tee-shirt for 11$.Our 7'
is available for 8 DM(Germany),6$(Europe),7$(World) from this adress :
Poserslaughter,P.O Box 41,d-10205 Berlin,Germany.The other stuff can
be ordered from me.A hello to PUTRID OFFAL for being cool.Also a BIG
hello to the french ice hockey team who did a great fight against U.S.A in
the olympic games!STAY SICK!


Interview : Kanz-Noz