23 octobre 2005
7
23
/

10
/

octobre
/

2005
22:00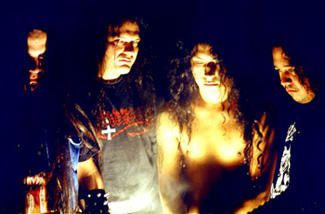 So, with respect and honestly that my blood brother Nathaniel (of cult'Mutilating Process deserves, I have obtained without asking his interview which to publish in his next issue. Hopefully solidarity still exists nowadays in the underground. The frontman Daniel Corchado, who in the past was playing in the great Cenotaph and Incantation, formed with conviction THE CHASM. Really the rising force of death/heavy metal with lots of intense compositions worthy of virtuosos.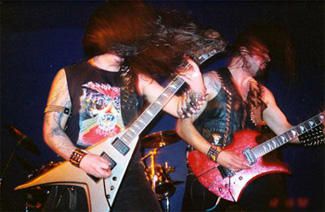 01 - Hailz Daniel!Let me tell youit is honour to feature THE CHASM in these pages,as it is really one of the new actual bands that pushes the boundaries of the real essence of Death Metal.sO,how's life going for you at the momentin Chicago?Some drinking parties with the guys from CIANIDE and SCEPTER recently?

Hail Nathaniel, the honor is ours, and is definitely killer to be part of the new issue of Mutilating process… At the moment things are fuckin' busy and chaotic here, no time for parties at all, we are fully concentrated in the details of the new hymn of death; the time is getting closer for the cult of death to strike the recording studio again.

02 - Finally it seems that the future looks brighter for The chasm, as you recently signed a contact with the British old label Earache! Shall you have more opportunities to go on tour with your band from now? Do you think a European tour would be thinkable? How does it feel to be on the same label than Morbid angel, Deicide and Usurper now?

Yes, finally after a lot of recent disappointments and a long history of struggle things have a better look now. We are proud to be part of such legendary label, even if some of their bands are not what we are into, we must face the fact that they were pioneers and released some of the most memorable albums in under gro und history, they have been doing this for a long time and their professionalism is something that we think is going to be very positive for the band, yes, I really think and hope that this year will be able to go and play in parts we have never been, and that obviously includes Europe, but a lot of things can happen, so we can't say much, we have to wait and see how things turn out.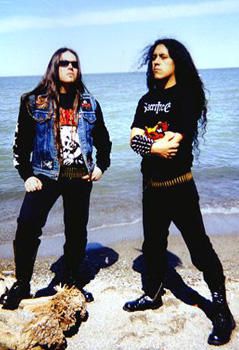 03 - With that apparently stable situation now. Do you think that it's the opportunity to see finally the release of The Chasm's back catalogue? It's already not always easy to get your last three recordings. Or maybe you prefer to keep the situation as it is and consider that only the die hards deserve to have your old albums and demos

Well, yes, in one way I think that our past albums should stay there, in the past, and those who were fortunate enough to get'em in the time are really hardcore followers, on the other hand I understand that there are lots of new believers in our crusade, that discovered the band recently, a few years ago, and now they are addicted to the cult, they want to hear the beginning of this journey, and I really think about them, is a sword of 2 edges, a difficult decision, but we are taking our time and making some right one, it seems that one way or another our past catalogue will be available again, but is definitely gonna be very very limited, and there's a very good chance that it also become available on kult vinyl, only for the die hards, it's gonna take time, but it seems that is going to become real…

04 - A pity for you that your bass player Alfonso Polo had to leave the band. Are you still in good contact with him? Do you think he could come back into the ranks of The chasm after a while? How did you come up with Darkness Eternal's George Velaestis to fulfill the bass duties during your last live apparition? Did it take a long time for him to learn the songs? Do you intend to work with him regularly in the future?

Yes, Polo left the band at his own will and decision, there's no regrets, we are still good pals, but I don't think he'll ever come back to The Chasm camp…George shared the stage with us last september at the Aztec UG legions shows, and I got to say that he did an unbelievable job, he learned the whole set by himself, note by note, and we were blown away by how good he did the song, it was great to have him on bass for those dates, he's been a hardcore believer for some time now, and the shows were very memorable, who knows, this experience may be repeated in the future, you never know…
05 - After all the shit that happened with the german label Witches brew about the release of 'Conjuration of the spectral empire' album, what is the situation like, right now? Does Witches brew still keep on distributing your album in Europe? Apart from all the bad story between you and Hartmut and Cheryl(the Witches brew recs leaders), what do you think about the other bands signed on this label? Do you know Joel from Toxic holocaust personally?

Well, yes of shit happened, and it seems that both sides have different stories, the bottom line for me is that cots one way or another became a triumph for us and our believers, it doesn't matter which version people owns, the music is out there, if they are still distributing it good for us, even if they sell it cheaper is great for us, the music is reaching new people…but for me that is just part of the past, i really don't care if they are still mad at us or whatever, our life keeps going on, and we are looping to the future, the new album and future attacks, everybody commits mistakes, it's human nature, and we learn from. This fuckin' error, is part of the learning experience in life…I have to say that I'm not really familiar with all the other bands signed by them, I really like Meggido & Countess. I just ordered the new Split 7'' by Hatework/Vexed on dream evil rec. So that is going to be my first experience with those bands.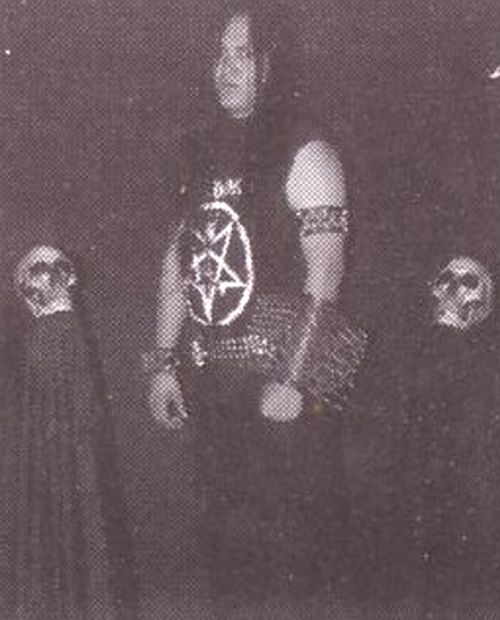 06 - What is really obvious with The chasm, is that one can feel immediately while listening to your music that are a bunch of totally dedicated metalheads. How comes that after all these years, and all the problems you experienced(like the lack of respect and recognition) you are still this death metal cult? So many metal fans tend to part ways with the scene after they reach their 15 or 30 years…Can you understand them?

I don't know, but I agree, some people give up after years of struggling on something they do, and well, is their won decision, it's hard to explain, for me, us it's just a life style, a way of life, something that we have inside ourselves, and it's real, is not fuckin' fake, we have been into this for so long that to quit will be like changing to a different person, to betray our own will and ideology, it has been a long fuckin'road, a hard one, with good and bad experiences, but in the end all that matters for us is the music we create, and the passion we feel for this music, yes, it about dedication, but is also about doing what we believe in, and respecting our ways, our essence, our persona and soul, we have never intended to be rich or famous doing this, bottom like and praise, and we are also trying to prevail and keep the tradition of the underground flame and spirit alive and well, we do our part at our best…
07 - How do you see the whole 'death metal' wave that mixes hardcore and grindcore elements into its compositions? Do you need criteria's to devise someone or a band as death metal? Do you think that death metal must have limitations to a certain extent?

Well, yes, I think death metal has to have certain rules and feeling, probably not limitations, is a very hard task, I really think the bottom line for death metal is that it has to have a dark aura and feel, it has to be extreme and heavy, and I'm not talking about 'extremely fast' or brutal, but extreme in the sense of talking extreme measures for the band in question, try new things, but always respecting the golden rules of heavy metal, with a lot of passion in every note, this is definitely my vision, probably some won't agree, but fuckin' it, this is the way I see and feel death metal, and most important, it has to be very authentic and real; no fuckin' gimmicks or 'wanna be' attitudes..
08 - This is a question I ask quite often to bands and editors, but I'd like to know what metalheads should do to keep their beloved music still fresh and interesting for the years to come, and not only tend to become like archaeologists of the'good old times'?

Is simple, as long as you feel and live with passion, whatever you do, keep doing it, because if you really know what you want, you'll push yourself to the limits, and at the same time will know when is time to quit, I believe a lot of people just keep doing the same thing again and again because they still want to be a part of something that they don't really feel or understand anymore, that's why there's a lot of crap out there these days, but as usual strong will survive, within the strong and real movement…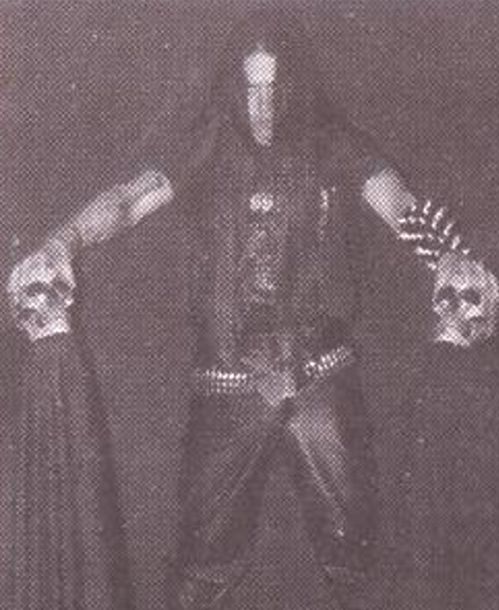 09 - How comes that you manage to always keep this dramatic and melodic touch into your compositions without threading the path of the cheesy so called 'dark or black' metal band addicted to keyboards?

Because we have the roots of melodic heavy metal in our veins, and at the same time I have this fucked up inner vision and morbid curse of creating non-happy, idiotic melodic gay shit, we are about obscurity and funeral ways, we are about the tragedy of being a human form in this rotten world, we are about reaching the veil of death, and we transform this concept in music, through our riffage and chants of death metal…
10 - What is heavy metal all about according to you, as I know you're a huge death metal fan? How was the gig with Julio viterbo in the ranks of the almighty japanese heavy metal maniacs Metalucifer? Shall he takes part of the future recordings of Metalucifer? If you would play in a heavy metal band, which one would it be?

Yes, those Metalucifer gigs were great indeed, Julio did a fuckin' superb job, that motherfucker.. no, he won't be a part of any in the future,he was just a part of the US Metalucifer line-up,if they ever come Metalucifer recording back, maybe he'll do it again..heavy metal passion, structure, feeling, heaviness, ideology and honor, heavy metal for me is the path I choose to live my life, and I adore and praise the real ways of this monumental and strong musical entity, and this includes whatever called: death/thrash /black/speed, it doesn't matter, in the end is metal and if it's done with class and honestly I support and enjoy it.
11 - What do you think of the last albums of Morbid angel, Luciferion, Immolation, Incantation, Funerus and Throneum.

I'm not familiar with some of the mentioned albums, I only can say that Immolation's unholy cult is a devasting piece of darkened twisted metal, a great example of how this music should be played, amazing.. Heretic just disappointed me, I think the whole Morbid angel vibe was gone long time ago…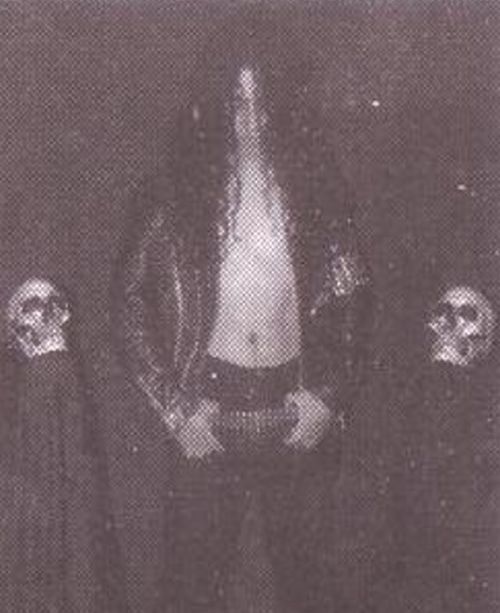 12 - It's obvious that you're a huge fan of Dissection. Have you ever been in touch with Jon nodtveit? Do you agree with his investment into the MLO (Misanthropic Luciferian order), and with what he says about metal and satanism in the interview of Slayer mag #18?

Well, time to put something car, I'm a Dissection fan, but not huge, like everybody thinks, sometimes is annoying to be compared to them, they are great band, but they are very different form us, I agree, some aura/atmospheres are similar but...anyway, even if I have never been in touch with Jon I totally respect him, he seems to be a very dedicated, passionate musician, and a serious satanist, and it's good to see that he's stance at jail became somehow positive for him, he's thirst for revenge and create more memorable music are stronger than ever, I support him 100%..fuck any betrayer and non believers of the saga of heavy metal of death that we both believe in..
13 - How is it going now with the new songs you are composing for your next album? Can we prepare for something more aggressive or more depressive?

The new album hymns of death have been completed, 10 new songs of total death with The Chasm style written all over, believer can expect a mix of more aggression, but also more heaviness and obscurity, I don't know about depressive, it seems that this time the new attack won't be so sorrowful…

14 - What is the feeling you have while listening to Order from chaos, Asphyx, Embalmed souls, Headhunter DC, Disembowelment (oz), Pentacle? Do you feel you belong to the same 'family '?

Kinda, I mean, I totally respect these bands, as they used to or are still carrying the spirit, and some of these acts don't exist anymore, a shame, damn it, the scene was so much more intense back in the day..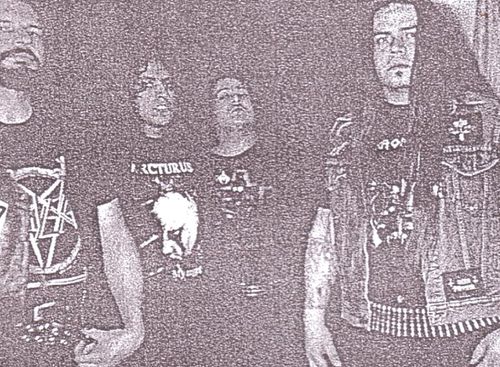 15 - Tell us about the two bands with which you played recently in the ? Have you still a strong link with the mexican and south american bands? Have you already met King Wolle from Desecration of Virgin mag and Karnage from Eternal fire mag, who both spent some months in South america in order to meet the metalheads from there? what do you think about their zines?

The last show we played in september 2003 was with Infinitum obscure, Ancient gods and Obeissance, and I gotta say it was one of the most fulfilling experiences in our life, to share the stage with these killer acts, we have been friends for a long time, and it was really great to be all together for the first time, hopefully this attack will be repeated in the future. I don't think we have a very strong connection with the bands in Mexico/south this days due to several reasons, but I'm very proud of my heritage and race, just because we live in the it doesn't mean that we are changing our ways. I haven't met King of Karnage personally, yet, but both are very good pals and supporters of our crusade, we hail them!

16 - You're responsible for the artwork and lay out of your last albums and also for zines like Agonia from . From where do you take your inspiration to create such a graphic art? What are your fave artists or illustrators?

Inspiration comes only from my darkened soul and mind, I always have visions of places and landscapes of a parallel reality to the one we live in the past tragedies and chaos, as well as victories and triumphs of ancestral times are of a very strong influence in myself. I just create artwork that reflects the inner visions. Some artists that I respect are Giger,Boris Vallejo, Michael whelan, El bosco, Alfaro siqueirios dali and some more..

17 - Ok, please tell us your death metal, and if this style of music and way of life were beer, which one would it be according to you?

Death metal should be the representation of the belief that one has for the end of existence, it should be music created from heart and soul, honest and true to one's beliefs, it has to be obscure and non-conformist, and it definitely has to have edge and power, strong will and pure respect and honor. There are simply no beers or anything that could be compared to the essence of the music.
18 - Would you like to ask me a question?

Sure. can you take The chasm to tour ??

Well, I am not really into organizing gigs, but if your prices are low enough, be sure I will try to make you play over here!(Nathaniel)
19 - Alright Daniel, I wish my questions didn't make you fall asleep, and I wish you a brilliant future and deserved recognition, at least! Hail death!

Hail to you Nathaniel, your time and support towards us is respected and appreciated, behold the upcoming attack this summer, keep this Mutilating process alive and kicking…death to the false ones…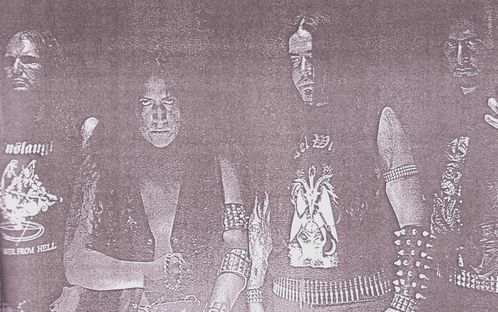 Interview : Nathaniel (Mutilating Process zine).Thanks So Much !!!