17 février 2012
5
17
/

02
/

février
/

2012
16:13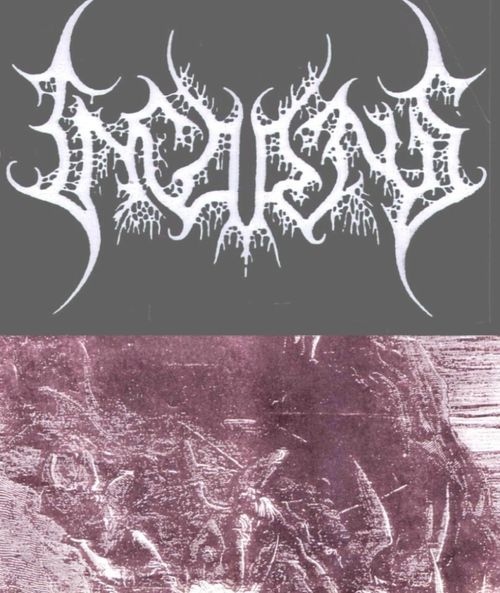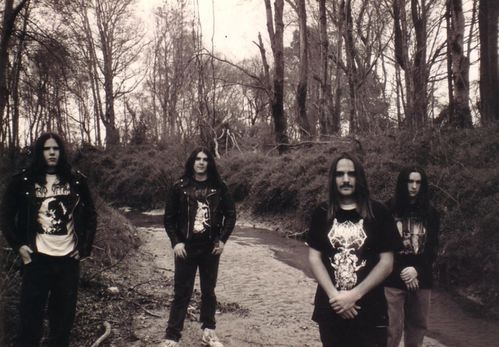 Virginia Death Metalers INCARNIS was a mainstay of the underground
American scene having never passed the demo stage much like
Many other formations years ago.Well I never knew why they split
because I was just in contact with Ryan at the time of the ' Castigation'
demo and I remember he was also editor of a fanzine called Korgull
zine.What is certain is that he had interviewed many cult bands
such as DISSECTION,MARDUK,ANATHEMA,DISEMBOWELMENT and
so on. Somewhere, I wasn't too astonished to see his absolute adoration
for extreme bands from back then and probably not supported that fauna
of crap bands which proved for several of them to be only trends followers,
while eating in all dishes and some despite denying in the beginning, they
finally showed immutably they were total faggots.Anyway Ryan wasn't an
utopian person because the sodid efforts made on the ' Castigation ' demo
demonstrate corrosive quality Death Metal without any compromise holding
my attention as well.Due to the nature and I say it openly, I admired his
anti-commercial side which was very virulent about some records in the way
of seeing things.It is most feared nowadays that the scene is rotten from the
inside since some spoiled children opened a label in order to repress several
shitty records and wanting us to believe they were in motion at this time.This is
a travesty. Inclined to engage to prostitution, the prices of their Fag stuff may
be comparable to their jude nose. Moreover,I note the same attitude from
some sellers parasite registered on various sites selling some old jewels at
prices sometime bordering on heart-attack.This kind of fanatism is
fundamentally rotted in degeneration of a nomadic people who
educate these prey well. Ultimately I invite you to enter the arena
with the fawn Ryan, that will remain my best contact in a darker past.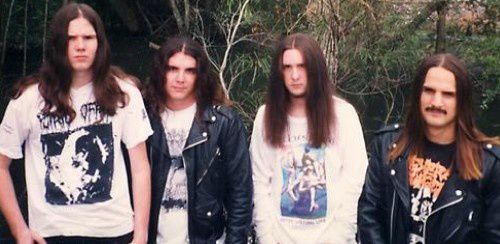 01 - Can you give me a short story of the band in two lines as well as
your influences?

Well...I'll cry to give you a very short history !!! INCARNIS was formed in
late '90,under a different line-up than present.We recorded our
first show on May 22nd '97,and used three songs as our first demo.Under
the present line-up,we have just recorded our second demo called
' Castegation';which is four songs of dark and undevout death!!!The current
line-up is Jason Oliphant - Bass/Vox,Brian Malbone - Drums/Vox,George
Collins - Guitar,and myself,Ryan Muldoon - Guitar.As far as influences,I think
that any band that we listen to and enjoy is an influence to somme degree,but
some of major influences would be MARDUK,AUTOPSY,TREBLINKA/TIAMAT,
GOREAPHOBIA,SAMAEL,IMPALED NAZARENE,CREMATORY,CENEOTAPH,
DOOMSTONE,ACHERON,FATAL,REPULSION,and of course BATHORY and
VENOM.



02 - Why did you choose INCARNIS as name?

The name just seemed to come up at the right time.It means ' Embedied In
Flesh',so it can be used in a few different ways,depending on what you are
thinking of.Hey,no one else had the name,so why not??PAN-THY-MONIUM
are the Loooooords!!!!

03 - What do you think of your demo?
Those three tracks were taken directly from the soundboard tape from our
first show,and the sound is pretty good.I'd rather talk aboutour new demo
' Castegation '.This demo is a much accurate representation of the bands
sound!!!Tons darker,more intense..don't you think so,Ronan?! (It is quite good
Ryan,better than the first one in my opinion!)

04 - What are your fave bands in your country that you venerate the more?

My favourite bands from the U.S is definitly DECEASED,they are been been
favourites of mine for years now.I suppose that it's hard to explain why,but
I think it's because they are really the ultra-ripping-horror-Gods!!! I think that
the ' Nuclear Exorcist' demo was the most morbid and strange demo i've ever
heard in my life!!!wait 'till everyone hears their brand new ep called 'Thirteen
Tortured Souls'......it's the most incredible!!!They even do the classic song
'Voivod' by VOIVOD and it's more intense then the original!!!!Long live the
Death Metal from the grave!!!!!!!!!!!!!!!!!!!!!!!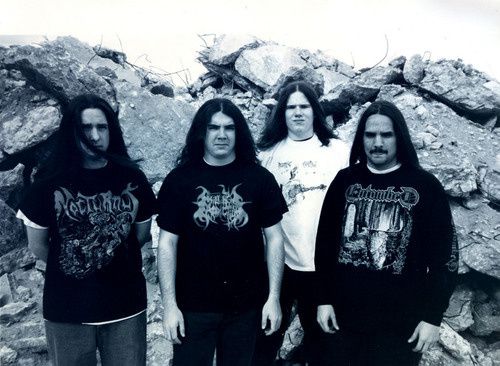 05 - Is there many good bands coming from Virginia?

As I said above,my masters DECEASED are from Virginia,of course.But their
area is about three hours away from where I live(Virginia is a pretty big state).
Also from the northern Virginia area is ABOMINOG,MOTHRA,MORBIOUS, and
the new kings of Evil DOOMSTONE!!!!!!In my city of Virginia beach,there is only
INCARNIS and a new band called BEREAVED,but they are a truely great one!!!!

06 - Have you done a lot of gigs till now?

Well,we almost have never played live.In fact,it's been almost a year since the
last time that we played live.Mostly,this had to do with our lack of a steady
line-up.We'd really like to play again soon,and hopefully we will this summer.
Maybe we can set up some shows with DECEASED,MORBIOUS,DOOMSTONE,
HUMAN REMAINS,and i'm sure that we'll play with BEREAVED soon.....I hope so
anyway!!!!


07 - Would you like having a girl like Lita Ford in your bed? haha

YEAH!!! I'd have Lita Ford in my bed to show me how to play the RUNAWAYS
classic tune of total teen rebellion, 'Cheery Bomb'!!!!!After that I think I'd tell
her to take a hike!!!Ronan,I think you are a total Sex maniac,eh?(No darling
love,i am just a fuckin" dreamer)

08 - In fact,do you know some fuckin' rip-off bands?

Ohhh....of course!!!!Rip-offs are everywhere!!!Actually the biggest kind
of rip-offs in my mind are those people that charge 6$-8$ for a normally taped
demo,or people trying to take 6$ for a seven inch ep!!!They cost less then a
dollar to make,and postage isn't that high,so it becomes obvious why they do
things...just for money!!!It should be for fun and support,not money!!!!


09 - After your demo,what will you do?

Hummm.....I guess that we'll have to wait and see,but I wouldn't mind doing
a split LP or EP with another band,'cause I think that'd be totally fun,and its
great to share with another band,you know?!We are not ready to do an LP
all by oursleves yet,so I wouldn't want to rush into that !!!

10 - Any last comment Ryan?

YEAH!!!A HUGE thank to you,Ronan,for writing and showing interest in
INCARNIS!I hope that others reading this will take some interest as well !!!
Please out our new demo if you can.It's available for 3$/4$ or sending a blank
tape and postage,which is the coolest way 'cause there isn't any money
involved!Let's see some support between bands and pals,and less of doing
things just for money! Keep the underground alive...underground !!!!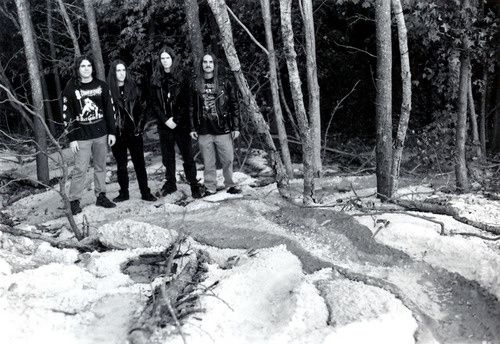 Interview : Kanz-Noz