9 juillet 2008
3
09
/

07
/

juillet
/

2008
17:10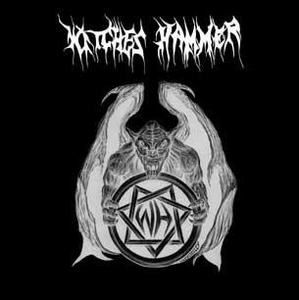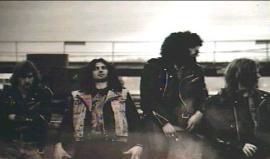 A considerable part of this Canadian Thrash machine's charm and machine was unknow until NWN will repress officielly their cultest discography everything several years after a split-up where the sales and marketing on the European continent whole wasn't good .Even through the band always been a huge pionnier and literally a property of Rayy crude,the frontman in Black witchery nowadays.Was no less distinctive for the band than the impressive riffs of Marco Blanco and Mike Courant to walking in the path with close of great canadian monster such Razor,Pile driver,Sacrifice,Genocide...With due respect to Maco Blanco and his efforts,I must confess of being one these old die-hards to survive the loss of the too much of what we used to love about the band.So, it was natural that this band would grace these pages via and a tribute interview done with vocalist and one of two guitarist,Rayy and Marco (Blasphemy guitar player).Now find what you have always wanted to know about talented yet unlucky Canadian outfit.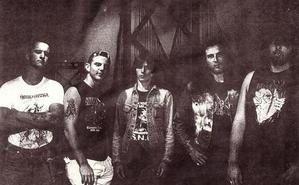 01- Well, I suppose there is no better way to start this interview than you telling us about 01) Well, I suppose there is no better way to start this interview than you telling us about Witches Hammer's career in details.
WELL THAT WOULD TAKE SOME TIME.WE STARTED IN 1984 BACK IN HIGH SCHOOL AND ENDED OFFICIALLY IN 1990.WE WERE THE FIRST SPEED METAL BAND IN VANCOUVER AND COULD ONLY GET SHOWS WITH PUNK BANDS UNTIL ABOUT A YEAR OR SO LATER WHEN OTHER BANDS BEGAN TO FORM.IN THAT TIME WE RECORDED 2 DEMO'S,A, E.P AND A FULL LENGTH ALBUM THAT WAS NOT RELEASED UNTIL 2006.
02 - Were you aware of all those bands from your land who had begun their career in the 80's such as Razor, Sacrifice, Genocide, Voivod, Piledriver and so on? Were you familiar with them and with the new sound they had then created? Did you have a friendly relationship with them? Did you think you were different musically speaking?
OF COURSE WE WERE VERY MUCH INTO THOSE BANDS AS WE WERE SO YOUNG THEY INFLUENCED US GREATLY.WE WERENT SO MUCH FRIENDS WITH THEM AS THEY WERE FROM THE EAST AND US FROM THE WEST, MANY THOUSANDS OF MILES IN BETWEEN US. AND AGE DIFFRENCE WAS ABOUT 5 YEARS.
03 - Marco, you joined Witches Hammer when Blasphemy also began, around 1984. Why running two bands simultaneously? Which one was your priority?
BLASPHEMY HADN'T DONE A SHOW TILL 1988, THERE FIRST SHOW WAS BACKING US UP. I DID NOT BLASPHEMY TILL 1989 AS WITCHES HAMMER BEGAN TO DISBAND. ...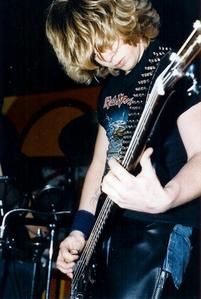 04 - When I listen to your first demo tape, the similarities to Possessed are stunning, especially regarding the high skill level of rythm/lead guitars and vocals. Would you tell what was the process that led you achieving that result? How many copies were dubbed? How was the response like in your surrounding? Were you satisfied with that debut?

WELL IT WA JUST A DEMO,AND THE PROCESS WAS SIMPLE, I HAD BEEN PLAYING GUITAR FOR ABOUT 2 YEARS AT THAT POINT AND JUST PLAYED AS FAST AS I COULD.THERE WASN'T VERY MANY DUBS, A FEW HUNDRED PERHAPS.THE RESPONSE WAS THAT WE WERE GOOD BUT IN OUR CITY BEING A MOSTLY CHICKEN SHIT CONFORMITY OF COOKY CUTTER BANDS AT ANY TIME, HERE WE SUCKED EXCEPT FOR THE SMALL METAL SCENE WHICH LIKED IT A LOT.I HAVE NEVER BEEN SATISFIED WITH ANYTHING WITCHES HAMMER DID EXCEPT THE 1987 E.P.

05 - Steve Naive was the first bass player before being taken over from Danno. What did happen with him? Do you remember the day you recruited Danno? What did he bring to the band?.

STEVE DIDNT WANT TO PLAY ANYMORE SO HE QUIT AND DANNO JUST JOINED THE WEEK LATER.HE WAS AN EXCELLENT BASS PLAYER, VERY MUCH LIKE STEVE HARRIS IN HIS STYLE.
06 - Then the band entered the studio again in 1986 with the 'Dawn Fuckin' Rights' demo as a result. Those six new tracks bore the Witches Hammer' trademark but with a new production style, thrashier with heavy
breaks, aggressive singing, still as complex as before with a feeling à la Piledriver. What could you say about this recording? In which studio did you record? How would you compare it to the first demo tape? Did you get better reactions from fanzines and fans?
AGAIN WE RECORDED AT FIASCO BROTHERS STUDIO.WITH NO MONEY AND NO TIME, JUST IN AND OUT.I LIKE SOME OF THE SECOND DEMO BETTER THAN THE FIRST .BUT OVERALL I THINK MORE PEOPLE LIKE THE FIRST ONE BETTER. WELL THAT'S WHAT PEOPLE SEEM TO SAY ANYWAYS.
07 - Are you conscious about how unknown Witches Hammer were this side of the Atlantic Ocean during all those years? I am still personally amazed at the fact that among the many fanzines I bought none of them ever reviewed your demos. Do you have something to say about that oversight?
NO WE WERENT SURPRISED, IT WAS HARD ENOUGH TO GET ANY NOTICE IN THIS CITY NOT UNTIL MORE BANDDS BEGAN TO FORM AND WE RECORDED THE E.P. THEN WE BEGAN TO HEAR AT LEAST SOMETHING.
08 - I had a hard time getting a copy of the 'Mortalas' EP through magazines and mailorder lists at the time of its release, Subversive Records seemed to have totally forgotten the european fans regarding its non-existant distribution here. The worst being that only 450 copies were pressed, so that their value now reaches about 100 Dollars on eBay. Why was your work so difficult to get a hand on? How was the feeling between you and the label boss? Would you eventually have some griefs against him?
THE LABEL, LIKE US, WERE ALL IN HIGH SCHOOL , OR JUST GRADUATING, THERE WAS LITTLE MONEY OR WAY TO GET ANBACKING TO DO MUCH MORE THAN WE DID. Subversive was run by A 15 and 16 year old kid.I THINK WE DID WHAT WE COULD ON NO BUDGET AT THE TIME AND DID GOOS FOR THAT, WE DIDN'T HAVE INTERNET BACK THEN.
09 - Those last recordings just before the band split pushed me to the very limits of my own personal madness when I turned the sound to the maximum volume and headbanged furiously, the new musical orientation and sound production being so great and reflecting an ingenious evolution. Twenty years later, how do you look at these early materials now? Witches Hammer were so different, were there a particular goal behind that?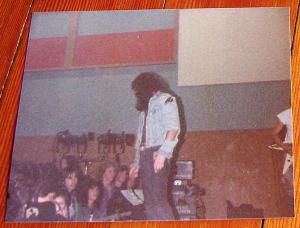 IT JUST WAS THE WAY IT WAS, WE JUST PLAYED AS NATURAL AS POSSIBLE, NO CONCEPT, NO GENRE BASE TO HOLD BACK NO ELITE RULES OR ANY OF THAT AROUND YET, SO IT WAS EASY TO MERGE INTO A SOUND LIKE THAT, MOSTLY BAND ALL SOUNDED DIFFERENT FORM ONE ANOTHER WE FOUND UNTIL THE GENRE BECAME SUCH A UNIONIZED AND NARROW MINDED BEING.AFTER THAT EVERYONE WAS BACKED INTO THERE CORNER.
10 - Have you ever regreted your decision to put an end to the band so soon? What were the reasons behind that decision?
NO WE NEVER REGRET ANYTHING.WE WERE GETTING IN OUR 20'S AND EVERYONE WENT ON TO DIFFERENT IDEAS. MIKE DEATH STARTED PROCREATION, MARCO INTO BLASPHEMY,DANNO MOVED TO MILWUAKKEE TO START CENTURION.
11 - I guess you had the opportunity to play a gig or two then, when and where did the first show take place and what kind of memories do you have about it? Do you remember the set list? How many people showed up and how were the reactions like?
FIRST SHOW WAS IN 1986 WITH EXCITER/EXODUS/METAL CHURCH/SACRED BLADE AND US. VERY FUN BUT INTIMIDATING, I WAS 16 AND NEVER PLAYED A SHOW BEFORE, SO BEING IN THAT STAGE WITH ALL THOSE OLD 20 SOMETHING YEAR OLD MEN SEEMED LIKE A HUGE UNDERTAKING.ESPECIALLY SINCE I WAS SO INTO EXODUS AND EXCITER HAD INFLUENCED US SO MUCH.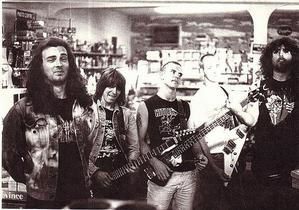 12 - In 2003 NWN reissued your two great demos on colour vinyl with extra poster, patches and so on... Do you know how many copies were manufactured and sold? It isn't a hard-to-find item now compared to some other releases by this label, the Tudor LP for instance. Are you satisfied with the deal with Yokosuke? Did that, in a way, ressurect the soul of Witches Hammer?
HE DID A GOOD JOB AND WE WERE VERY SATISFIED WITH THE PRODUCT.NOT SURE HOW MANY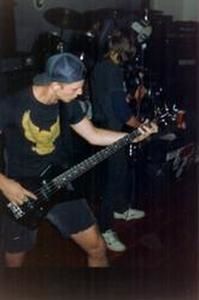 COPIES WERE MADE.
13 - A new die-hard edition of the 'Death Of No Reprieve' EP, including a track from the second demo tape and two tracks from the 'Mortalas' EP, has been released. Who took the decision to put those extra stuffs on the record? Don't you think it would have been more relevant to include unreleased tracks instead? Maybe Yokosuke simply didn't have enough time lenght to include everything on the 'Canadian Speed Metal' LP?

NWN AND WH CAME UP WITH THE IDEA BECAUSE OF THE LEFTOVER TRACKS THAT DIDN'T FIT PROPERLY ON THE VINY FULL LENGTH VERSIONS.
14 - Many old heavy and thrash gods are reforming now: Candlemass, Celtic Frost, Destruction... Although I keep good memories of their old masterpieces and their so special feelings, I can't help feeling all those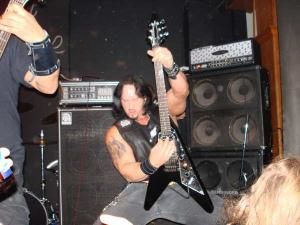 comebackers can't recreate the magic of their past (except for a few ones) and rely too much on today recording technology, to help them crafting their studio work which they can't play correctly on stage later. Give me your opinion about those bands' false sound, you who have kept the old school spirit? Did you buy some those comeback albums? Let us know if we will have the opportunity to see Witches Hammer's own return one day?
MYSELF , NO I DON'T LIVE IN THE PAST, OLD DEAD BANDS ARE OLD DEAD BANDS.I HAVE YET TO HEAR ANYTHING GOOD FROM THEM.WHEN THE DAY IS DONE IT IS DONE AND WILL NEVER BE BACK, SPONTANEITY IS THE KEY TO THAT.FORCING THE ISUUSE WILL NEVER WORK.W.H. WILL NEVER REFORM, FOUNDING MEMBER JOHNNY PRIZMIC PASSED AWAY IN 1997 AND SO THERE IS NO NED TO PLAY AGAIN AS HIS TIME WITH W.H. WAS HIS TIME AND BELONGS TO NO ONE ELSE NOW.
15 - Still in the same vein, some underground newcomers from the 'retro thrash' wave such as Guillotine, Bewitched, Violator, Farscape, Inferno, Audiopain are in opposition to that 'modernism'. Do you consider it as being (some kind of) evolution or a regression? What do you think about the latest Darkthrone album which has a fuckin' rock n' roll feeling along with a fuckin' 'root' production?
WE COULDN'T CARE LESS WHAT ANYONE ELSE DOES MUSICALLY. IF THAT'S WHAT THEY DO SO BE IT. IF ITS GOOD , THEN GOOD, IF IT'S BAD WHO GIVES A FUCK. ITS THERES TO OWN.NEW SCHOOL ,OLD SCHOOL WHATEVER FUCKIN SCHOOL .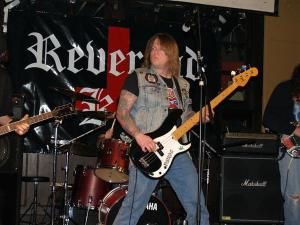 16 - In early 2005 NWN released a Witches Hammer album titled 'Stretching Into Infinity' as a picture LP featuring the 'Mortalas' EP and an unreleased mini LP from 1988, all of that with a nice booklet. Simply a must have in a top metal collection. How do you feel about this reissue? Do you think it is a better choice, for your old and new fans alike, to reissue old material rather than re-recording them?
ACTUALLY THE E.P IS 5 SONGS ON STRETCHING INTO INFINITY FROM 1987 AND THE REST WAS FROM AN UNRELEASED FULL LENGTH WE RECORDED IN 1988.ITS NOT BAD, HOWEVER THE ORIGINAL TAPE WAS DESTROYED SO WE COULDN'T RE MIX THE UNRELEASED SONGS SO THEY ARE DOWN AS THEY WERE LEFT, RAW AND UNEDITED. THEY COULD HAVE BEEN SO MUCH . BETTER WITH SOME PROPER MIX BUT SO BE IT, THEY ARE ARCHIVED NOW ETERNALLY AND IMMORTAL FINALLY SO TO HELL WITH THAT.WHATS DONE IS DONE, IF THE PEOPLE LIKE IT THEN GOOD, AND IF NOT WHO CARES.
17 - I saw on Witch Hammer' MySpace that you sell directly some of your products. Could you make a list of them?
SHIRTS WHEN WE HAVE THEM AND ALBUMS.
18 - Okay Marco and Rayy, that was nice to talk about the good old time with you. I leave you the last words. Cheers!
FUCK ELITISM AND ITS CONFORMIST CHICKENSHIT PUSSIES,STAND ON YOUR OWN,STICK YOUR FIST IN THE FACE OF WHATEVER OPOSSES YOU, SAY WHAT YOU WILL AND DO WHAT YOU WISH, BE YOUR OWN MAN, FORGE YOUR OWN STEEL,PICK UP YOUR SWORD AND CONQUER YOUR OWN LAND, BURN AND DESTROY ALL THOSE IN YOUR WAY AND BUILD YOUR CASTLE ON THERE SOIL.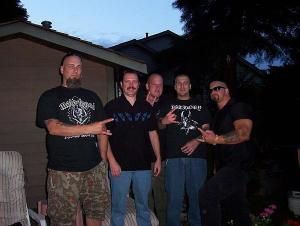 Interview : Kanz-Noz
.