31 juillet 2012
2
31
/

07
/

juillet
/

2012
19:58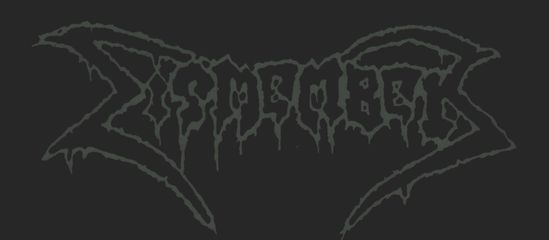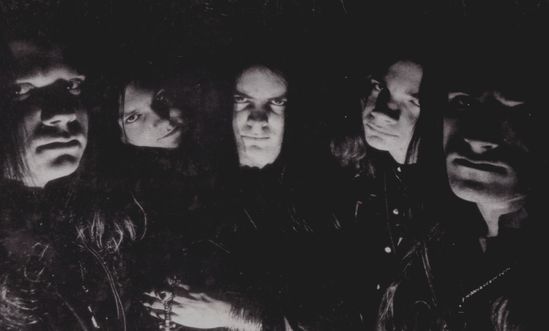 The first impression of 'Like An Ever Flowing Stream' is of a band
lacking imagination and ideas ; a simple ENTOMBED clone.
However, the fact is that ENTOMBED and DISMEMBER started at
almost the same time and were the original innovators of the Swedish
Death Metal sound. After the debut, the band's follow up 'Indecent and
Obsene' faced censorship problems in UK. Carlo Strappa managed to
get hold of drummer Fred Esby for a quick Q&A.
01 – First of all, I think that the title of your new LP 'Indecent and Obscene'
has encountered some legal issues in UK?

Correct!

02 - Do you think that this censorship controversy has had the effect of
generating publicity for DISMEMBER, getting you space in mainstream
newspapers like "The Independent"?

We are aware of the free publicity but the fact is that it is just wrong to
censor art in any form and this sets a negative precedent.

03 - Now let's talk about the album. Why did it take so long to release
this album, since after 'Like An Ever Flowing Stream' we have just heard
3 new songs in the 'Pieces' EP?

During the last two years, we toured a lot and we also wanted a little more
time to write new songs.

04 - Well considering the strong sales of the band, I thought the label would
have been hurrying you up to release new material?

I think it was very good of Nuclear Blast for not forcing us to accelerate our
progress. If they had, I am sure that the material would have suffered.
05 - I am very curious to hear what you think of the new LP? In what ways is
it different from your previous work?

The biggest difference is that we have tried to add to the musical complexity.
We have also developed as composers and musicians which will surely be
noticeable in this album.

06 - What were the main problems you face during the recording sessions?

The choice of amplifiers.

07 - In these rich times of a great proliferation of Death Metal bands,
making an instant impression on the listener is very important. What makes
DISMEMBER stand out from the rest of the crowd?

Compared to other Death Metal bands, we are more melodic and are
greatly influenced by old Heavy Metal bands like BLACK SABBATH,
JUDAS PRIEST etc...

08 - Who had the idea for the bloody 'Piece' EP artwork?

Henrik Wiman, who also did the make up for this photo.

09 – Do the band members like splatter flicks? Which ones would you
recommend to our readers?

Most of us like horror movies and my recommendations would be:
'Hellraiser 3', 'Texas Chainsaw Massacre', 'Evil Dead' etc....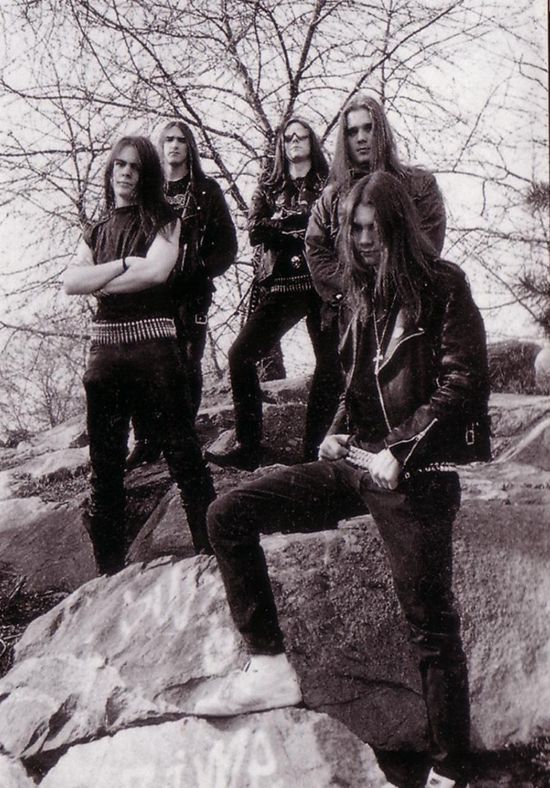 10 - What comes to your mind when you think back to the Italian leg of
the first European tour with MORBID ANGEL?

GREAT!!!! It was one of the best experiences we've ever had.

11 - Patrick of DISHARMONIC ORCHESTRA stayed with you during
the tour and he told me that MORBID ANGEL treated you very rudely?

Not MORBID ANGEL themselves but their tour manager.That bastard
stank!!! All the guys from the band were great.

12 - ENTOMBED have always been close friends and an inspirationSo I
was wondering if you like their new 'Hollowman ' EP?

Not only 'Hollowman' but their new album 'Wolverine Blues' will be the Death
Metal release of the year!

13 - Fred, you have already co-produced 'Subconscious Lobotomy ' for
CENTINEX. Can you tell us about this experience? Would you start working
in a studio and producing some more LP's and demos for other bands?

Indeed. I began working in the Sunlight Studio just to learn sound engineering
and production.

14 - Would you consider 'Dark Recollection' of CARNAGE the first vinyl
incarnation of DISMEMBER? And further regarding this record, I keep
hearing that there were problems with CARBONIZED concerning the lyrics?

In some ways you can say that as around the middle of the album, there are
some old DISMEMBER tracks. I don't know nothing at all about any problems
with CARBONIZED.

15 - Comments to finish?

We are playing with BENEDICTION in September. Hope to see you there!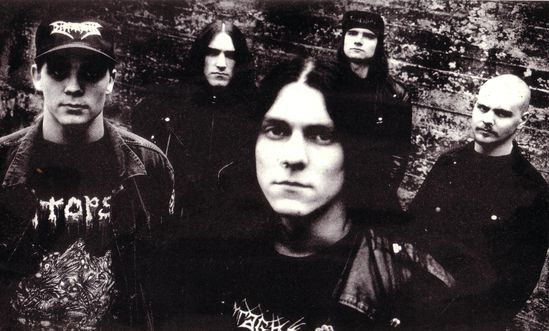 Courtesy To David Saber From Mystifier Zine Issue # 02 (R.I.P) & FuckinDeath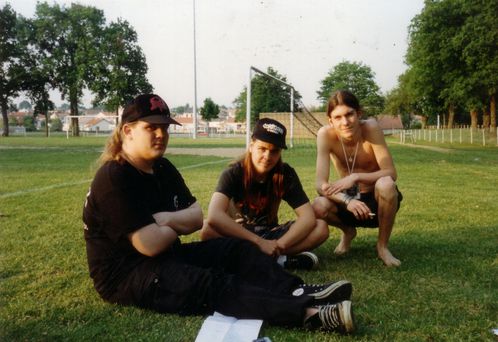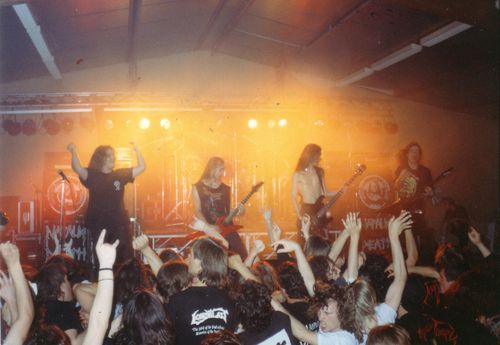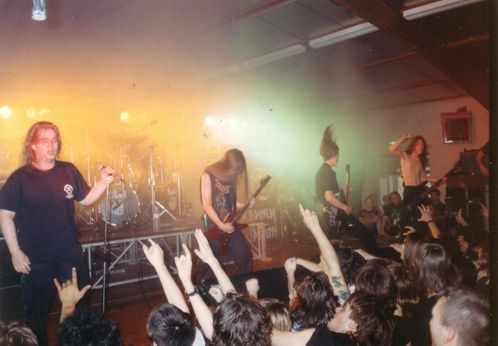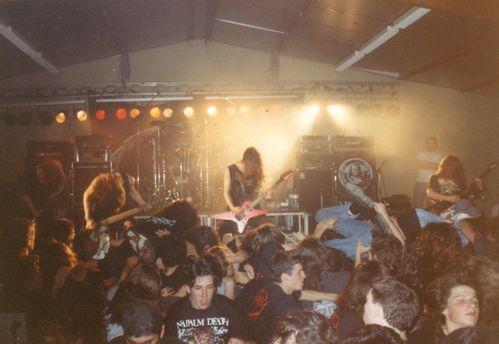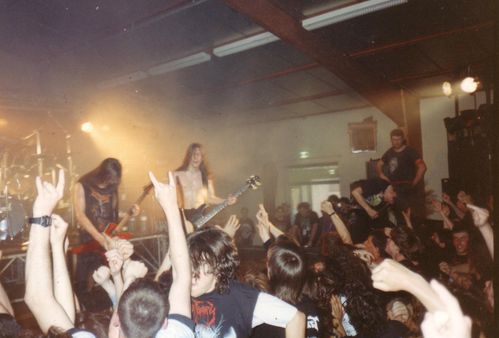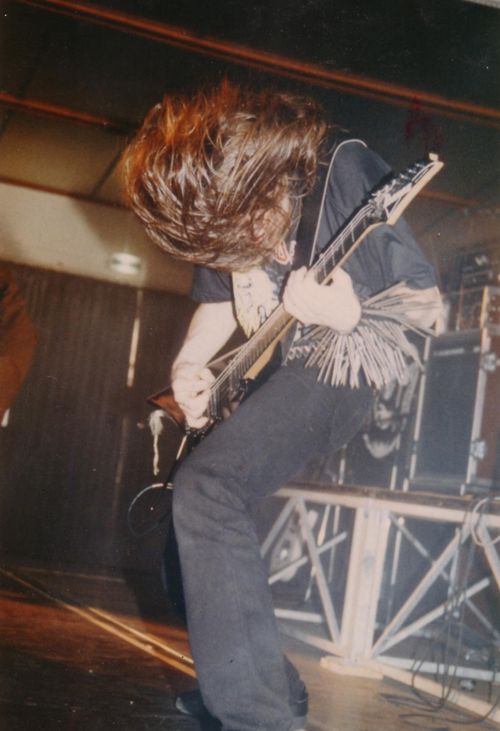 Live At Roche Sur Yon,France,16/05/1992 & Backstage Along With Yann Of
Legendary,Necrobestiality Zine(R.I.P)

On Tour With Napalm Death & Obituary