17 août 2011
3
17
/

08
/

août
/

2011
12:39
The flames of purgatory are delivering an infernal punishment through a world of damnation where the whispers of the grave announces that the son of the devil GROTESQUE were mortified by the decline of an eloquent career throughout the cries of suffering in memory of the Lord of Chaos. Behind the temple lies, they usurp the power so powerful to remain immortal to infinity. The real truth of this fate remains such buried alongside legends like Bathory, Mefisto, Nihilist and Obscurity in which the moral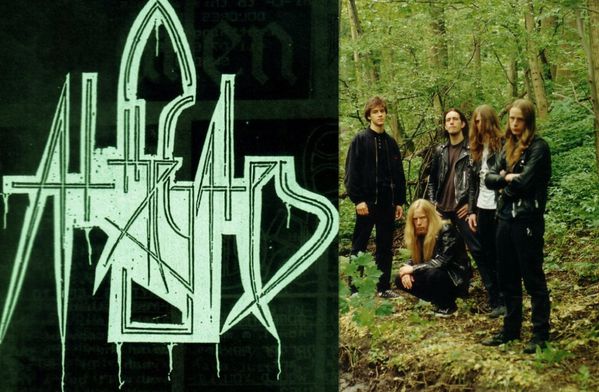 idiosyncrasy blunts the refractories. While still lucid, the time for new creations gives me cold shivers. As a result, not wanting to stay up to date, the leaving for hell shone on the horizon when I received a flyer announcing the release of the new AT THE GATES 'Garden Of Grief ' mini-lp, from one of my correspondents abroad playing in a group which I have vague memories of, as my mail box was full at the time. Moreover, after listening to the stuff of the hellish Liers In Wait and obtained through a French friend with their promo video, which is a fuckin collector today, I had a dream to rectify the situation by contacting Anders without delay following my shopping at Dolores Records.
01 - Hello Anders! First, if my information is correct: Tomas Alf was part of the legendary GROTESQUE before joining Liers In Wait and later AT THE GATES.
However, I'm curious about the main reasons behind this mysterious split?

They did not want to play under that name and they were tired of their image and wanted to do something over again. After Tomas, the drummer, had left the three remaining members, they started Liers In Wait which quickly became At The Gates when Kristian left.
02 - Today, what is the current line-up and age of each member, which I suppose is fairly young?

Alf - Guitars (24)
Tomas - Vocals (18)
Adrian - Drums (20)
Anders (me) - Guitars (18)
Jonas - Bass (18)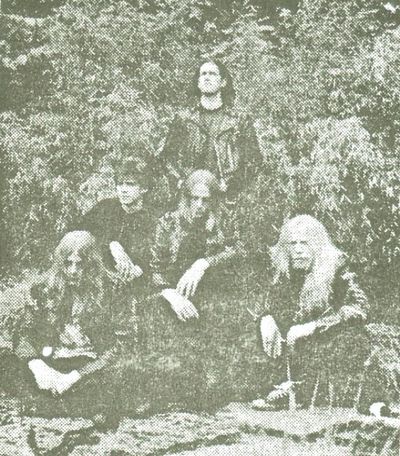 03 - Why did you choose AT THE GATES as the group name and you it symbolizes for you?

Tomas came up with it. He got an old title GROSTEQUE called 'The Dweller At The Gates Of Silent Memory'. We thought it was pretty original so we decided to take it for the group.

04 - There is a point that holds my attention. How were the answers to your demo, as obviously you must have made one I have never seen for sale anywhere?

Indeed, we have not made a demo so it's hard to say, but our mini-lp is selling very well in Sweden. The answers on the mini-mp are also very good. With a little luck we hope it will be sold outside Sweden as well.
05 - Well, can you tell me how was the course of the recording of 'Garden Of
Grief ' mlp which should be coming out soon?

It was really great! It was recorded at Sunlight studio and it went well. The recording and mixing of four songs took us about 18-20 hours. It was cheap.
We paid about $ 700. The cover and layout is good too.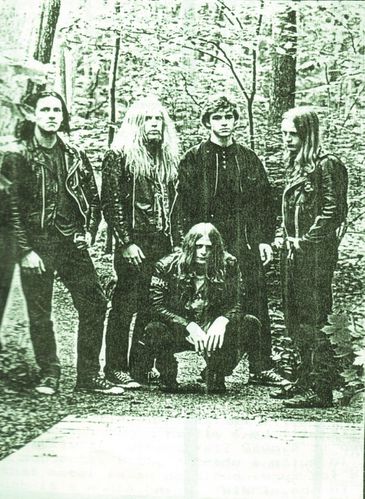 06 - Looking back, what are your impressions?

We are all happy about it, although it does not interest us anymore too. It is still available for $ 14 at Doroles Records for those who do not have it yet.
07 - For those who do not yet know AT THE GATES, what are the topics covered in your texts?

Well, they'll read by themselves. They speak of souls, doors, lives and cities, but nothing about our surroundings. They talk about journeys through strange places, thoughts, the decline of life, the anger inside ect...

08 - Moreover, in order to channel your search more extreme musical and personal experiences, it seems important to discover what is hidden behind this dark direction....
We do not take our influences only in music but also from our own lives
such as: the failures of our experiences, our achievements, our thoughts
and dreams. About Death Metal groups, my influences are as: Slaughter,
Lord, Slayer, Massacre,Devastation(IL), Repulsion, Necrophagia, Insanity,
Necrovore,Solstice,Vader, Monstrosity,Immolation, Atheist,Confessor ect...
but also other classical music like Beethoven, and Purcell Holzt, or especially
horror.These influences are unconscious. I do not copy any groups.

09 - Since the creation of AT THE GATES, have you made ​​a lot of concerts? What are the groups with whom you shared the same scene?

Yeah! But only in Sweden and it's a shame. We played about 15 times with great bands like Immolation, Bolt Thrower, Massacre, Merciless and many others. They were good! But I think they could have been better. I'm kind of perfectionist so I like that things are always better live. In the studio, you can redo everything but live, it's impossible. We hope to do concerts outside of Sweden.
10 - As I am very interested in music, I would like to know your favorite band if you do not mind?

My two favorite bands are ATHEIST and RAVAGE. I prefer the first but the new Atheist is good as well of course. The other groups are Slayer, Slaughter, Lord,Merciless, Rotting Christ, Liers In Wait, Eucharist,Immolation,Monstrosity, Cynic,Vader,Nocturnus,Autopsy, King Crimson, Dead Can Dance,Terrorizer, Headless Chickens, Rush, Ozzy,Trouble ,Ocean, Va Bojda Streck T,Najla, Entombed ect.....

11 - I note that the Swedish death metal scene is growing rapidly day by day. Doyou think that there will be a fierce rivalry between the groups in the future due to their increasing numbers?

I think the reason why is that everyone wants to be better than the other bands, so they start a band. Another reason is that many labels sign these new groups just for making money so the number of groups is widening.
12 - If not, in your view, which are the best Swedish death metal bands then?

The best bands in Sweden so far are Sitting, Merciless, and many others like Dismember, Entombed, Unleashed and Furbowl.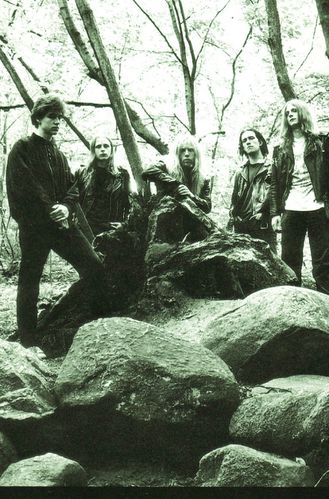 13 - On another topic, what do you really know about France?

This is great and you have lots of beaches. You have many vineyards. You have a great mountain and great rivers like the Seine as well as fans of death metal. You have the Concorde airplane and you have a nuclear power plant in Avoine (southeast of Tours). You have a population of 52,160,000 inhabitants with an average of 94 inhabitants per km2. And finally, a beautiful tower in Paris. Of course I know more, I would say only: Peardop 'zine rules!
14 - After the realization of this sublime mlp, what are your plans for the coming months?

Post this interview, eat, read, run, drink, play, rehearse etc...
15 - This interview has already reached its end. Would you have a last word for the French readers who support me?

Of course! Hope to see you when we will turn in France, in Avoine, Mont Blanc and Calais. No, seriously, if you like, you can write me and if you want to buy our T-shirt or mini-lp, contact Dolores Records. Bye!(Ron: It's already done!)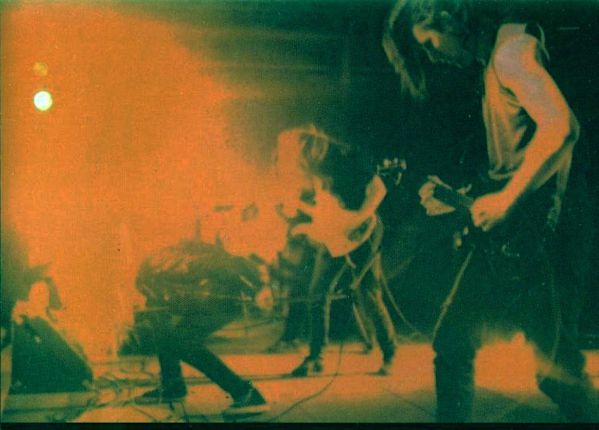 Interview : Kanz-Noz
Thanks To Bertrand ' ULTIMA BZH ' Hugo