6 août 2008
3
06
/

08
/

août
/

2008
20:05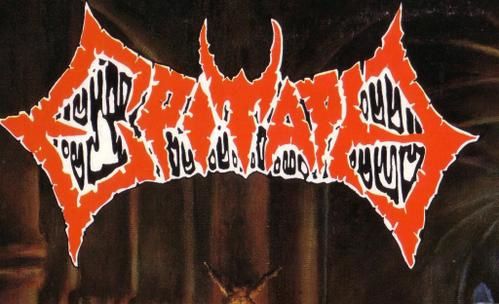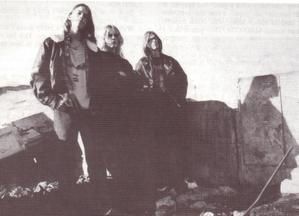 Obviously it seems to me that this swedish death metal band called EPITAPH will not raise the masses probably due to the emergence of bands formed in the same period.In the middle a magma they inflicted a brillant death metal typical swedish feeling scattered of fuckin' heavy parts showing with class a rigorous brutality wanting this to dissociate them from the trend of the moment.All that went hand in hand when a French label Infest Records proposed them to sign for a split-lp making increase of their talent.So,not wanting to extinguish the flame another cult french label Thrash Records tested their need to release 'Seeming Salvation 'lp orchestrating the insanity of a sad end.Well I decided to contact Manne the guitarist to ask him questions towards the writing done on the magnificient split-lp.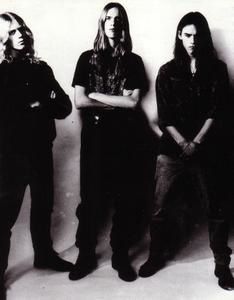 01 - Hello Manne! Can you tell us the history of Epitaph to open this interview please?

We were formed in May 1990 under the name of DARK ABBEY.Four months later we returned in the studio to record our first demo called `Blasphemy'.In December we changed the name to EPITAPH then the music which we are playing currently . In March we recorded a split-LP with EXCRUCIATE which was released in November on Infest Records.When you will read this we will have finished the recording of our album which includes ten songs. It will be released in spring on Thrash Records.Our current line-up is: myself with the guitar; Nicke at the second guitar, Johan with battery and vocal and recently Kimpa on bass.


02 - Well the famous split-lp comes just also to be released in the box-store then can you tell me some details about these new deathtracks ?

Our four songs on this LP are old now but I like them always, especially `Cannibalized' and Disorientation' which was also reproduced on our full-lenght later.


03 - So, I think it will be interesting to husk the contained everything of macabre lyrics one by one to discover what can be caught in the depth of your thought?

The first song `Cannibalized' was written in the autumn of 1990 .The words speak about a person who dies in fourteen different ways. 'Bloodstained Vision' speaks about a nightmarish vision and the future of our society is symbolized by the illustration of the cover. 'Distorientation' is the most recent title on the vinyl, the words speak about suicidal thoughts. The last title `Seeds off hypocrisy' speaks about corrupted morality and of all these things. Almost all of lyrics are written by Johan.


04 - I would like to know your own opinion about the immature design of the cover which does not overflow inspiration, its the case to say it hehe?

You say right Man!Indeed the cover is not very well drawn but the worst is that the persons who bathe in blood appear to be 20 years old.Anyway the message loses a little of his right sense with these young people who seem to be 20 years old instead of six or seven . Our logo does not return very well either nevertheless that will not prevent it from living. After all it is the music which we are looking for in the first place

05 - Then how do you find the EXCRUCIATE cover compared with yours being also ugly this asked if the drawer does not have to reach puberty yet ?

Absolutely their cover is not very well drawn either. Both bands could have had better covers it's sure but we would have to await one or two months more for the release I think. We did not think that it was worth the pain of it(en valait la peine) because our titles were recorded nine months ago and those of EXCRUCIATE one year before approximately. In fact we were very tired to await the release of this fuckin' Split - LP so….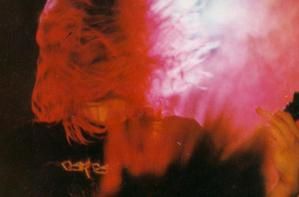 06 - Sincerely, with a glance do you relate to the music of your bloodbrother EXCRUCIATE?

EXCRUCIATE are very good. `Sign Of Suffer' song has really devastating riffs and their new vocalist Lalle from Mastication band brings more brutality to them. They are very cool guys also, I do not hope they passed for sucker-ass hehe!

07 - I would like to know if you are satisfied enough by the work done on this split-lp in which case in which way do you see its marketing in the future?

Sure,I am very satisfied, all that I hope for this split-LP is that it will sell more than a thousand copies, that it will spread our name and that it will help us in this feeling that we have to promote our album which was recorded lately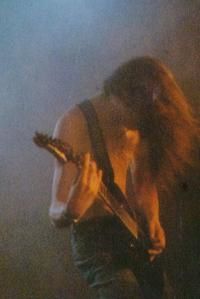 08 - A thing to retain my intention concerning the average age not exceeding 20 years, in other words I am curious to know how long have you been playing together?

Everyone in the band has a long experience of playing their instrument but as a band we have been playing together since May 90 ' s only.We practized much and have evolved very quickly in time.

09 - I have noticed that every day the Swedish death metal scene, more particularly Gothenburg scene grows up propagating a powerful confragation assimilating to a devotion without limits… let me know about the thirst for revenge coming from inside of it?

I find it strange that the majority of the best bands of death metal of the world like Therion, Entombed, Unleashed, Dismember, Morpheus, Excruciate, Afflicted, Grave and so one live in a small area located close to Stockholm.I think that the Sunlight studio in spite of the various critics, should be thanked.

10 - Have you thrown an ear on the French extreme underground scene by any chance?

Nope,not really… I know that there is a band which is called Misanthrope on Infest Records (Ron: Damm what fag band!!!). There is also a band which has been playing for a long time and which is called Massacra, I think that it comes from France (Ron: Obviously, they do not come from Tel aviv garbage city lol) It is all that I know on the french death metal scene. (Ron: Come see me I will give you free lessons)

11 - Allright,have you got anything to add for our nice readers?

Continue to support the underground scene!!! It's not always very original but it's always important nowadays. Cheers!!!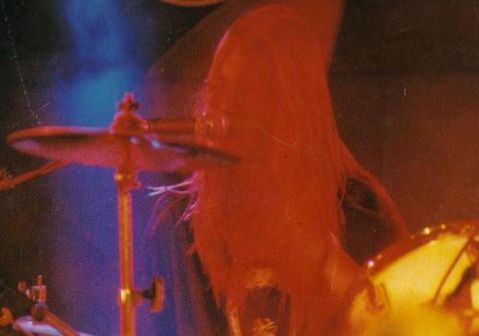 Interview : Kanz-Noz