26 février 2012
7
26
/

02
/

février
/

2012
23:04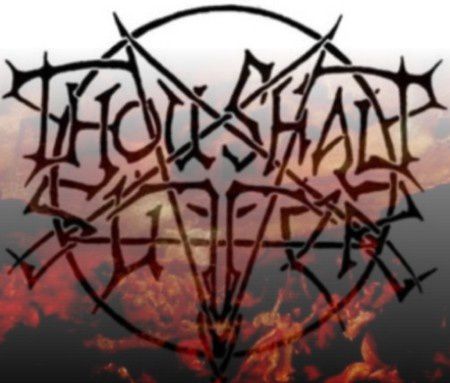 Crawling in penumbra like a serpent murmuring the summoning of hell,
blessed by the horns of Baphomet drawing a circle of sacrificial blood
while insufflating the sabbatical winter moon. On the night of February
1990, Devil lord THOU SHALT SUFFER (Pre-EMPEROR) rose along with its
bleating shadow EMBRYONIC. The utter bible-raping darkness of the demo
drove my desire to get deeper into the mind of these organists of the Belial.
The interview presented an interesting challenge as the sorcerer-in-chief
Samoth did not speak very good English. I was able to get most of the answers
except for one question.During their pre-Emperor incubation days, Samoth
and Co were hardly given any space in fanzines even though THOU SHALT
SUFFER is a band of crushing devilry. Granted that in the good old days, there
was a wealth of great bands around but still this band deserved more
recognition than it got back then, which is regrettable and rather shameful.
So here is my attempt at remedying the two decades of injustice.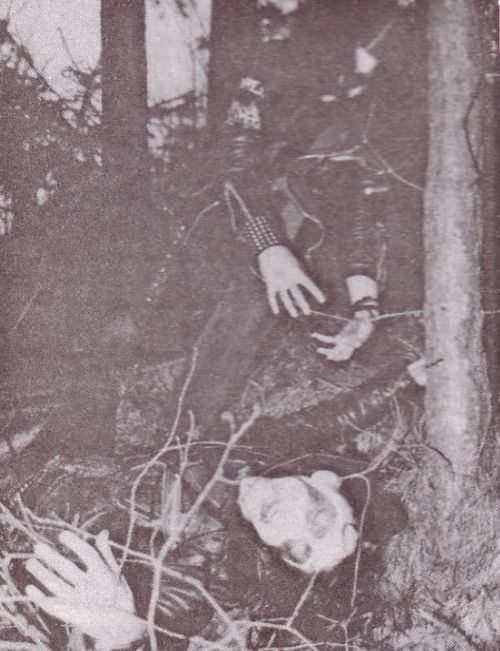 01 - Hailz! What is the present line-up?

The line-up now is Me on drums/vocals/guitar and Vegard on
Guitar (lead), bass/vocals and synth. As you understand, we are
a two piece band now but on all recordings, we have a full line-up.
Unfortunately, the rest of the band wasn't into pure evilness, true
underground and stuff like that so they are out. We will go on as a
two piece band for a while but we hope to get some new brutal
members in the future.


02 - What music influenced you to create such a masterpiece
of darkness? Will the next one be in the same vein?

Our music is inspired by our self. The mini-LP is evil intense
death metal and hopefully a bit original too. Our new stuff will
be still more original, evil and doomy. We will not be compared
to any band and we will do something new. I'm totally bored of
all the Death Metal bands who just sound the same. What's the
point?

03 - How do you describe your style of music, not the classic
death metal as we are accustomed to listen?

As I said our old stuff is evil Death Metal and nothing more.
I can't say what style our new stuff will be as we haven't made
any new tracks yet. There are a lot of riffs and ideas but I promise
it will be dark and special.

04 - Do you have a special theme that you use?

If you mean our lyrics, they are all about evilness and stuff like
that.

05 - Can you tell me what your visions about Satanism and
Occultism are?

I love it. I'm totally possessed by it. I'm not a Satanist but I'm
very much interested in it and the same goes for occultism.
The dark side of life is very interesting. I need more knowledge.

06 - It seems that you have already played live in Norway.
How many gigs till now? Was there another appearance by
a guest band?

We have played 10 gigs with bands like BALVAZ, PHOBIA,
OLD FUNERAL, THYABORRENT, RUPTURENCE, BURROCKS,
DISGRACE (Fin) etc...I don't think we will play live anymore from now.
Not easy when you are two piece band. We don't give a fuck. All gigs are
shitty anyway (almost).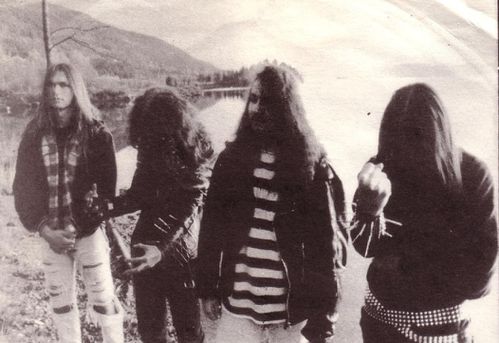 07 - What do you make before playing?

I didn't understand that question but if you mean what we
do before a gig, then we do nothing, just eating, drinking,
watching the other bands who are playing and stuff like that.
If you mean what we do when we are not playing in our spare
time, well then I write a lot of letters, read some books, drink
some beer and enjoy pure Death Black Metal.

08 - Are many people attending your gigs?

Not very much and most of them are stupid posers who are
diving around like its an OBITUARY gig. They are just all
mechanical and lack any evil. We haven't played many cool gigs.

09 - Why did you choose the strange name THOU SHALT
SUFFER?

Because it is original and evil. We like it very much.

10 - How do you see the Death Metal scene in a few years?

Hmmm......I'm not sure but I really hope it is better than now.
Death Metal is a very big trend now but I don't think that will
be forever. Maybe Black Metal will be the next big trend. I really
hope not. I think we just have to wait and see.

11 - What do you do besides music?

I told you in question 07 but again, I do nothing, only writing
mail, drinking beer, listening to Death/Black metal + some
morbid horror symphonies and I go to work...that sucks.

12 - Did you know Dead from mighty THE TRUE MAYHEM?
If yes then what kind of a guy was he?

No its not easy to know him now because he is dead...too bad
because he was such a brutal person. I hope he enjoys his new
life. Hailz MAYHEM (The True) torture and pain!!!

13 - So any future plans?

First get our mini-LP 'Into The Woods Of Belial' and 7"EP
'Open The Mysteries Of Your Creation' released and make
a lot of evil music. Maybe we will record a promo-tape in the
summer but our main goal is to record an LP....wait for it. Also,
t-shirts will be printed but I don't know when.

14 - Anything else to say to all the morbid maniac readers
living in HELL?

Thank you for doing this interview. To all the readers, stay
EVIL and support the underground. Don't wimp out. Write
me (posers don't need to write!!!). Check out our mini-LP
and 7'EP which should be out very soon (I hope).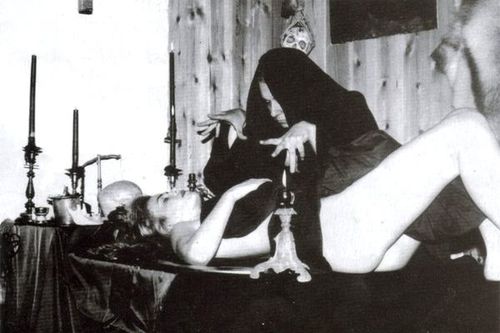 Interview : Kanz-Noz