9 octobre 2012
2
09
/

10
/

octobre
/

2012
11:48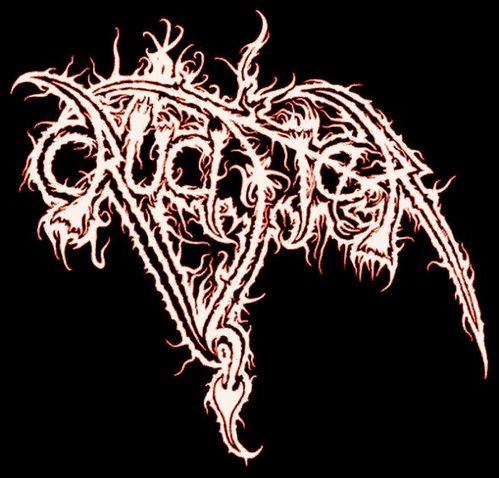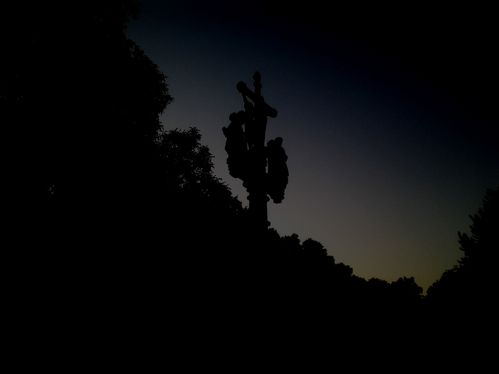 As the time passes and the serpent of religion tightens its grip
around the human soul,squeezing mankind into abject slavery
and leaving an emaciated,wretched and withered mass in its
wake,only a brave few are ready to fight the marauding epidemic
amongst these holy warriors of death and destruction,CRUCIFIER
are the uninhibited aggressors.These harbingers of doom have
denied the trinity of commerce and poseurdom and will continue
to do so in future.There is no denying the sense of purpose and
sincere devotion in their music.Like a mounted firebeather burning
aside all mediocrity and   worthlessness,CRUCIFIER are everything
that is OLD SCHOOL DEATH METAL!!!! 'quidquid luce fuit,tenebris agit '.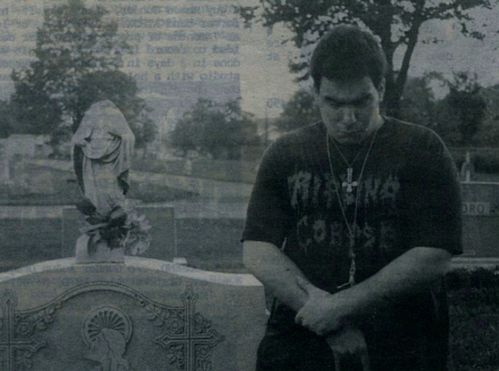 01 - At first sight,it is cleverly unrealistic to think that the wisdom of
The Beast would have perverted the opposite sex in malice…respecting
only the purpose to relieve the grace of God…I made such a conclusion
upon that indecent thought…and touching upon that thought is a
pleasurable beginning to this interview!

Thank you for the opportunity.Hopefully we can make a dent in this
wonderfully lengthy monster of an interview.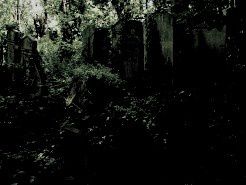 02 - It follows from taking root in the heart of the matter by asking you
if your need to deal with demonic creatures is as social as say something
like a "Fuckbook" site? lol In inversion of all the black books,the holy
bible proclaims love,wisdom,tolerance etc.Therefore,it is likely that the
"divine choir of contacts" have paid plenty of attention to you without
the band being on stage as a master of ceremonies and such can easily be
seen by your popularity…Would you tip the scale on that?

Popularity?Networking?Never seen myself as really popular but most
likely "out there" and available to my friends and fans, always.I have
always been a contact worthy person,even back in the old days of pen
and paper and stamps....I love to keep myself at the forefront of the wants
and needs of my friends and fans.Although it seems as a more lame,new
age way of promoting yourself, with the advent of Facebook or the most
likely defunct Myspace,it is necessary and fun to keep the networking
and talk alive among associates.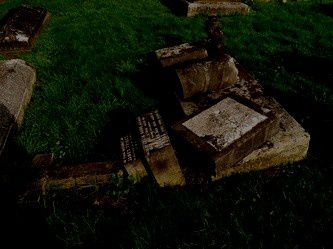 03 - As always being the altar of perversion,porn America has reached
an extreme point of gravity by recruiting girls increasingly younger in age.
This is no doubt coming from a blazing fire of horrible impulses and filthy
knowledge containing an addiction.In this respect it deserves a little
further examining to highlight some women contenders who hold under
decadence the "holy christian morality" crawling in the states.So here I
will mention a horde of hotties that are so exquisite and beyond…that by
your rating for each with paint a nice portrait:


Lucy Lee?

Emma Starr?

Julia Ann?

Victoria Valentino?

Laura Lion?

Naomi Russel?

Lorena Sanchez?

Stacy Silver?

Nikki Sun?

Sarah Twain?


Let me honestly say,and this may sound appalling and/or unbelievable
to some,considering my masters in pornography of old and all,I don't
recall any of those names above!I find myself in my old age as grouping
them all together in a plethora of lust and erection.Does that sound odd
to you?It does me too.Now I do have a "thing" for Sasha Grey,but call
me crazy!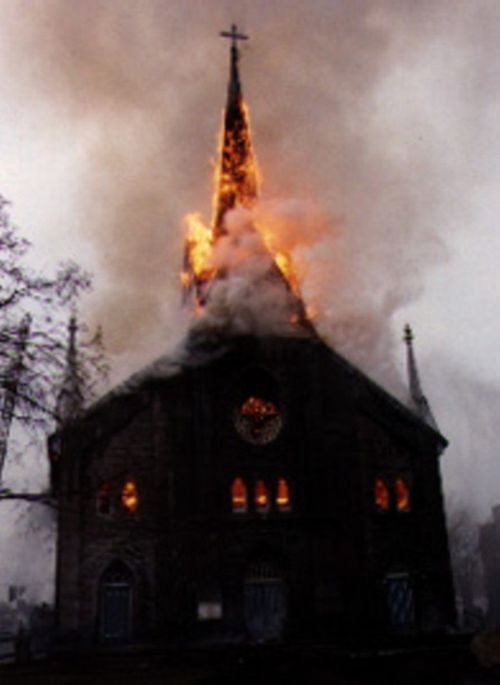 04 -  In such a time of events, it would be a best use of knowledge to
awaken some consciousness affecting the rule of evil in this world by
scrutinizing its torch of discord in our "dear" society present or past in
order to demonstrate that so-called paradise here is a mere illusion for
those bounded to praise the false light…The wave of attacks which took
place in the states fueled hatred for Muslim extremists in virtue of the
fact that the threat remains ever present even after the assassination of
the monkey Osama Bin Laden…My question is as follows: In your
analysis,is your government successful and seemed to have learned its
lesson?
Hmmm, don't know.Don't care.I don't think "my" government is at fault
for the actions of some of the silly rock throwers out there in the world of
sand and head-hacking videos.Hey you don't like the thoughts and ideals
of freedom that the USA stand for,look away and/or fuck off.I am not
defending the government,for I'm sure they are at fault for something or
other in the turmoil-laden hypocrisy of foreign policies and such.In these
new times and intellectual ways of life,it is time to cut off ties...it is time to
end war,end involvement with other countries...grow up, move on,they
want to live in dust and filth,that is their right.I am not at all interested in
politics, etc.I am interested in a good home life far from any country's
impedance into my livelihood,etc.Abolish religion,embrace the tangible
and scientific and love your family and friends.Live happily segregated or
otherwise....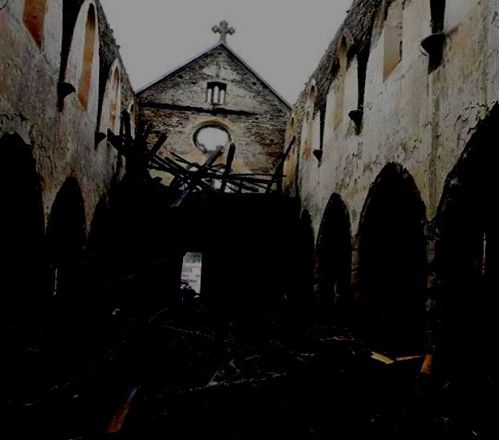 05 - We never lose sight of the fundamental principle of U.S.Imperialism
since the dawn of its early history.It is a sure-fire way to peace but also
paradoxically sits upon the throne of world conflicts aiming to impose a
democracy often with the motive of making business there and in effect
bring advantages to the extremists there that they are supposed to be
against...What would you suggest would be a method to evict and
annihilate this "gangrene" of world technocracy?

Interesting.Who knows?Is there a way to end it? Probably not in my
lifetime.We are not going to see an eviction of principles based in religion
and money and fake democracy masked in imprisonment.Power changed
many years ago from strength and beauty to ugly but rich....the weasel
wields the staff.He is in control of this world now.He threatens, "try to
remove me from power".We can't, I can't either.So, I ignore them!
I embrace what I hold dear without consideration of who needs to be paid.
Well, yes,I have to be a silent prisoner of sorts....my electric bill needs to
be paid,my car insurance needs to be paid,or else I pay again in the long
run.Good thing I'm a good driver,that is my motivation.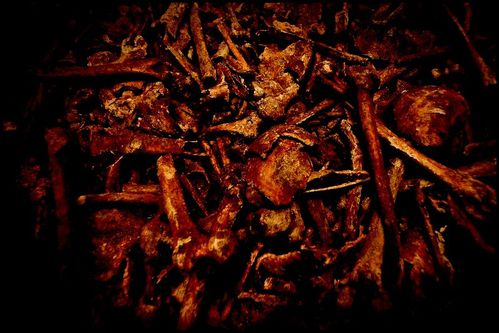 06 - It is rapidly becoming more convincing that the creation of your new
continent has become enriched in a shorter amount of time than Europe.
If one refers to the basis that this land belonged by right to the true
Americans,the American Indians and that the colonies came to plunder
their wealth,it is strange to see that your country allows an abundant
amount of immigration from various nations…Do you feel that this should
all be unlawful and does this lead you become more a part of a social divide
from non-Europeans?
 
Aside from the use of a flamethrower how can I control it?I can't. So,
I live my life,the best I can, in love and adoration of my close family.
I protect them from usurpers or strangers.How hypocritical it would be
for our government to take away someone's want of encroachment on this
land,when their forefathers encroached themselves.Right?I am not
interested in being border control at this point in my life....it is something
I can't control.I wish the world could be a free living place,then we
wouldn't have to deal with these hypocrisies.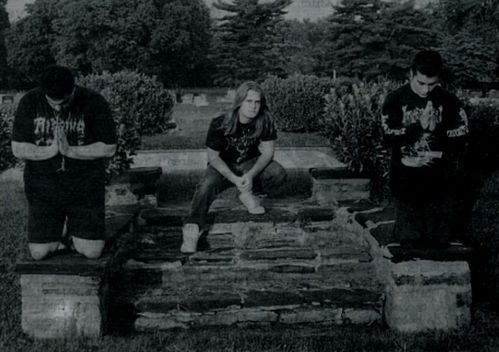 07 - Anglo-Saxons were steeped in hatred during times of segregation in
the American south…and of course introduced racial laws to preserve the
white race and formed militias such as The Ku Klux Klan. But today few
modern societies still are this way but recent controversies in relation to
immigration have brought out a hidden cultural preoccupation and fear of
foreign breeds and how they can harm the economy.So, even aside from
the constitution,The Klan is still active…Why do you think that they are
still active?


They are?I don't know one person involved in that group.I used to be
deep into the skinhead movement back in the late eighties/early nineties....
I suppose as a part of my learning or growing process,I embraced the
rebel ways.And I stepped back as of late to basically chill out, and look
inside myself, individually, and to use that process as a way to notice
others,individuals,biological beings only.Each with its own quirk and
fault and positivity,yes,it is possible to see good in most.But becoming
a father,a husband,a man, a worker,a learner,a musician,a magician,
whatever I wanted to become and what I did become,I grew up.I took
each man and woman and child at face value, by their own good,their own
negativity.Now I am much more grown,and educated by utilizing this
process of elimination.Economy is shit regardless of color or race....I am
 just as poor as Mexican landscaper and I have a college education.
So fuck trying to put a finger of blame on any one race.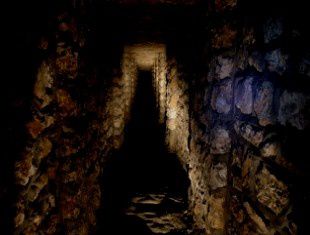 08 - It is not ambiguous that the face of the states has radically changed…
and is now against the black president they elected…and perhaps greater
errors were committed by the other stupid Texan president…Still,could
you sincerely imagine that one day you would be governed by an
African-American from a poor neighborhood?Can you tell whether or not
insecurity and crime have risen since his election?
 
No crime rates were driven up by that election.I don't consider myself
governed by anyone.I have to wake and work and feed the kids
regardless if the clown from It were president.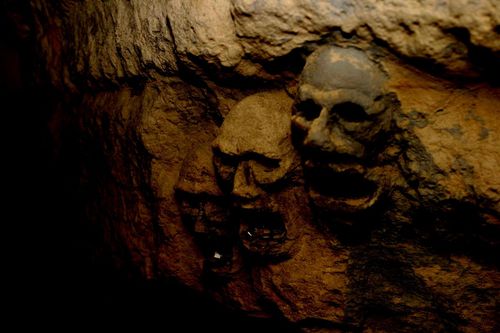 09 - Seeing the gravity of the problem socially, Mister Obama wanted to
adopt a constitutional law aimed at helping the society's most
disadvantaged but I noticed that there were many voices against it.
It is also unthinkable that European states will portray this social idea
immediately and such could cause the workings of a rebellion.How have
you faced the high cost of medical expenses in your household?Why does
there seem to be a silence in society about this?Does this crisis seem to
be getting worse?What do you of the European social systems?
The death penalty was abolished in France in 1981 by a former socialist
president.We were yet one of the last European countries next to America
to adopt it.However, the slogan "land of the free" is immoderate when 38
states still have the penalty.Also,throughout the world other continents
follow the same example without losing sight of the hegemony of these
areas.The American family seeks serenity in their churches,while they
profess that murder is against God, but at the same time that anyone that
angers his brother deserves the fires of Gehenna.It is time for a verdict
on all this hypocrisy!


I don't get sick! See, the Americans know how lazy and filthy all of its
people are.They know that while a socialist form of government would
be perfect for all, they will never do it.There is no fucking profit in it.
This country is fucked.I would like to go to the hospital knowing that
I am covered financially.Good luck with that right? So,I don't get sick
and encourage my kids to not get sick!I embrace an ideology that all
people help all people in a land...but like I said previously, the snakes
that live doors down from me high on crack aren't helping with the tax.
But hypocritically,they are sure as fuck enjoying the socially driven
benefits that the government allows for their "addiction issues."
I and my kids are fucked because I help out by working and paying
taxes.Nah,no thanks Uncle Sam,I don't need help paying my surgeon's
fees.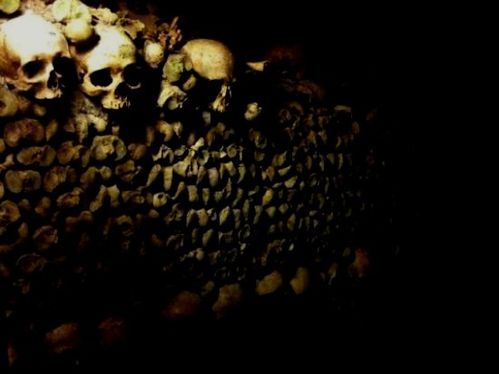 10 - In parallel,I would be curious to know the depths of history following
the death of the former lead singer of mythical Arghoslent/ Richard Mills
a.k.a.G.B.K that occurred August 27, 2006.Necrodomy Gebal was as
cold as an ice-cube on this subject and I do respect that.In this regard,
I remember sympathizing with him at The Drakkar Festival 2005 in
Holland in a pub located downtown several hours before the festival
started. From this meeting, I can conclude that it was very pleasant
display of extreme right political beliefs.After the excellent presentation
of G.B.K, someone had invited me to take a picture with the whole band
alongside a "Seig Heil!" Coincidentally,would there be a political
reconciliation to his death?
Depths I cannot give.I knew him way before the Key,and I knew him to
be a partaker of life's elixirs even then.I met him first through the snail
mail,then face to face at the Immortal show in about 97 or so in
Philadelphia.Gelal was probably cold, because Gelal, and this is my
interpretation,has always been dead set against the filth of drugs,etc.
So yes,how could he be so calm and cool to answer questions about why
the "replacement" for the Lourde was such a piece of shit!?He couldn't
be.I'm sure Gelal had no clue either, at least about some of the stuff
Rich was into.Gelal and I had a slight towards the end but he was always
honest and up front, about everything.He is so into his craft that he may
have even been embarrassed by Rich when he found out about the silliness.
Although probably funny at first,even before he took over vocals.We were
all friends.Then, things I'm sure spiralled after he took over.He was a rich
kid...heir to the General Mills throne....he had to be rebellious right?
Now he doesn't have a bright future.Sad.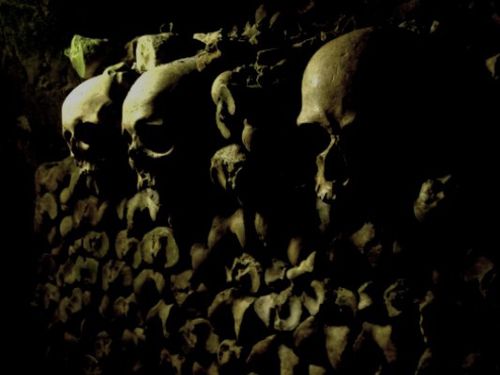 11 - Also in relation to this burning American society,your constitution
guarantees to every citizen the right to bear arms,which could benefit and
increase crime but also could be necessary to save your skin.I think now
of Jeff Becerra of the mighty POSSESSED now in a wheelchair until the
end of his days.With that in mind, are you for or against this right?Have
any of you been in a similar circumstance?What parts of your country
would you advise me to never to visit?
 
I don't own a gun.I think that bearing arms means,protect yourself
against any filth....even if guns were never invented,rocks are science
made.And a stick can paralyze just as easily!So,please don't visit
America at all! Stay in your beautiful country,maybe I can come there
instead?I am a big person,so I am not in the rapist's or robber's
demographic.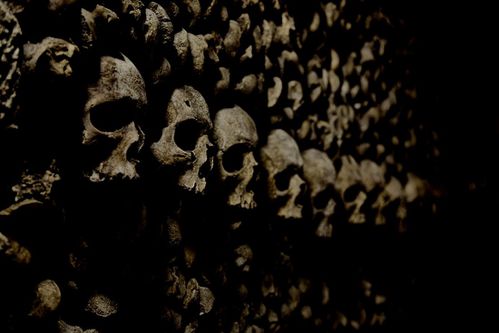 12 - In the downward spiral of decadence,the instinct of conservation at
the human chain is going to lead us down to the pathways of loss due to
the recent policies authorizing gay marriages and even more the felony
against nature that will allow them to adopt children.There seems to be
only cowardice cries to heaven about these unjust measures from those
that represent the upper iceberg.Would you agree that we now walk upon
a powder keg of ideas that seriously threatens all our traditional values?
 
I don't care if gays marry.Abolish marriage anyway.It is useless,just
another faction that puts money at the forefront of life.If you love someone,
who's to say you need someone's approval to live with them and put your
cash and shit in the same fucking house?They want to adopt a kid and give
it a good happy life?Good,I don't care.Don't butt fuck it, and all is well.
Sorry for my bluntness here.Maybe if you asked this question when I was
in my teens or twenties you'd get a very different answer.Downward spiral
is personified with me losing a job after 18 years and having to start over
with minimum wage and no medical benefits!Gays don't bother me.
13 - If I recall correctly,there are many processions of sheep there in the
states that are astray with apocalyptic visions of modern society.We could
take 5 minutes to consider the thinking of Mormon people.It could be that
we will return to the ways of 1,000 years before in which we fall further and
further into despair and slavery.What freedoms we enjoy in our private
lives could be banned forever.This is the same progressive ideology for all
of us should Muslim fundamentalists take control of the whole world.The
more support these groups get,the more it seems to effect the use of the
internet,music,television,sex before marriage,the drinking of alcohol,etc.
Over all,how do you feel Americans perceive their ways of life there?
 
I keep to myself. I abhor religion,so I don't care what any of them say.
I will do what I want when I want whenever I want!They will not infiltrate
me or my family and kids!Never!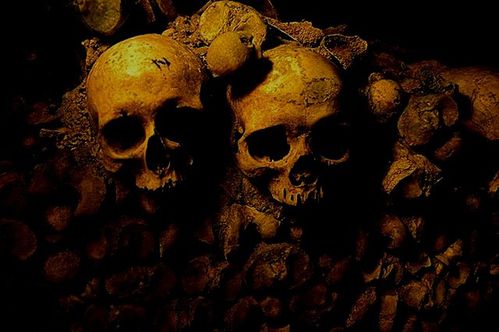 14 - There are those that appear on the front lines from sectarian states
claiming the end of the world.Are these growing number of sects in your
opinion a threat to your system and remaining rooted to self-preservation?
Or do you see these groups as only a futile attempt at revenge against the
winds of change?
 
I see these yo-yos as shit starters.They will amount to nothing but
newsfeed bloggites!Threats they are not.Yeah the world is going to
end, for all of us, individually!Duh!And a big fuck you to the
knuckleheads that believe them.


15 - In quelling the anger that these facts can stimulate and to simply
change the topic,I will now discuss the creation of Europe's new
currency called the "Euro".The large scale prediction of its success
only ended in huge debts, relocations,etc.Would you see a positive
view of the union it tried to create and do you think it will survive?
Did you know that the extreme right and left sides made a great
success over this social misery?
 
Yes, you know,everything that these devils do is rooted in cash and
profit!If it makes some big fat cat rich they will get it done.Think about
this: prostitution is sex,we all have sex....prostitution is illegal,huh?
Sex illegal?Yes because some fat douche can't find out when you pay
some bitch for it and get his cut!And also,drugs, some are illegal.
Yes again,because if Joe Schmoe is selling that shit he grew in his yard
to his pals,fat cat again,don't know it and can't get his cut!What a fucked
up world,uh,America!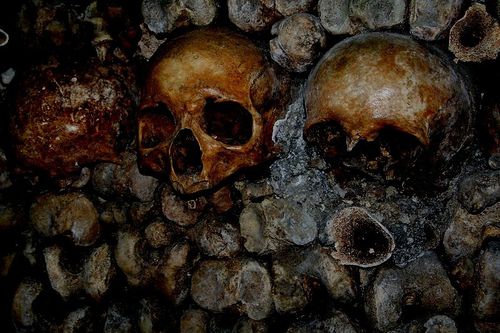 16 - Watching a day in September 1990, your intentions to form
CRUCIFIER was according to what you had said: to keep the real roots
of Black Death Metal.I have a feeling this was strong in your inner being
and certainly a matter to reflect upon.How were welcomed with other
Death Metal bands already active?Which ones?
 
I was into metal since about 82 listening to Ozzy and Sabbath.Then in 83
started drums and getting rooted.Years passed,bands were formed and
failed,then Crucifier....history!Yes I was rebelling, and it worked,in
magical ways here.And still is very much still one of my greatest passions.
We did well.Goreaphobia,Violemost,Face First,Incantation,Mortician,
Brutal Truth,Revenant,Immolation,Hazarax,Lesch-Nyhan....just so many
great locals and worldwide acts started to partner with Crucifier.They were
magical and memorable times.I will never forget them, hence why Crucifier
will never die!
17 - In CRUCIFIER, when I listen,I sense a set of Dark Death elements,
Metal orchestrated in an undeniable reverence for occult studies and
philosophical lyrics.Being so,is it really the right way to classify the music
as only Death Metal but more as Black Death?
 
Black Death kind of is Crucifier's forte.We hone it and we own it.When
Crucifier starts playing, and your eyes are closed,you know it's us,you
know it is me singing.I am proud of that.
18 - The early days in your career you were three members, you,Jeff
and Ira Ridden Anderson. What motivated you to practice this style?
Did you grow weary from the norm you had seen in the underground
Death Metal scene at that time?What bands do you think of that you had
flipped to the dark side at that time?What would you say was the average
age of your following?Did you have the support of your families?
How is it that a bassist has not integrated your circle?
We just got together,being dear friends in school with metal as our same
interest.We picked up instruments and took that only logical next step in
metal.I was already seasoned being in many bands before Crucifier,but
when we three took the reins, something happened.Something sick,
something blasphemous,it just formed.We did not plan for this or that,it
happened and that is how it is meant to be!We just didn't have a just
bassist around capable,so we just did it as two leads and me on drums
and vocals.We were tuned so low that you didn't need a bassist!We went
to see Ira's brother's band Altar play at their new drummers pad one day.
This was after maybe a few practices.So we go down there,but before
hand they said bring your guitars,and when we take a break you guys
can jam a bit.So we were excited.And what happened that day,sealed it
mostly for me,but for Crucifier as a whole.When we got that chance to
start jamming,the sound that came from the guitars were like a spell.
These dudes were pro,and when we got up there and wielded the
Crucifier sound tuned to like A or whatever it was....all of the dudes in
Altar's jaws dropped.I recall after a couple song set that they were
silent,then, just told us how unbelievable the sound was and how different
we were compared to all the thrash bands they were touring with.It truly
gave me the motivation to keep Crucifier the meanest fucking Black
Death band in the area....and we still are!!!!
19 - Four months following after 5 songs were in the experimental phase
of composition,as I understood from an old interview of yours, you made
no official recording of these.Were you unsatisfied by them?
Why did you not refresh the band when Jeff was replaced by Dan Kamp?
Was Chris Miller a replacement on bass?
 
I think that we were planning on doing a demo before Kamp and crew
joined.But we never got to record, hence why the tentative demo,
The Unholy Trinity,was aborted. Dan and Chris approached me at a
show in New Jersey and asked if I needed help with the band,and at the
time I did,so I auditioned them. And it was a very good partnership
while it lasted.
20 - There seem to be an incessant line-up problem happening during
the recording of "Humans Are Such Easy Prey" after the departure of
Ira Ridden.And you had a new guitarist by the name of Mike Machette.
My thought was that this instability did not upset your progress because
your first efforts had already paid off.Am I correct?
 
Yes,see,Ira and Jeff left for various reasons,but I was so in love with
Crucifier and what talents I was finding within myself that I had to keep
it going.The Humans-era Crucifier as where many great classics were
written.I will always have a fine and fond place in my heart for that
ensemble.


21 - Meanwhile,I noticed that two versions with different cover designs
had been made.Would you explain that?
 
Uh, I am forgetful a bit on that,but we were probably just being picky.
But in those days it was all about roughness and evil so what we came
up with stuck regardless.
22 - A curse threw suspicion even within the band when one year later
due to musical difference between Christ and Mike.Do you remember for
which reasons they decided to leave the band together?Do this make you
feel that the band would lose some of its impact because of this?
Or did this allow you more freedom for you and Dan Kamp to prepare the
new record?
 
I think that I was a bit of a dick band leader back then.I don't think they
liked how I was dictator, but hell, it was my baby and if I didn't like it,
whatever it was, it got the boot.I'm sure they had other things to do.
Kamp and I stuck it out up until 93-ish.He left to play with Incantation
but that didn't last long.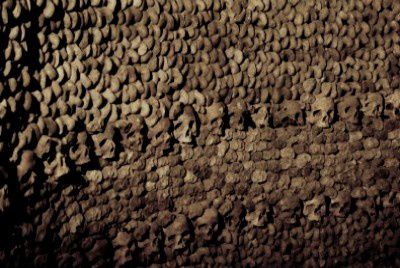 23 - Did you not have a member named Dan Keaton complete the three
parts unit to perform the second demo "Crown Of Thorn" However on
the cover one thing intrigues me: It's written on the cover of my original
tape that Dan Kamp played the bass part and yet the name of Dan Keaton
seems unknown as part of composition of the demo…Why was he not
included in the cover line-up?Was it that he was not ready yet?
 
Keaton wrote a couple riffs on some Crown songs.But at the time he was
a kid and very busy with kid stuff,girlfriend and video games and such.
And I think we opted him out.And I believe that we gathered our cash
equally and he couldn't get his share up,so we used that too to make the
decision.Well,in retrospect I would have done a lot differently.
24 - However he was rejected by you, right?And it seems due to a lack
of maturity and honesty without taking care of it even by a phone call to
warn you…Was it that he had not the time to compose some songs?
What was the reason for his departure?
 
He was missing practices and we were serious about getting shit done.
And then we just split.
25 - During this period,you had said to have worshipped the Polish zine
"Holocaust".I read the following phrase:"…that the band was formed in
True Black inspiration and drug and alcohol free…"Can we conclude that
the band was not able to find inspiration in a soft state of mind?
Do you create from state of mental frustration?If so,what frustrations
would you speak of?Do you consume or do anything in particular to
descend into hell or reach a neurotic state?
 
I am a non drinker or drug user,so at those times,I wanted members
who were like minded.I needed dudes who were into metal and playing
and not drugs and alcohol.But over time, those policies changed.
Now we have fun as well as write good music.Surprisingly it can be done.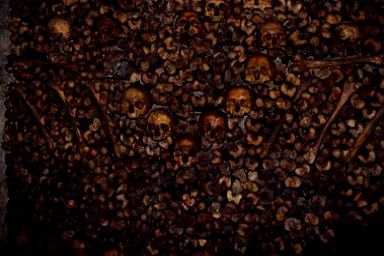 26 - The band was as a devouring death with your two excellent demos:
"Unparalleled Majesty" and "By The Disgrace Of God" that I bought at
their output were pressed on Pagan records tape compilation.
Did you push to sign on a label other than Wild Rags?Did labels criticize
you?How many copies were pressed for each of these demos?Did you
reach a point where you were fully satisfied with the line-up considering
how many problems there were?In what amount of time did this
compilation sell out? Was it possible that this compilation would have
never seen the light of day?
 
We never signed with Wild Rags.They had a band called Crucifer and
they were actually the opposite of us in spirit but the spellings were so
similar that everyone and I mean everyone thought they were us!
It fucked things up,but in the end,the strong survive!The Pagan Records
cassettes did very well.I don't recall sales now, that was a million years
ago!If you recall Behemoth was also on Pagan....just thought that is funny
considering how they sound now.But Tomasz and Pagan did very good
things for us. I am very happy with our Pagan days.
27 - It is evident that you had used emblematic figures from the
underground scene for the artwork of "Unparalleled Majesty" demo
which was drawn by the legendary Chris Moyen.By what sinister means
did you discover his work?Did you allocate a budget for him? Do you have
any favourite art pieces by him?What do you think of the artist Necrolord?
 
Moyen is the best!Still to this day I speak with him.I was introduced by
Tomasz I think.I love his Incantation early art.Necrolord is pretty good
too.


28 - There is not a shadow of a doubt that you had lots of contacts around
the world…when considering this,you had your logo drawn by the Belgian
Christophe Spazdjel,who created logos for many other extreme bands like
EMPEROR, etc.Why had you not gone with perhaps a less popular artist
like Niklas Sundin,for example? (He created the free logo for my zine.)
 
Yes I knew them all,and know them all still.I don't recall how Christophe
and I got together,but it worked and the emblem that he did is still used
by me.I am cool with using all good artists,introduce me!
29 - At approximately the same time,a Brazilian Thrash metal band had
the same nameWere you aware of that?Do you feel sometimes that bands
are only harmful to themselves when they go out of their way blindly to
save a band name?

I know of about three or four other Crucifiers.I was pissed at first, but
then after a while you forget about it...and learn to live with the idea that
bands have similar names.Luckily I know that I will be doing this forever,
so maybe I'll be the one who has the name the longest!
30 - To elucidate on this question…What happened to the hosting of your
web-site?Did you get the feeling like walking on rotten eggs when your
blood-brother ARGHOSLENT was banished from the official site?
Being against the tide,it is completely understandable to see some of your
opinions vocalized on Youtube!With all this, would you think it is all a
lottery more or less?
 
I don't know what you are alluding to here.Maybe I just forget about the
whole thing.If any hosting issues arose from the Crucifier site,I'm sure it
was only a financial issue.I have always been on a shoestring budget!


31 - Beyond any extensive research on the web with my traders,the 1996
tape "Powerless Against" went on a hyper-unknown underground label
called Sinistrari and can't be found today.I took note that on the set-list
there were two unreleased tracks that were later found on "The Ninth Year"
compilation.To pave a path in the pond,may I ask you about further details
on the mystery that revolves around this?
 
Sinistrari was a label and zine run by a friend of Gelal's back in the day.
Then Gelal took over using the name and putting out reissues of WHW's
first CD.Then he asked me to join up with him to help out.So it basically
became our label and pet project.Then he said put out a Crucifier cassette,
and I jumped on it.The label went under but I kept the Powerless Against
in my own arsenal.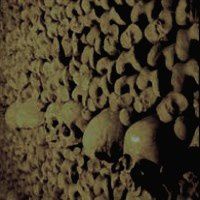 32 - With the greatest energy developed I searched for the original
"Trafficking With The Devil" 7"and I found it.To date it is still a very
difficult piece to obtain.My search was not in vain!This observation I
draw from the dazzling musical progression with the prestigious musical
guest Gebal Necrosodomy which brought a breath of melody comparable
to the genius of G.B.K and ARGHOSLENT.Why had you not continued
to integrate this in the band afterwards?Did you desire to create a
different and distinct musical perspective with CRUCIFIER?What was it
that happened during those three years?Why did not keep it as an
unreleased track?How did it feel to be on support with legendary
NUNSLAUGHTER?
 
I don't even have a copy of Trafficking anymore.I want one! Well Don,
Jim and Nunslaughter have been good friends for years and when he
said he wanted to rock a split,I jumped on it! Fun times and a rebirth of
sorts for Crucifier.I was very busy with GBK from 96 to 99 and Crucifier
wasn't a full band again until 2000.So while I was doing the GBK stuff in
those years I was working on Foul Deeds for the split.I needed a new
flavour and Gelal offered that middle majestic piece.He and I fell out after
2003 but have recently got back in touch.No word on a compilation yet
though.
33 - During the previous year,there was released a compilation featuring
the famous hellish parts of CRUCIFIER as a discography by Elegy records.
However,I noticed that titles from "Unparalled Majesty" demo were
absent.
 
What BLASPHEMY!Was it forgotten?Who made the decision as to what
to include?Would you view it more as a tribute? Have you had any other
offers from Elegy?What do you think of their catalogue and the tendencies
of this label?
The missing UM songs were only because of time restraints on the cd.
We weren't in a double cd budget,so we managed to squeeze only the
other songs.Rob and Elegy did right by us and I was very happy.We
haven't done anything else for no reason.Maybe we'll do something in
the future? I like his stuff and his web radio station.I support Elegy and
their crazy ways!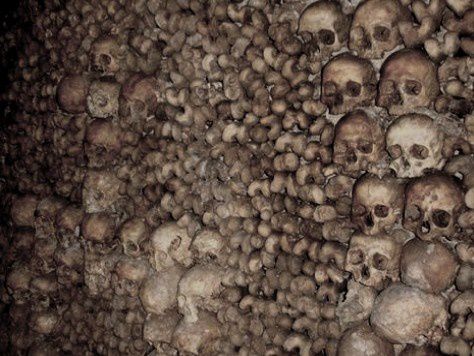 34 - Visibly,you have made several live performances and then another
live curse coming after the departure of Vince Papi and Spencer Murphy.
Thinking to demonstrate a saving of face at the height of bad luck,I failed
to find more information on the progress of the band.All the traders were
only sharing live videos with the same thirst for more.What would you
say about all that?
 
We did many shows with that line-up.Didn't record them all but had fun.
It was a very solid lineup until the very last days.Then after Madman's
disappearance I had to regroup fast.
35 - The frantic hysteria of "Stronger Than Time" debut album whipped
Hebrew corrupters over their odious cowardice based on their felonies
of lying,deceit,subterfuge,intemperance,and vice proliferate of centuries
of domination and demonstrating the omitting of irrefutable crimes
perpetuated by unbridled Judaism.New torrents of flame should have
come in the form of a new release in 2002.Can you explain why there
was a delay?Did you have time between the compilation and the pending
new release to compose new songs?What were Gebal Necrosodomy's
reasons for advising the band to be on a Spanish label?Did Elegy records
show more interest in working with the band?
 
If we followed the trends of the times Stronger would have been out back
in about 94 or 95,right after the Pagan Records releases.But we
procrastinated,I felt we weren't ready. And I won't say it was the best
decision,but I wouldn't have changed it if I could now.I think Gelal
thought that Matei would give us more attention then other labels that
planned on doing the release.DTM did us well, paid for the recording and
let me do our own design,so I was very happy!No Elegy was busy with
other stuff.
36 - As if it is pleasant to face the violent Devil's claw and drown in his
abyss,the reading of CRUCIFIER lyrics brought to mind the general way
of those written for G.B.K.In general,my perverted instinct seems to
sense a deep conviction that your childhood was disrupted by "holy"
prayers every night before being plunged into nightmares during sleep
of sodomizing nurses in heat…It would seem also that Easter communion
left in your mouth a funny bitter taste?Which allegories of alchemy and
divination do you use to transmute this earthly life?
 
I thank my mother for her devout Catholicism otherwise there would be
no Black Lourde or Crucifier or GBK as it was midway known.So some
good can come from God.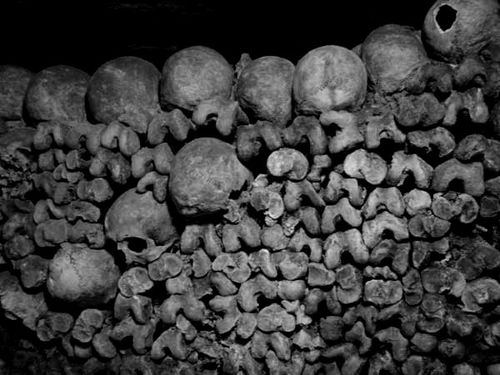 Would it be at one point the writings of Anton Szandor Lavey and The
Satanic Bible?Did you perhaps use at one time use the way of "devil
worship" to awaken mysteries of clairvoyance?Are you currently
seeking a new outlet for fighting these eternal beliefs and developing
further your infernal world?
I was very intrigued by LaVey's writings.As with all of the music and
bands of those times.I was young,I needed new thoughts to rebel
against my mom's beliefs that were being forced into me. And LaVey
helped surely.
37 - In general, Xtianity for 2,000 years of existence is just a misfiring
institution,degenerate,sick and infirm and while we were sleeping was
sucking upon the suffering of the world instead of accepting the
responsibility for the deterioration of the European races.The creation
of the universe by a god can be viewed as non-sense against science
and the ideas concerning a creator have been recently been given mortal
blows by recent discoveries.With that in mind, could you actually view
more so the so-called death-of-Christ as a sad thing since it led so many
after that to their graves?
 
Nah, I don't believe that bible!And I don't have compassion for fools
who follow it!
38 -  Since the release of "Stronger Than Passing Time" debut album,
five long years have passed, leaving me with questions…Then the older
titles in rehearsals appeared on a split revealingly called "Deep Grave
Dungeons" on a Polish label founded by a member of THRONEUM…
Was that a demonstration by the band to suggest an "anti-business"
idealism?…Was it a reflection on remaining "true"?...(Which of course
is a great opposition to so many synthetic products coming out!)Or was
it something you simply did not expect to do?Tell us what happened
during that time and why you still stand on just the CRUCIFIER classics
and not something new?
 
I think the idea was for live music.I will not rush new songs,everyone
knows that, hence why there isn't a new LP yet.I am so picky with riffs
and style that it takes me a long time to write.I like to be involved with
my worldwide scene in anyway I can....that is why I try to get on board
with many releases if I can.
39 -  An Apocalyptic Beast unfolded its horns and spread a curse in The
Garden Of Eden when "Trampled Under Cloven Hooves" was released!
This is beautiful cover that you have drawn! Still,I am interested in more
details…The band still has no new contract with a label that I know of…
May I know the reason for this decision at the time?Why not create yet
another musical offense on Time Before Time label?What artists for this
cover have inspired you to create this seed of evil?Was it a freedom of
spirit?Was it a spiritual mutilation of the self?
 
I stumbled upon that art for that release.I was offered a vinyl by Jim with
Paragon Records out of NY and we ran with it.I think we weren't offered
a budget for the vinyl so we were left to our own resources.Actually
Necrodemius,then bassist paid for the recording,since I and Madman
were both broke.But I think the spirit is still there if the recording
suffered a bit.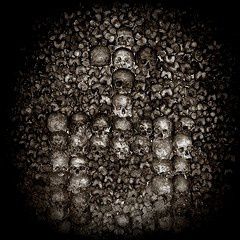 40 - It is no better than suicide when there is submission of spirit to
religion…This we know results in slavery by suffering…Was this cover
an attempt at a personal negation and annihilation of the catholic religion
similar in aims as what Luther had done by excommunicating himself?
 
You look too deeply on this one.I thought the work was new and fresh
and fit in with my long idea of "those others" being trampled by the big
bad Crucifier!And why not play a flute while doing so right?


41 - What do you want to add to end up that interview?
 
I want to say thank you for the well thought out interview.Hopefully it
meets your expectations.It is late and I may have faltered on some
answers but I'm sure your readers will understand the mind of this
Monster!Please keep up with me on Facebook,where you don't need a
stamp and envelope!Thanks you again and please always support
Crucifier,for we will never die!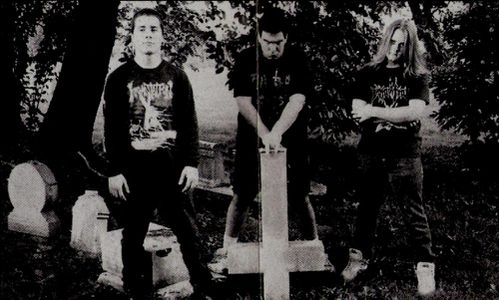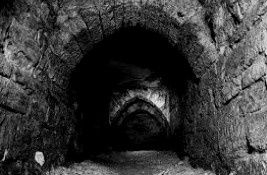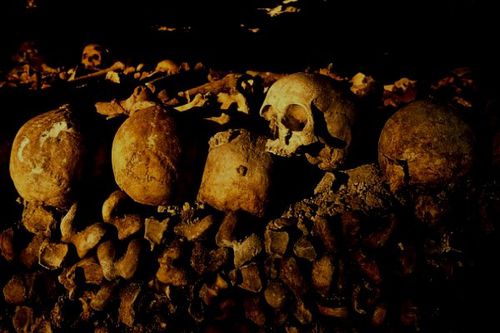 Interview : Kanz-Noz
           Special Morbid Thanks : Cazz Grant,Azure Wizard & Fuckindeath.