24 février 2012
5
24
/

02
/

février
/

2012
11:34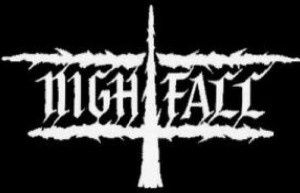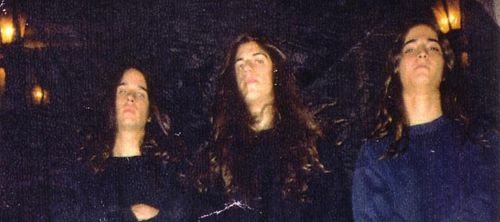 Nostalgic minded from the past that I am keep irrevocably in memory the
unique Greek melodic sound that only had the secret, enjoying a mysticism.
One of the precursors named NIGHTFALL have been able to increase all
elements of single glance by mixing in all modesty brutality and melody on
the ' Vanity ' demo-tape.I must admit they have encountered praise from
fans and zines many moons ago.Moreover this sucess was very justified
because nowadays playing this kind of music is almost outdated due to the
big fauna of frustrated dickheads supporting only extreme current bands
delivering a fag power sound without soul, selling with blindness a pitiful
work to business...Add to this, a lot of them, play with shame.It is clear that
when I saw them on tour feat SADNESS and CELESTIAL SEASON with Christian
from Adipocere records which had invited me in Dijon and Marseille(which
featured SADIST as headliners), I could see they were also better on stage
than in studio,which it is not the case for many bands...Interview done with
vocalist/bassist, Ethismis.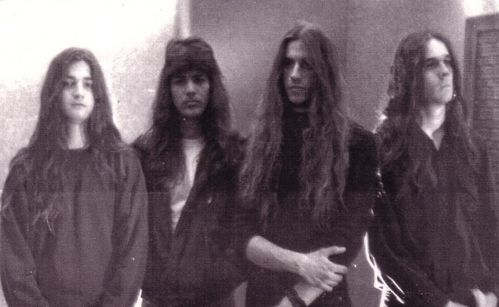 01 - When and how NIGHTFALL got formed?

Although the fact that NIGHTFALL had existed as an idea only a lot of
time before ' Vanity ' was first released. We appeared together as a band
by the time demo's recordings had begun...a few months ago.We
actually formed NIGHTFALL for playing exactly the kind of music we
like best
02 - How many copies did you sell and are you satisfied with your first demo?

We have sold about 300 copies so far but ' Vanity' is still selling very well,it's
only the beginning.We are very satisfied with our first demo tape.It has great
sound quality and also great songs.Futhermore it's our ' passport ' for being
well known by fans around the world.I believe that alot of well known bands in
Europe are jealous of our sound on the ' Vanity ' demo-tape.I am thinking about
' simple ' bands but also about ones with one or even two lp's!Check it out.

03 - Have you got some new tracks ready?

Yes we have a lot of material for our first LP and we like working on it until we
will finally record it.

04 - Why have you chosen such a strange intro for ' Vanity ' demo?

I really don't know.It's something like ' Calm before the storm ',we like it.
Futhermore,this song (the intro) is talking about love,a subject that probably is
very difficult to find someone in that kind of music.Of course when I say ' Love
' I mean the general meaning of this really strange world.I don't like using this
word in its simple meaning that most of people (in heavy music) prefer to do
' Love' as ' Life ' and ' Death ' are holy words!

05 - What is the meaning of your lyrics?

They're talking about the special human's characteristics which is....my thing !
They are thoughts about our existence as human beings but not only.It's
better for someone to read them first and after giving his own explanation
about them.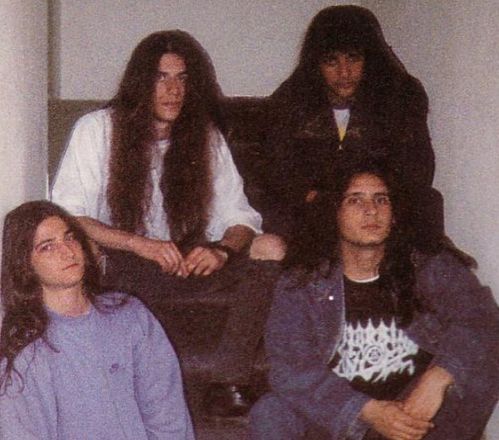 06 - Have you find a label for your debut LP?

Yes we are going to release our two first LP's/CD's with the French label
Holy Records.The first one ' Parade Into Centuries ' will be probably out
in about 3 months.We all (band, label) try to do the best we can for a perfect
and not simple good result.

07 - What do you do think of the Greek Death/Black scene? Do you have good
contacts with great Greek bands like Rotting Christ & Varathron?

There are a lot of great death bands here in Greece and mostly in Athens.
Check them out.I'll help you.Now I love Varathron demo-tape especially for
it's leads and melodies.But we have got in great contact with these bands.

08 - Have you ever played live and with which bands?

We haven't played yet any serious gig.When we believe that the time has come
we will give our souls for the best.By the time,I wanna mention our desire of
playing alive in other countries with just money paid for the trip. If someone is
interested...please just get in touch.

09 - How is it to live in your country and is it difficult to play this kind of music?

It's great living in Greece,I can't say nothing more.As you know we have almost,
the same problems as every countries except those in the east block have. It's
not difficult to play this kind of music...if you play music of course and not noise.
I hate a lot of people who don't know how to play your instruments.As a result a
lot of noisy stuff with the sign of ' Death Cult ' ect...Metal gets released,mostly
with a great cover and of course great flyers, trapping a lot of fans who are
giving their money out waiting to hear something real good.This kind of music is
not ' Hardcore ',this music needs feeling and for expressing it you need to know
very well how to play your instrument. I don't sing ' Be the best ',but you have
to respect something sometimes and first of all what you're doing!

10 - What do you think about all these trendy bands who are copying ENTOMBED?

I think that none of this bands are any serious, at least the problem with these
bands(not only copying ENTOMBED but other bands too) until they are going to
release their first demo-tape with the desire, always to be bought every form. Unfortunately some bands like those keep on throughout time and release LP's
too...

11 - Do you believe in God?

I believe in myself.I'm my god.I believe in the power of mind,' Action being good
future...' as Pink Floyd period. With war,all of the religion are the same.They just
have some differences but they work with the same plans. They remind me
politics...Think about it ! In the name of religion you've not totally free to do
what you think is best for you.

12 - Are you interested in the old Greek mythology?

Yes I like it.I find it interesting quite a lot,but not enough to get me having more
things about ' our ' pont (??).

13 - So,what are your projects for this year?

First of all our LP's/CD's ' Parade Into Centuries ',then some concerts in
Europe. Also,I don't wanna forget our ' Vanity ' demo-tape which we believe
that is more than a simple demo, don't you??

14 - Someting to add?

Yes,Thank you much Ronan for the invitation being into your mag.Good luck for
the future.Also,great thanks to all of you who supporting us.We have waiting
your letters as soon as possile.NO RIP-OFF AT ALL!!!Bands,Zines,Enemies ect...
Get it touch !!!!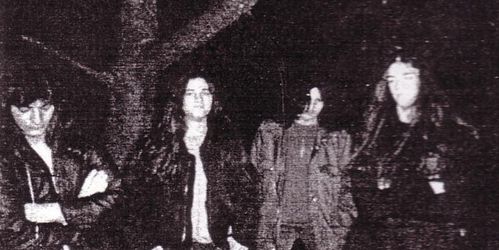 Interview : Kanz-Noz