25 février 2011
5
25
/

02
/

février
/

2011
22:58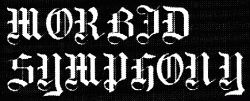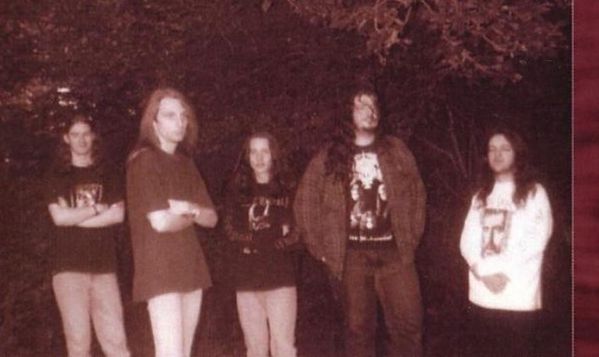 The underground English death metal scene has not always been the most prolific, but I must admit that they have a unique ability to transcribe a morbid atmosphere with an innate sense of melody to form a vision of the labyrinthine world rich in cultural diversity.In 1990, MORBID SYMPHONY petrified spirits by releasing the amazing debut 'Evil Care For Its Own'. An year later, they struck a deal with Corpse Grinder records for the single 'Permanence In Dark Earth'. However, even after a couple of great demos, the labels showed little interest in them. In 2002, they released two compilation cds. The first cd featured their whole discography but the boring electonic remixes on the second one almost managed to crap on the whole release but fortunately, both live-tracks managed to preserve the band of old.Before vanishing into obscurity, the 'Seasons Past ' Full-Length was self-produced in 2002 with a mystical cover conforming perfectly to the diversity of the release.The band seemed to have a musical edge over the rest of their demo countrymen as they had the unique ability diversify their songs to incorporate modern touches without descending into mediocrity at any stage. Morbid Symphony was a precious band which does not deserve to be forgotten.I decided to interview the bassist Tony after getting blown away by the first demo. In those good old days, almost all the bands granted Interview requests. So here it goes.
01 - Firstly, could you recall the beginnings?

Morbid Symphony was formed in May 1990 by Steward Prichard (Guitar), Mike Humpries (Guitar) and myself (Bass). At the time, the band had no name, no drummer and no singer and we just really used to mess around jamming in Mike's garage. In June 1990, the name 'Morbid Symphony' was thought of by Stewart and Christopher Prince (who later became the singer). In the same month, a drummer was hired in the form of Keith Hill and a permanent rehearsal place was also found. Around this time we started writting our own material. In July 1990,Mike was forced to leave the band and was replaced by Ian Rolls and Christopher Prince became the singer. In August 1990, we played our first live gig at a party in a friends garden with a handful of original songs (of which only 'Eternal Unrest' now remains) and lots of covers. Our first 'real' gig was in December 1990, at the fist national, Liverpool with various noted bands including Anathema.We played a lot of gigs in the early part of 1991, trying to establish our name and in August 1991, we entered MA Studio, Liverpool to record the five song 'Evil cares for it's own' demo. The tape is is available from us at 2.50 (UK)or 5.00$ + IRC (foreign).


02 - I would like to know if you are really satisfied with the first demo?

Yes, I'am satisfied with the demo. All the band members are very pleased with the the way it turned out. I still think that our demo sounds good even when I listen to it now, and that's not bad considering I have listened to it a couple of hundred times. There are things that could be changed but I think if you spend too long tuning a demo to perfection then you risk spoiling it.

03 – How did the recording of 'Evil Cares For Its Own' demo go?

The recording went very well. We went for four days in August 1991 in a studio.It took three days to record all the songs and one for mixing. It was the first time that we got into a studio so we were not sure what to expect. But the producers of the studio were great and we learned a lot that I think we will show when we return back to studio.

04 - Did you have any positive feedback?

We have had quite a few positive replies from small record companies and we have had interest from a large company. We sold about 120 copies and have received lots of encouraging letters.

05 - It seems to me that your lyrics have a connection with fantasy movies, right?

Indeed, the lyrics cover topics mainly related to fantasty and horror. We are
all interested in these kind of movies and literature, so we like to write about
these topics.In fact, we write about everything that interests us.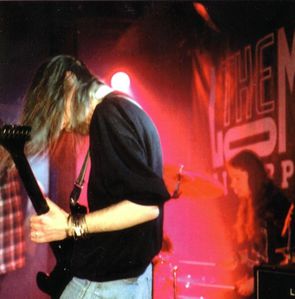 06 – If I am not mistaken, your cover art is from the 'Evil Dead' movie right ?

Sure, the cover picture was taken from the 'Evil Dead' movie. I really like this movie,and I think the picture goes perfectly with our music and our lyrics. We will use more element of horror movies in future.

07 – Have you played any gigs? If so then what was the reaction of the crowd?

We have played quite a few gigs. Most of them have been local so we have had a really good, positive reaction from the crowd with all the gigs we have played. We should be playing soon with Cathedral and later in the year we might be playing with Bolt Thrower.They should be really good gigs because we will be playing to a whole new audience.

08 - How is the underground scene in your area?

The scene is okay there where we are. We have some good bands like Anathema, Burial and Devoid, and there are usually some big bands who come here to play.

09 - Currently, which are your favorite English bands?

I listen to loads of bands.The ones I have been listening to recently are the new albums from Carcass and Cathedral.They are such well thought out albums, something that can hold my attention. I hate the demos or albums that I listen to once and think ' humm ',that's quite good! ' but then my interest dwindles untill I am thinking 'just another boring death/doom/grind band'. I like a demo or album to grow on me, having a lasting appeal.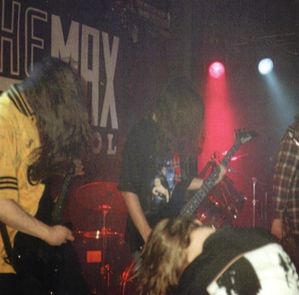 10 - By curiosity, do you have a lot contacts in the underground scene?

Yes, I write to a lot of people around the world. I like to stay in contact with them which means I am always writting letters and I like it, It keeps me abreast of what's happening in the underground scene.

11 - What do you know about France?

Paris is the capital haha! (Ron : No its Marseille lol). Seriously I dont know much about the French metal scene. Well recently, I received many letters from France so I think that the scene there is okay.

12 - What are your projects for the next few months?

Well a second demo probably later in year and we need to record a new song for a compilation soon but its not yet sure. Then we will have a few concerts during the year but we want to do more, so if someone can help us please contact us.

13 - Thank you so much for your support. Well, I leave you with the last words to close this interview.

First,thanks a lot to Ronan for this interview. We appreciate a lot. Then if you have never heard the band, come to one of our concerts or buy the demo. And finally, thank you to everyone who bought our demo and came to our concerts.Thanks for your support. Cheers.Tony.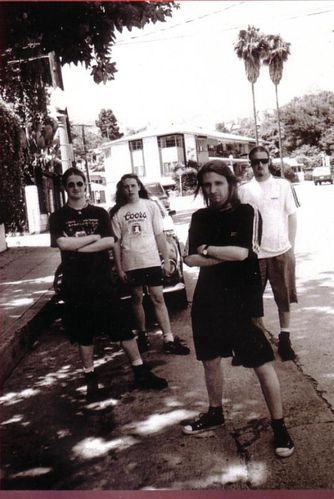 Interview : Kanz-Noz