27 mars 2012
2
27
/

03
/

mars
/

2012
07:58

As soon as the first crop of Finish underground Death Metal band
emerged in the early 90's, the scene started growing rapidly and gaining
importance and respect almost at par with the Swedish scene .However,
the pioneering warriors like XYSMA, FUNEBRE, PURTENANCE came
and, for whatever reasons commercial or personal, vanished into obscurity.
However, some bands like ADREMALECH, DEMILICH and DEMIGOD
managed to make a somewhat enhanced reputation for themselves outside
the icy Finish borders but still did not manage to patch together anything
that resembled an international career.One stride in the positive direction
of recognition and exposure was made by CONVULSE whose 'Resuscitation
Of Evilness ' emphatically announced the arrival of the dark Finish hordes.
The band managed to get signed to the French cult Thrash Records and I
immediately grabbed the demo as soon as I saw it on the mail-order list.
The shock I got from the day I first played this gem still reverberates
inside me to this day and I can say without any fear of criticism that this
was of the greatest pieces of Death Metal ever committed to record. Finish
Death metal deserves all the laurels and praise that can be heaped upon it.
They came and they crushed! So after my ears had been raped by this this
epic piece of musical butchery, I hastily arranged an interview with the frontman
Rami.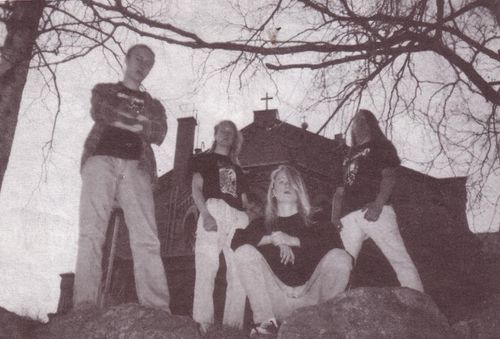 01 - What is the history of the band?

CONVULSE was formed in the autumn of '88 with the name S.D.S. Then the
members were Rami (Vocals & Guitar), Janne (Drums), and Patti (Bass) and
we played Speed Metal. With this lineup, we released the first demo and also
played some shows. Jani, the second guitarist arrived in the early '90 and we
recorded a second demo followed by more gigs. Then we began to ask ourselves
that why we were playing Speed Metal when all the members listened to Death
Metal. So we changed our name to CONVULSE, wrote some new tracks and
released the demo 'Resuscitation Of Evilness '. After a few gigs, we received
offer from Thrash Records for an album. Janni left the band in February '92 and
Toni has joined in to replace him.

02 - What about your 'World Without God ' LP?

It was recorded in a 24 track studio in 35 hours and includes 10 tracks and a
colour cover, lyrics etc. All the copies (1300-2000) have been sold out.
The CD version will be out in the near future.

03 – What are your hopes with the new album?

I hope that people will like it.

04 - Is Thrash Records is a good label in your opinion?

Yes it is. There was a little delay in publishing but it's very normal.
Maybe we could get more money for each LP sold but I trust Thrash records.

05 - Did you have proposals from other labels?

Not any labels bigger than Thrash Records but I hope we will get some
offers as we are writing some new material for the second LP, although
right now, we have only one song ready.
06 – For people who do not know, what are your lyrics about?

Today I write different lyrics than before. Now they are not those typical
gore and anti-Christian lyrics. It doesn't mean that now we are friends
with Jehovah's... It's just time to create something new.

07 – When you released your excellent demo 'Resuscitation Of Evilness',
what were the reactions?

The demo has sold almost 1000 copies so I think that the reaction has
been very good.

08 - How is the Finish scene?

It's big and mostly good but nowadays there are a lot of shitty bands too.

09 – Well in my opinion, the Finish scene is one of the better scenes
around. Do you agree?

I would say that the Finish scene was developed a lot in recent years.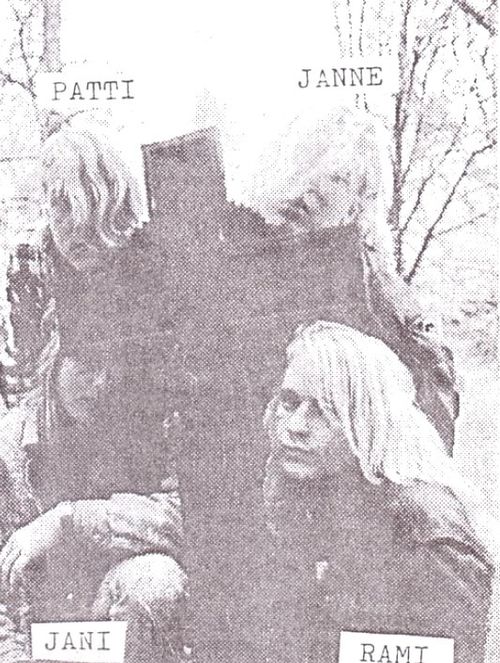 10 - What do you know about the French scene?

Not a lot. I have heard about MERCILESS but...I can't remember anything
else, hey....there was MASSACRA. I mean that techno Death/Thrash band.
(Ron: It is not the right term to quantify their style. Aggressive Death/Thrash
would be more appropriate)

11 - What are your favourite bands? Are you influenced by them?

We are listening to several musical styles. From Death Metal to DOORS
and PINK FLOYD and other stuff like that. I think what you listen to does
influence your music.

12 - What do you think about Fanzines?

They are good promotion for smaller band but I don't like all those zines
made by copying press without any quality.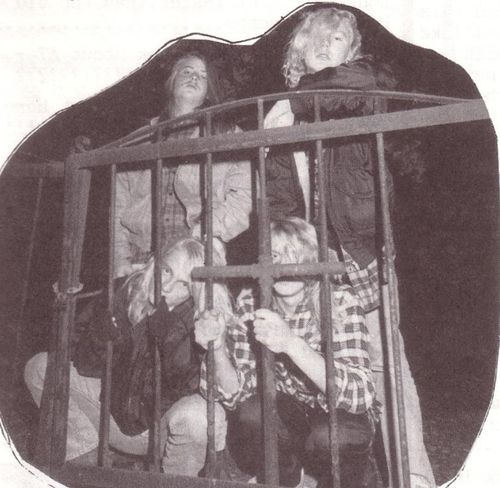 13 - Do you like stage diving?

Sometime it's very hard to play because the stage is full of people.
They mosh and dive and it's sometimes too crazy and violent but mostly
it creates a good atmosphere.

17 -How are your gigs and how is the crowd reaction?

Mostly good....

18 - What are your hobbies in life?

Playing in a band, drinking beer and have a good time with girls.

19 - What are your future plans?

Play gigs and new songs. We have to go to the military and civil service
which causes a lot of problems for us.

20 - Maybe a last comment?

Thanks for the interview and thanks to those who have supported us
and have bought our LP.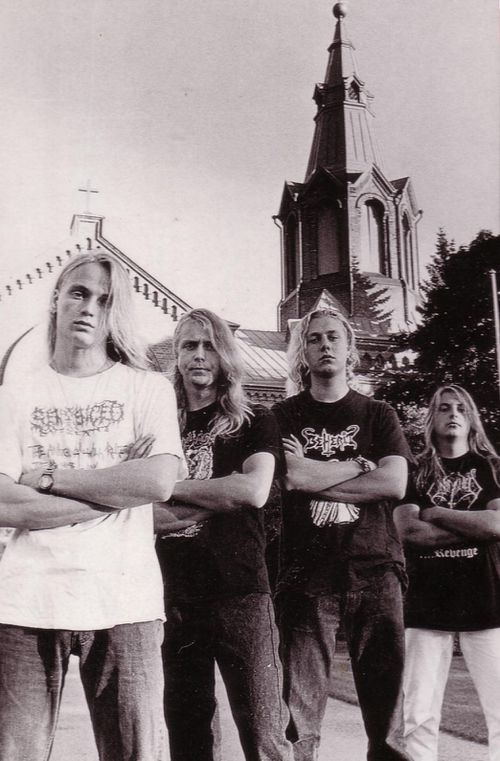 Interview : Kanz-Noz