20 janvier 2012
5
20
/

01
/

janvier
/

2012
08:50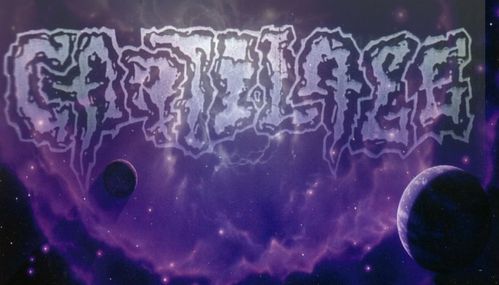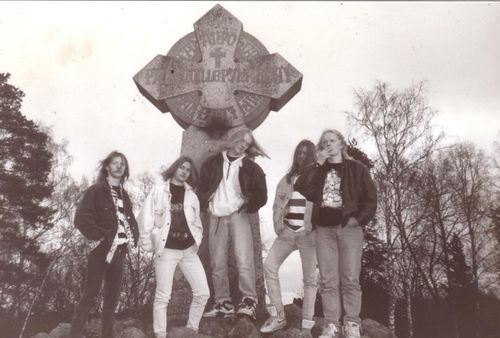 CARTILAGE was formed on a cold day in late January 1991.At the time
they were only three members with Kai on Drums,Harri on Bass and
Karri on guitar and finally in mid-march they recorded on a four track.
This rehearsal cassette ' Encapsulated ' was distributed only to friends,
but became a major point in the career of the band because after the
recording Mikko (solo guitar) and Mikki (Vocals) joined them..With this
line-up they began to compose some new tracks.It took them all spring
and summer but finally in August (26 & 27 to be exact!) they entered the
studio to record the wonderful ' In Godly Flesh " demo..The demo
quickly became a success and some critics took the view as one of
the best Finnish Death Metal demos.Given the enormous potential
of this jewel,it seemed inevitable to sound the charge with the fuckin'
cool Karri. will remain one of my fave contacts in past.
01 - To start,what is the present line-up?
Our present line-up is :
Mikki - Vocals (23)
Mikko - Guitar (19)
Karri - Guitar/Vocals (18)
Kai - Drums (18)
Harri - Bass (17)
The line-up has been like this for over a year now,our lead guitarist
Mikko is having his military service in March and won't be free until
January '93.
02 - What are your main influences?
Actually we have no musical influences, 'cause we are not allowing
any other bands to inspire us and so far we haven't been compared
to any other Death Metal bands.Nowadays Mikko composes almost
all of the music.We are as a band influenced by some T.V. …
Twin Peaks for example…haha
03 - So,what kinds of bands you like to listen to?
I don't know about others opinions,but I like to listen to almost all
kinds of music. Anyway I still require a certain degree of originality
and heaviness before I can fully get into a band. Mostly I listen to
Death Metal,but still I'm open-minded towards other kinds of music.
Some of my fave bands at the moment are :
LUBRICANT,NIRVANA,ENTOMBED,MR.BUNGLE,GRAVE,PARADISE
LOST,C.O.C,MORBID ANGEL,SOLITUDE AETURNUS,GORGUTS,
CANDLEMASS,CARCASS,RED HOT CHILI PEPPERS,INVOCATOR,
PUNGENTSTENCH,FUNEBRE,SOUNDGARDEN,MAPLE CROSS,
FLESHCRAWL ect...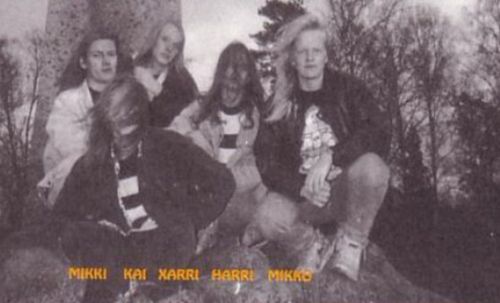 04 - Are you satisfied with the result of your debut demo?
Well,generally I'm satisfied on how it turned out because it was our
first visit to a studio.On the other hand there are some minor things
that i'm not so fond of like : Foggy sound & sloppy playing (normally
those songs are faster and tighter)All in all it's a good debut demo in
my opinion (disagree if you will)...
05 - Well,Where have you recorded it?
It has been recorded in studio Welmu in our city of Vaasa.We have
chose this studio because it is very cheap and it has a great
microphones for recording vocals.
06 - The cover is fuckin' nice and dark! So from where have you
taken the illustration?
Ah,you will not believe it ! I took it off my school book on religious
education (Christian doctrine).That's hilarous.mostly because I am
certainly not that kind of person and not the most religious in this
world but I thought the illustration was cool…I showed it to the
other band members and we decided to use it.
07 - What topics you treated on the demo?
Sex, alcohool,fast cars of course!!! HA NO ! currently my lyrics
(I write all) talk about things bleak and gloomy here and from
beyond or death as only an element and not the end itself. I try to
make my lyrics amazing and atmospheric because I myself enjoy
good lyrics....I'll give you another explanation : some lyrics from
each of the tracks one after the other :

The Altar : Superficially these lyrics talk of a psychotic guy who
invented a ' God Of Putridity ' and a lovely way to worship. But if
you take the timeto see anything other than there are blood on their
hands,you will find that these lyrics are in opposition to religions
of all kinds (as well as Christianity and Islam but not Satanism as a
religion of course)…in which people are willing to do anything.
Maybe the phrase : ' You live for it and it lives though you '(you live
for him and he lives across you)best describes the message of this
track.

To Your Scattered Bodies Go : Well,or so these scattered members
can go... elsewhere than under ground...This track refers to a
hypothesis : if after death,your conscience and your sense of touch
reappeared...it would be terrible,no?' How dead the dead really are?
(How the dead are really dead?)scary,eh??? Currently we got rid of
this track…

Infernal Paradise....The Journey : The desire to control ,reconcile to
dark secrets can cause a great agony…So…do not play with things
you can't understand (like occult science,its a dangerous topic).
The narrative is a psychological journey in which the narrator speaks
with the dead,the ancestors and himself…among others things.My
new lyrics are like metaphysical poetry about life after death and
things inside the human mind.They are also very speculative.These
are some new track titles : Abstraction To Mortality, The Underworld,
Afterlife Sorrow, Blessing In Depths, Why Do I Watch The Dawn and
Consanguine To Understanding.
08 - Otherwise have you often played in your country?
We've had five gigs so far and four more to go before the end of
March.We totally love playing live and we are very energetic on
stage(you know headbanging,moving and jumping around and
other kind of fun things to do).Many people have said that we're a
great live band. Maybe we are 'cause suddenly everybody wants
us to play in gigs that they have arranged and of course we have
nothing against that. It also came by letters since we have become
more well known. we are beginning to get some money too,(for gas).
We are anxiously looking forward to playing live abroad !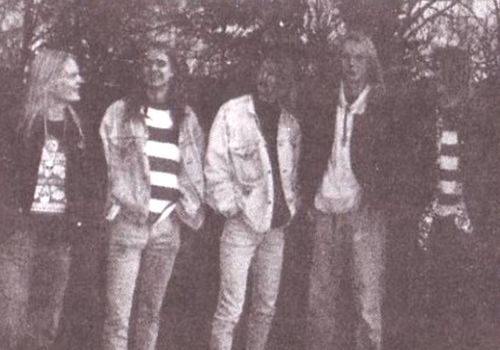 09 - Do you have some favourite movies?
As a matter a fact I don't have that much time to watch movies
because I've enough to do with band,letters,school (I'm on the
last grade and final exams are in March),girfriend ect...But when
I get hold of a good film I'll of course watch it and maybe copy it
to me also. My fave movies at the moment are : Silence Of The
Lambs,Nightbreed,The Fisher King, Misery and so on. I mostly
watch horror/gore films, but good humor/films like naked weapon
are also a must!!!!
10 - I would like to know if you have some good relationships with
other Finnish bands for instance CONVULSE,BEHERIT,
PURTENANCE,DEMIGOD,FUNEBRE ect...?
YES!I write with quite a many dudes on a Finnish scene.I think that
it's quite cool part of the underground scene(I mean letters writting).
Now I write (more or lessactively) with : Juha of PURTENANCE,
Janne of NECROPSY,Antti of DEMILICH,Sami of SENTENCED,
Jake of PESTICIDE,Tomi of DEPRESSION,Tuomo of MINDRIOT
and with lots of other cool guys.BEHERIT guys I don't know and
I've written once to Rami of CONVULSE…Also they played a gig
with us so I exchanged a couple of words with him.Anyway,
I think that we have quite good relations with other Finnish bands.
At least not anyone has said ' Fuck You'!to my face(about
backstabbers I don't know)


11 - What do you know about the French Death Metal scene?
Funny that you asked,because at the moment I'm quite familiar
with French Death Metal underground,as France seems to be
our greatest fan country.(Seriously,I'v received a ton of French
' Fan-mail') And I know some nice people over there that I lie to
say Hello to :Frank (METALORGIE),Laurent(PEARDROP Zine),
Damien(SEPULCHRAL),Fabrice(DAGON),Nicolas,
Yann(NECROBESTIALITY Zine),Frederic,Christian(ADIPOCERE
Records),Ludovic(SUPURATION) and of course you RONAN!!!
You rule!!!I think that we owe a lot to Herve of OSMOSE
Productions also 'cause he has sold our demos and also
promoted us in others ways.A BIG thanx to him!!!!!!!!!


12 - To side of that,do you like bands that play industrial music?
I like some of them,but not all are that good. My fave industrial
bandis DIATRIBE but also I like some stuff from NIZER EBB and
MINISTRY.I can't understand how some praise GODFLESH
since I can't find anything special fabout their music


13 - Well Karri,thanks a lot for your time and the interview.For
conclude I let you the last words and comments.
Well,thank you for interviewing me.It was quite entertaining to
answer your questions. Thanks again Ronan and good luck
with your 'Zine!!!! Now I have to take a little space from your " zine
and advertise our merchandise.Our 2nd demo is out in summer
'92 and we are doing it with DROWNED productions and also
a possible 7''ep with SLAUGHTER records is going to hit the market
as soon as possible.The deal is confirmed.Our first demo ' In Godly
Flesh ' is still available for 5$ or 20 fmk in Europe and 6$ elsewhere.
We have also brand new Tee-shirt and sweaters for sale.12$(Tee-shirt)
and 18$ (Sweater),but if you live overseas add 2$ for postage.Shirts
have a cool design by godly Luxi Lahtinen and they come in black or
white(white is clearer) sizes are L and XL.Now thanx to all readers
who have suffered though this interview and also BIG thanx to all of
those who have bought our demo!!!Hello to all friends!!!!!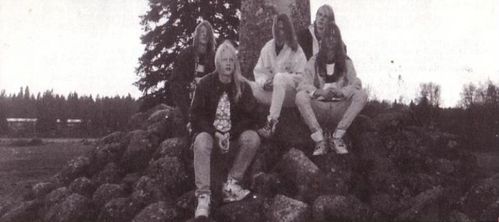 Interview : Kanz-Noz