9 mai 2012
3
09
/

05
/

mai
/

2012
21:50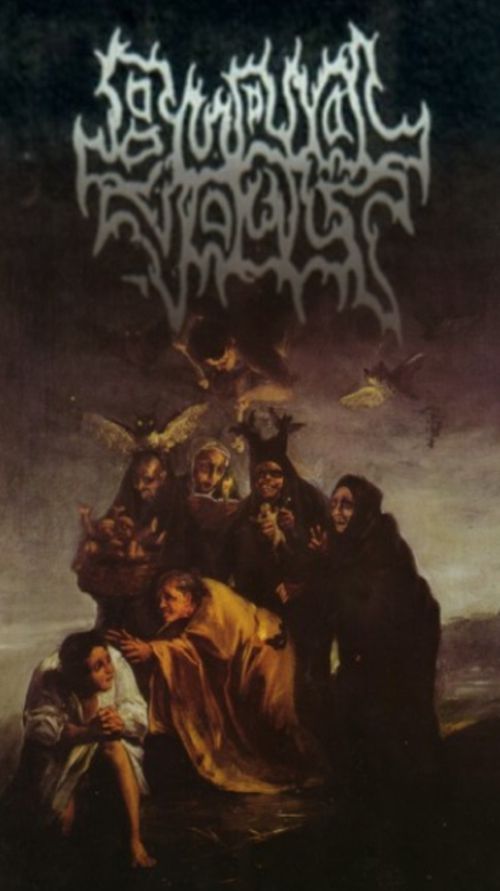 From the grave....beware of the awakening of the new gods : BURIAL
VAULT! A band still very young, already talented and most of all having
a huge,grip of darkness on brutality and an aggressive execution.
They have released two rehearsals in 1991,and the second one is
bloody killer!!!They are going to release their debut demo in december,
and i'm sure it will kick a lot of asses in France.Well Antoine(Vocals &
Guitarist) as well as Fred(Drummer) answered the following interview.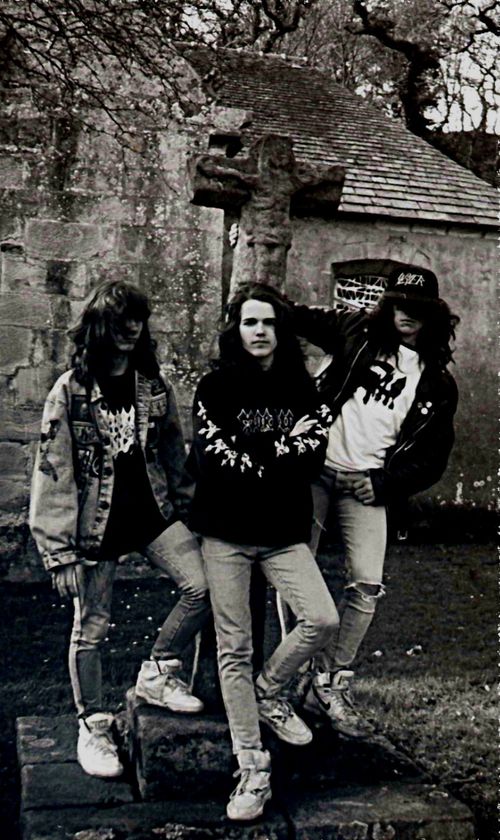 01 - Could you relate us the history of BRAINSTORM and BURIAL
VAULT?

Fred : As you can notice on the biography,BURIAL VAULT is
exactly one year old....It's true that before Antoine arrived,I was
rehearsing with Pascal(,Decomposed & later Occult guitarist) with
BRAINSTORM as patronymic, but we didn't do anything.

Antoine : It's quite natural!I had to be there to tied up this brother! haha!
No in fact it's because they hadn't got any good tracks...with BURIAL
VAULT.I composed them all.So after I joined them in October '90,we
released the rehearsal '91 in March and Pascal left for a job in Le Havre
.Laurent joined us in April/May after a short period while we recorded
the Promo-Tape (4 songs) on August 5th.Now Pascal is getting ready
to come back in BURIAL VAULT while continuing with OCCULT(godz!).
We will record the demo at the end of November.

02 - SAMAEL acquired a reputation with only two members.Will BURIAL
VAULT manage to do the same?

Fred : David,I can't answer you.But I think the bands with who we correspond
take us seriously like a ' whole ' band.The fact we are only 2 don't prevent us
from recording,but shows are impossible.

Antoine : Well,I think that our name,at least,starts to be known along the
underground of France,we haven't to complain.And now that we are again 3,
there aren't any problems for shows (organizers ' get in touch '!)!!!Having said
this,SAMAEL is a super band('they rule!!!)

03 - Which critics could you voice about the '91 rehearsal?

Fred : In the beginning,I was against that recording but under the pressure of
Antoine,we made it.So I think that you should ask only to him if he is
Satisfied or not to have released it.

Antoine : Well,ok!The sound is honest,the tracks are correctly executed
(no failings) the defects are in the voice....(I had caught a cold that day,
it's true!!!)the double bass drums are lacking. Of course the compositions
are not very good but for that time, it was decent.Now we are 10 times better,
but it's normal,it takes part of the evolution of the band and I don't repudiate
what we have done before.Furthermore this rehearsal has allowed us to get
well-known and get contacts.So even if it hasn't anything to do anymore with
what we are doing now, at the time it has been very usefull.And I precise we all
came to an agreement before recording it contrary to what Fred insinuates!

04 - Death Metal or Black Metal?

Antoine : Funny question! Well for the rehearsal,i'd say it's some
Thrash/Death.Now we are playing rather some melodious Death,Brutal and
very Powerful, even if I don't like labels because I think it restricts yourself as a
musician.We are going to evolve toward a style more personal and original
which will deliver us from every labels.


05 – The band SEPULCHRAL consider you as one of the 5 best French bands!
What do you think of that?

Fred : If we belong to the 5 best French bands, then SEPULCHRAL is surely the
first one!What they do is giant!

Antoine : The guys of SEPULCHRAL are very cool !!!And their music is demential!
It thoroughly kills!!!They belong to the best French bands juts like SUPURATION,
OCCULT,CATACOMB,BROKEN FEAR,PUTRID OFFAL and many more.

06 - Well which are for you the best underground bands currently?

Fred : On the undergrond side, Antoine is more connected than me.I like
HUMAN REMAINS,DAMNATORY,CATACOMB(Godz!!!),NOTHINGNESS
and SHUD....there are for sure other ones but i don't know them.

Antoine : Well GOREFEST is the best band if you consider them still as
underground.Otherwise on the foreign level I love DEMIGOD(Godz!!!),
CONVULSE,ACROSTICHON,MASTICATION,MACABRE END,ANGUISH,
THERION(their mini-lp kills!!!),EXMORTIS,VITAL REMAINS,PUTRID,
ROTTING CHRIST(argh!Godz!!!),SHUB NIGGURATH,MY DYING BRIDE,
SINISTER ect...and million others!!!In France,there is SUPURATION who
are not anymore underground because they are going soon to release an
album(just like MERCILESS),OCCULT and CATACOMB are the 2 bands
I prefer in the French underground scene with also BROKEN FEAR,
SEPULCHRAL,PUTRID OFFAL.But here there are many others! (Funny how
those guys don't even mention MUTILATED who are so much better than all that
stuff)


07 - Your music seems to be very influenced by INFERNAL MAJESTY!
Am i right?

Fred : INFERNAL MASJESTY??As for myself I don't know very much this
band,I think I have heard a few titles on radio only...

Antoine : I dare to say,you are right!!!Except that I compose and i have
never heard or listened to this band!!!!!! (???? Boy how can you say the
questioner is right when you've never heard the band !)

08 - When you enter a shop,do people mistrust you because of your long
hair?

Fred : Of course you are talking about Antoine,I got to say than even me,
I mistrust him when he comes to the rehearsal !!!!

Antoine : No,when I enter a shop,people aren't mistrust because I have
massacred them all before,which shows if they had the time,they would
be right...to mistrust...('do you understand?').

09 - What do you think of Satanism?

Fred : To me satanism doesn't belong to my way of thinking,it's true that I
have had overturned cross period,but it's more a look than a phylosophy.

Antoine : Thanks you to ask me this question!!!!!Thanx a lot!!!!! I insist
because I feel very concerned by everything about thinking,philosphy ect...
And for this question,I will be a bit longer.Well.....From our birth till death(and
maybe beyond...) we evolutate day after day,we are in fact a different person
at each minute of our existence.We take lessons of the past and each
minutes passing make us stronger.I developed one year ago a satanistic
text for the track ' Sacrificial Rites ',during one year, I learned a lot and read
a lot.My own ideas have developed and I acquired a lot of spirituality maturity.
I wrote this text during what was the childhood of my thinking.And in that
moment I wasn't giving importance to lyrics.Now everything has changed
and my texts have in my eyes as much importance as my music.
I developed a lyric concept,on my way to see life and world,through many
writers and poet,I discovered my way and my ideologic concept.My texts are
the reflections of my new personality.And you will see the sleeve of the demo
(Which is already finished) tells a lot and it's beautiful !!!The new lyrics talk
about different subjects like Schozophrenia,Madness in general,Suicide,the
necessity to stay alive,the human mediocrity,the hope to continue the travel
after life in a better universe,darkness and supernatural,the hole is battened
into some very dark and at the same time,poetic mood.But it's vain to explain
the inexplicable, buy our demo and read my texts...


10 - How did you like the ' Monsters Of Death ' tour?

Fred : IMMOLATION : mediocre (Ron : It's totally FAKE!!!Their fukking killer set
was better than everything!!!No Guys! I don't sell my Paradise Lost shirt!)Lack
of originality.
LOUDBLAST : Could have been fine without disturbance.
MORGOTH : Excellent!!!Better on concert than on LP.
MASSACRE : Super power but drums too high!

Antoine : IMMOLATION : Pretty GOOD!!!!They're playing like MASTERS!!!!
LOUDBLAST : Giant!!!The Godz!!!!
MORGOTH : Powerful,but I don't especially like this band.
MASSACRE : Banal (Ron : You're right !)

11 - When will we see BURIAL VAULT at the Monsters Of Death? haha!


Antoine : Well,this year!We were there!!!...but in the audience!Ah!you mean
to play?Well,it's simple as soon as the organizers stops to have prejudice
against underground French bands(FUCK that shit!!!)And now thanx a lot
to you David for this very cool interview.Our demo should be released in
December (So ' watch out ')?Thanx to you readers for reading this interview.
Read and get out of the mass to find the truth and your true way thinking,
don't forget that the spirit is superior of the body and keep hope.' Keep you
twisted mind and stay underground'.Bye!!!!


Interview Done By David Saber For Boiling Corpse Zine(R.I.P)