7 avril 2006
5
07
/

04
/

avril
/

2006
09:02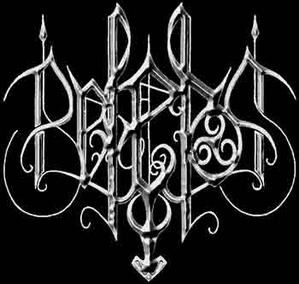 In the celt mythology,BELENOS was the god of the sun.The misty infamous places where resound the suffering of mortal souls,strange mysteries of a distant battle have a sound track:the celtic black metal hymns of the band.The storyteller of this horde was kind enough to invite me to the sacred hunt
01 - The beginning of Belenos discography was marked by the release of 3 demos.The first one'Notre amour eternel' was reissued by the italian label Polyphemus records.So,are you satisfied with their work?I think the mix is really bad!Do you know the others bands on this label such as Novembre, Sinoath most of them being italian bands?How did you manage to get this contact with foreign label?Why did not the label boss reissue 'Triste pensée' and 'Allegorie d'une souffrance' after 'Notre amour eternel'?
'Notre amour eternel' has been recorded and mixed on rudimentary equipement.Basically,the sound was raw on one hand,but far from.excellent on the other hand.Polyphenus didn't sort things out,they totally fell though the mastering by putting tons of bass and a dolby effect which obscured the whole preciseness of the sound.The sound of this demo has been remixed since then,it has nothing to do with what it was before,I guarantee you!On Polyphemus records,there were a few cool bands Novembre,Gospel of the horns,Sinoath, Lunatic gods,Nightsky best of and Asyndess.This label having gone bankrupt very soon after the very late release of 'Notre amour eternel',few bands could go on,only Novembre is now famous and signed on a big label.Speaking for myself and in spite of 3 years of complete uncertainly,.I consider myself Lucky, being signed on Sacral.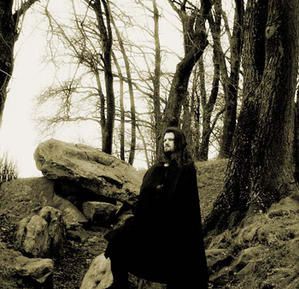 02 - On your first demo'Notre amour eternel',you had a different logo than on your other demos which were release at the same era.Could you give me some details about that?Don't you think that the cover as well as the compositions perfectly match the musical content of your demo,having sligt 'Burzumian' approach within your personal style?
The logo you talk about is in fact the very first Belenos ,let's admit it's real crap!The rest of the cover isn't really great but I have to say that at the time,I was more focused on the music itself than on anything around.
03 - I noticed several line-up changes since the inception of the band.Are you still in touch with some of your drummer partner of your evil brotherhood?Why did your drummer of the 'Errance oniriques'era wasn't there for the gig planned in Guidel(near Lorient-France)? In general terms,did you appreciate the mood of this evening as well as the bands who shared the bill?
Since Belenos is made of a genuine line-up,I indeed had to fine quite a lot of people,at least 10 persons.I kept a good relationship with some members,most notably with a former guitarist who even if he left the band,goes on co-writing some tracks,I see some 2 or 3 guys from. time to time,but that's it.I nevertheless showed up at Guidel gig where I sent an extraordinary evening,we were supposed to top the bill and for the footnotes of history,our drummer at the time,with no particular reason,refused to play a few day before the show,you can imagine my extreme confusion towards the breton audience then,to be there was the least I could do.It's the main reason which lead to fire him a few weeks later.
04 - When does Sacral schedule to re-release'Allerogorie d'une souffrance'and'Triste pensée'in digipack format?Are you satisfied with their imput in terms and distribution?Have you lent an ear on some other formations of their team?
As for the re-releases I shall deal with this later on in the interview.Sacral's work is satisfying,they process as craftsmen in the old school tradition where as a banal label world handle this simple firm only focused on profits.Concerning distribution and promotion,they're ok even if we would expect to be better,most notable abroad.I appreciate most of the bands they sign though I sometimes find some bands are not quite interesting for me.
05 - Belenos is the name of a gallic god in the Celt mythology.I noticed that you include the 'Triskell'as well as'Thor's hammer'in your logo:I therefore deduce that you're interested in ancient celtic and norse mythologies.Do you see some similarities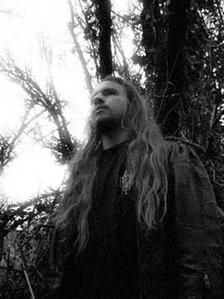 between them?What are your references in literature about these ancient cultures which were banished by chistianism?Do you agree with the disappearance of these pagan cultures to the detriment of a foreign and hypocrite religion like Christianism or others which are emerging?
The 'Thor's hammer' included in our logo was put there in a contradictory manner,I was often told this and I'm perfectly aware of that,I wasn't the one who drew the logo and I think that sooner or later,we shall modify this by replacing the hammer by another celt symbol.For the moment,nothing has been found,that's why we still use it in this form.There are few common points between these two cultures except the fact that they are both pagan people and warriors.Something which is often forgotten is that these people are seperated by roughly a millenium.It changes quite a lot of things.I won't be involved in controversy in christianism again.It is there since centuries not and less influent(Inquisition is far behind us)This religion undoubtedby wiped paganism away long ago,nevertheless paganism still lives in our memory,it marks the pride of a bygone and missed era.
06 - In the 'Spicilege' booklet,I saw mystical and legendary landscapes.Where do these pictures come from.?Do you get your inspiration from these 'sacred' places where the souls of our ancestors reign?
The oppressive beauty of nature is for us a good source of inspiration.We feel very close to nature and it surely motived us to play this kind of music more than nu-metal which has a more urbane inspiration.Most of the pics which illustrate the booklet have been shot in our era(North of France)There are notonly ignoble worker's housing estortes built onto factories.Inspiration in my lyrics come from.Britanny,which I admire in its entity.
07 - The lyrics are in harmony with your musical art.They reflect inner hate and feelings.Maybe human beings only care about material wealth and don't respect nature anymore.what do you think about this personal thought?What message did you want to convay by writing'Support war against stupidity'in your demo'Triste pensée'?
This message has to be scale it shall not be heard only by those who make us laugh with their eternal 'Hail Satan'or'Hail Hitler',this kind of stuff is valid when you're 16,it must not be taken too seriously.It goes for all the idiots of the world who ever they are.If everyone on this planet used their brain a bit,we would be the actors of a perfect world.

08 - Your musical art includes a few folk touches.Do you listen to this kind of music?Have you already been to a 'Fest-noz'?I think that the other influences of your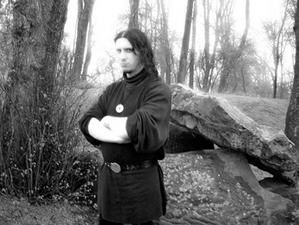 music are in the Scandinavian vein:Bathory in its viking era for the choir in unison and Enslaved for black vicking passages.Don't you think these two bands are song example as for the respect of Norse ancestral tradition as well as real 'Gods'in terms of souces of inspiration?


These two bands are indeed monuments,but mostly enclaves me because I discovered Bathory much later(Ron :shame on me!)As you said,you can make a comparison for the choirs in unison,but as far as music is concerned,some other bands did influence me, it may not be noticed initially they are Burzum, Darkthrone and Novembre.

09 - Are the sales of 'onirique'ans'Spicilege'in conformity with your hopes?Did you have some other propositions from foreign labels?


We don't any demands in termes of sales,it's more up to the label which sees the paying off its expenses he made some indoubtedly suceeded.Speaking about other labels the foreign ones show no interest to us and some French ones would like to have as their catalogue,that's what I know for the moment.

10 - Now,let me as you something about your projet Asyndness.These compositions date back from.'Notre amour eternel'era!How come that the album is re-released 8 years late?Does the writing come from your soul?How world you define the style of Asyndness?Is another album in preparation?

I have been composed between 1995 and 1997.For technical reasons,I had to wait until end of 1998 to record it,then I searched for labels that would be interested in it,it was unsucessful. In consequence to this situation I gave up the idea of being signed,it lasted several years!!Now,another problem is at hand:Asyndness is a signed at last but something is wrong in terms of band.I've been working for 2 years on a new album and very few things are concrete for the moment,I have recruited some musicians though,but their help has been almost non-existent.It may motivate me to do everything by myself,I suppose,as I've always done before.Up to half 2005,dont expect a thing from.Asyndness.

11 - Did you play gigs out of France? What are the memories you keep from your concert in Paris with Nehemah,Crystalium? Could you give me some small anecdotes?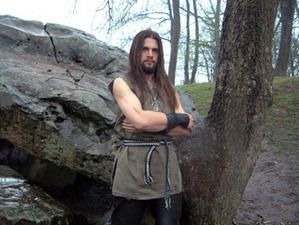 In 2001,we made a gig in Belgium which wasn't great.For the moment,every gig is played on the French territory.Progressively,our fame makes us have some propositions in Belgium,Germany and Switzerland,let's rememeber it's only the Beginning.As a way to wait f or more,playing approximatively 10 times a year is enough for us in France.The gig of the Nehema/Crystalium tour was nice,it was at the Loco in Paris,it's a well know venue and somehow a cult place for some.Unfortuately,on this particular day,there were very few people if you compare to gig in 2001 when we headline the Club Dunois which was packed with 350 people.'La loco'is a very good venue in terms of sound(audience and stage)and light show but something which impressed me is the insalubrity of the dressing rooms:they were smelly,dirty with mould here and there,here is for the anecdote.

12 - What is the program for Belenos for the end 2003 and 2004?How do you see the future of the band?

At the end of 2003,Sacral productions plan to release the long awaited double cd which will contain the first two recording of Belenos:'Notre amour eternel'(1996)and'Triste pensée'(1997),there will also be 2 bonus traks.The whole thing will be more or less remixed and remastered.The package will be a double digisleeve.A new tee-shirt will also be printed,it will be available in long sleeve,that wasn't the case for the 'Spicilege'one which is out of print since recently.In the meantime,were gigs to play as many gigs as we're proposed.By the way,I have my small preference:to play in Rennes with Enslaved.Roundabout spring 2004,we shall record the new album'Fureur celtique'which is nearly finished.To finish,I predict the release for the end of 2005 of a somehow unusual cd which will contain the tracks of the only demo which will not be re-released('Allegorie d'une souffrance')these tracks will be remade and re-recorded,there will probably be some unreleased tracks,maybe a cd rom track with gigs extracts and pics.All this will celebrate the 10 years anniversary of Belenos,it won't mark the end of the band because once this somber decade is though,my intention is to write 2 or 3 more album
Interview : Kanz-Noz
.