26 septembre 2008
5
26
/

09
/

septembre
/

2008
08:36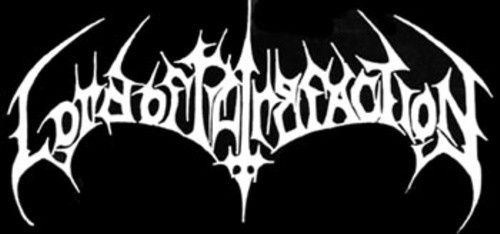 Cortège funebre LORD OF PUTREFACTION comes from a mazing and claustrophobic world at about fall of eighties absorbing subliminal spirals of a kingdom where masters Black Sabbath, Hellhammer and Winter slowly engulfed lascivious death tones bringing last breaths of despair and pain. Those english depressive spirits transcribed their own death metal movement on 'Necromantic' demo under the PUTREFACTION monicker, a name that muted to dementia for the next year in changing musical aspect under angles of nightmarish dimensions ringing the bells of repugnance with LORD OF PUTREFACTION. Without wait practices flooded tears of blood accomplished by the first rehearsal/demo waking up mourning souls at dawn. The mortification of flesh resounded through the fog upon the catacombs, at the surface, in a light of desolation begging for soul perdition with this blackest split-lp left an amertume taste. Abandoned to non-existence Dave and Justin came down to the abysses of tranquility and shows us first the confinements of a long work of no return done with coldest intentions on this purgatory chapter.


01 - Hello Dave! Can you first introduce the members of Lord Of Putrefaction please?

Dave : Yeah,there Justin the guitarist/vocals;Ad the second guitarist who makes the backing vocals , me on the bass,Greth on the drums and Jo the female vocals.


02 - Well,When you formed the band it was called Putrefaction while you changed name for Lord Of Putrefaction. Would it be possible that you retrace a brief history untill now.

Justin : Well,I have been doing death metal for about four years but the first real band was Putrefaction from Spring-Winter 1989.We recorded a demo callled ' Necromantic '.Anyway in the Summer of 1990 we formed Lord Of putrefaction which we attented to be as a doom/death metal band.After several line-up changes we recorded a demo and an split-lp.Anyway in January 1990 James left the band to pursue his own musical career.Now we have a new drummer called Greth.


03 - Before speaking about the famous demo, it would be necessary to tell the readers of Psychopathological Zine what are your main musical and lyrical influences who hides behind?

Justin : Musically our influences are ST Vitus,Cathedral,Celtic Frost(old),Winter,Black Sabbath, Candlemass(old) ect...My lyrical influences come from my own experiences such as hate,fear,guilt,depression,rejection, lonelyness,desolation ect...it is all very morbid stuff cos i am always depressed.

Dave : My musical inflluences are Winter,the old Celtic Frost,RDF,Funebre,Trouble,Xysma,Paradise Lost,Hawkwind,the old Pink Floyd,Blasphemy.Of course my fave kind of music is death metal.Lyrical influences are hate,depression ect....


04 - When I listened for the first time to the demo I was hypnotized about the musical construction emanating a bunch of deep emotions very close-minded such as darkness, grim, obscurity to bring out of doomish atmospheres seems strongly tear off, it turned my brain wrong, I would say a macabre music for close-minded so much the doomish atmospheres rising darkness, obscurity, grimness toward down of the abyss.The amplifiers of my stereo player were blowin' up due to a large listening number, in my own opinion I would classify this masterpiece demo of the year. So, how went the reponses ?

Dave : Yeahh Ronan!!! thank you very much for this nice compliment.We sold loads,really!!!We didn't do any flyers for it,so it was spread by word of mouthSeveral distro-labels are selling it,mainly overseas.And it seems to be trading well too.

05 - In fact for which main reason James, your first drummer left the band?

Dave : Because he wasn't interested by death metal music and did not learn correctly to play this style.Now he is in an other band and he is more happy.We are always good friends and we wish him good luck with his new band.


06 - So,i would be curious to know the newcomer.

Dave : he's called Greth and is one of the most brutal drummers on earth!!! He has much experience and is very cool.


07 - Well, you have recorded a split-lp with Mortal Remains(uk) lately also give us more details about it track by track.

Dave : We recorded our side during november 1990 in the same studio that Sabbat for recording of ' Dreamweaver .There four tracks on our side,' Descent ' is an instrumental track on introduction, ' Wings over a black funeral ' is an old track with a fast part, ' At the cemetery gates ' and ' Dark prayers ' show our new musical direction.Mortal Remains recorded on november too,they have four track on their side.It outta on my label in May.

08 - As far as I know you found a female vocalist since, not very usual nowadays. So,how is coming the idea to add her?

Dave : Yeahh,it's really original,we think that brings a new dimension to our music,it's more morbid with this haunting harmony.I notice with pleasure that Paradise Lost have a new singer vocalist too but Justin is the main member of band and play a prominent role in our music.I hope just that we will not be accused to have copied Paradise Lost because we have got this idea before the new Paradise Lost did not out.


09 - Otherwise did you already played some gigs on your aera or perhaps outside?

Justin : Yeahh,twice and they were both shit coz they were along time ago when we played fast and thrashy.Though the time you have read this we have done loads of gigs that's for sure.

Dave : I m working with erwin of Agathocles to work out a kind of tour in Holland,Belgium and perhaps France too!!! We are also working on a Scandinavian tour lately,let's see what happens.

10 - England staying a conservative country concerning the domain of monotheist religion going back to mist of time, I mean by this that you were under a christian doctrine...What do you think of that kind of pig religion?

Justin : I think it fuckin' sucks.Christians are narrow-minded fuckers, they make me sick!!! If they keep their opinions to their themselves but if they preach to me in the street.I wanna kill them.Look to yourself for salvation,not 2000 year old bullshit.

Dave : I "m not religious at all.But if some people want to belive in something they can,as long they keep their views and opinions for themselves.I feel satanism is equally as bad as christianity.They are both corrupt...believe in yourself,your music is your friends.


11 - How english metal scene goes?

Justin : Rather good as you know certain of the best bands in the world comes of United-Kingdom such Paradise Lost,Carcass,Cathedral...The bands the most underground are a bit amateurs but I think that the band of United-Kingdom are more original compared to this from U.S.A


12 - Well,any of you maintains nice relationships with other bands?

Justin : I'm friend with Cathedral,Decomposed(uk),Winter,Unholy(they are really originals),Phlegethon and many more...


13 - If I'm not mistaken one of you done a zine called ' Nuclear Gore ' ,right?

Justin : That's the zine that Dave done and it is bad hahaha no,no in fact it is great!!!!
Dave : Yeahh, it's my zine, the number 3 comes out. It contains the most power bands from death metal scene such as well as some hard core,doom,thrash bands.There's a glossy cover and it is written with typewriter and has nice photos.I do also distribution and of course my label.


14 - What do you know about France?

Dave : Perhaps no much that I should.The wine,the cheeze,the onions,the Eifel tower,the tour of France and traditional hats.

Justin : That's there come french people.

15 - What are the future plans then for Lord Of Putrefaction in the next months ?

Dave : To get the split-lp out,the Holland,Belgium tour,get a full-length deal or otherwise a new demo-tape.

Justin : More Morbid, more brutal!!!!We prepare a tour on Scandinavia for the end of year.


16 - Anything else to add to close the interview?

Justin : If someone has a video of old Celtic Frost or Hellhammer, please write me.Banned the bad death metal because that ruins the scene.The death metal is brutal,the sounding of basical guitars aren't brutal.So, its not death metal.

Dave : If someone want to contact the band,write us.Thank for interview.Good luck with your zine.

Thanks to Olivierdeath of Liquid Of Life 'Zine (R.I.P) For Help !



Interview : Kanz-Noz