2 septembre 2008
2
02
/

09
/

septembre
/

2008
19:22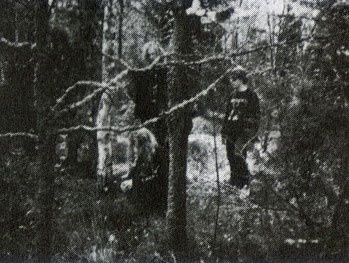 PAN-THY-MONIUM was one of the side project of Edge Of Sanity's frontman Dan Swano with other famous persons such as Benny Larsson drummer of Edge Of Sanity and Mourning of mighty Ophtalamia to which my curiosity awaken when I saw the flyer of the Demo circulating on a regular basis when trading & receiving interviews. The eulogious critics left by my beloved correspondents made me running fast to the post office of my village leaving in myself a rise of adrenalin because I was on a hurry like a kid to see it coming in my mailbox. Well I can say the wait was short, so the first note was a lethal dose paralysing my nervous system, dream became a nightmare due to the mystical atmospheres and majestic keyboards, witching guitars, pounding bass, aggressive warmachine drums thrashing mercilessly the conventional musical structures that we were accustomed to hear until now. PAN-THY-MONIUM far out the avantgardism degree and I'm definitely convinced that they're uncomprehended virtuoses again these days, an only look at their next releases made me think that they were a step ahead in their time, as unbelievable as it may be, they were never recognized for their titanesque works.Enough speaking, this mysterious formation is now revealed by the sexualmaniac Benny Larson with unbridled animal instinct



01 - To know better the beginning of Pan-thy-monium could you give us the real background please?

When we started Pan-thy-monium we only did it to have some fun and try to play different kind of death metal then our main band Edge Of Sanity does!So we made the songs to our ' Dawn ' demo and a a few rehearsals and thought it was ultra cool to play this kind of death metal.So we decided to continue to play.But Edge of Sanity is still our main band.

02 - What is the current line-up till' day for ignorant persons do not know you yet?

Day Disyira : bass/Keyboards,Mourning : guitard,Derelict : Vocals and me Winter : Drums

03 - What does Pan-thy-monium mean?Sorry, I haven't found anywhere the right traduction.

Pan-thy-monium means the place of all evil!!!But we haven't spelt the word correct.

04 - Well,' Dawn ' demo is finally to out thus do you are satisfied with the reponses as well as final result?

Yes,in fact I enjoy the demo very much,though it was almost two years ago we recorded it.Maybe it's the dark atmosphere that surrounds all songs that make it live.It's still one of my best recording.And the reponse we have got is very good so far.

05 - Your kinda music is really bizarre and strange as hell but quite amazing and original however I confess that your way writting is unhabitual compared with other swedish bands i am accustomed to heard so how can you describle your music?

Our music is easy described as psycadellic,progressive,evil and dead music!!!!

06 - What somber message this catch behind your lyrics and any the connection with the unreal atmospheres/sound holds a space important for you?

In the band the lyrics doesn't matter so much,it's the music that holds the message.Sound strange?Well,close your eyes,put out the lights,lay down and let your mind flow away.

07 - I would like to know the right bands list who influences you to create a music so original and it would be possible that you reveal me your personal faves bands?

The band influences must to be Bolt Thrower and Nocturnus!!!But by myself I listen to almost anything except hiphop.Well my personal fave bands are : Celtic Frost(Godz),Gorefest,Mortorhead,No Security,Agathocles and many more....

08 - Otherwise could i know if you playing already live on your erea ?

Sorry but the band don't play gig.The reason why is that we're still a project band so we don't rehearse so much.That's the best thing to do I think 'cause then you always have new ideas.

09 - Hey I remember very well you told me that you also played in Edge Of Sanity so i will be curious to know the future plans of band after ' Immortal Rehearsals ' demo?Did you got a deal for a full-lenght then?

Yes indeed!!!! I play in Edge Os Sanity.We have just finished the recording to our debutalbum on Black Mark Records.So look out forit,it will be out in March 15th.The title is ' Nothing But Death Remains '.So things are just fine with that band; weal so have done many gigs with bands as Entombed,Invocator,Disharmonic Orchestra,Skull ect....

10 - A personal question,what do you do beside music?Your main hobby.

Not so much , on fridays and saturdays I 'm usually drunk.Right now I don't have a job eitheir but that's good in one way because now I can do my mail in peace?I also play football?We have a hobby football team and we try to play football.

11 - Which is the most important in your life?Which ones keep your imagination still alive?

The most important thing is to make always the best in all the situations.My imagination os still alive thinking in how shitty country in Sweden and that one day in may be change.

12 - How did you see the death metal scene in a few years?

The death metal scene gets bigger everyday that's a fact!What I don't like is that the trend is now turning to the black metal and I don't like that/May all trends die!!!!

13 - Any you like evil long blond air swedish girls?

Swedish girls are quite nice,though all of them haven't long blond hair.Anyway it doesn't really matter how they look?Or? don't you have nice girls in France too? every girls in France (or elsewhere) send nude pictures to me!!!

14 - What do you think sincerely about my questions?

Your questions were kind of good apart from the gig question but it's not easy for you to know that we don't gig eitheir.You might have dripped the line-up quiz but I think it was an ok interview.

15 - What are the project for Pan-thy-monium on the next months ?

Right now it's to answer all my mail I got but later on it is to make a new,even darker demo.

16 - Alright Benny a little conclusion to close this interview.Cheers!!!

Thanx for the interview!Cheers to everyone.Take Care my friend.






Interview : Kanz-Noz