24 août 2008
7
24
/

08
/

août
/

2008
09:03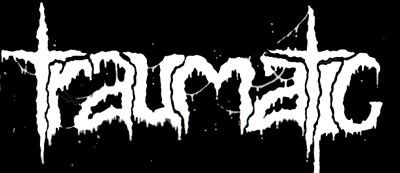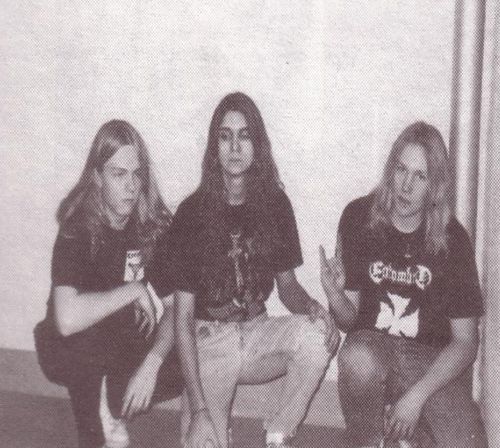 Necro swedish cannibal TRAUMATIC ripping flesh in excreted life and taking pleasure to splatter our baldness, the deathfeast when they released as well a pungent stench of fermented bleeding riffs remarkably executed on ' The Process Of Ranping a Racid Process' first demo also the malignant defecation contrasted a hardiess putrescence, smashing the listeners who absorbed the typical swedish sound, so far while TRAUMATIC felt the decomposition of reeking corpses in adopting another attitude far from what we were accustomed to hear, it was foreseeable due to their unslinging efforts that many labels contacted them to record a crude 7' thus Distorted Harmony Records bring out ' The Morbid Act Of a Sadistic Rape Incision ' mortified our genital tissue subjecting us a symphony of sickness.Orgy concerto flying in the butchery according to the guitarist Totte remained intreansigent to the fact that the Carcassian influence was sticking to their skin.


01 - Firstly to begin this interview can anyone retrace the creation of Traumatic for the readers of Pychopathological zine who do not know about you yet?

Well,we were formed in march 90 abd released our debut demo called ' The process of raping a rancid cadever ' in late october 1990.After a while we come in contact with Distorted Harmony Records and they released our 7' ep called ' The morbid act of a sadistic rape incision'.We have also been into the studio again to record our new song called ' A perfect night to masturbate ' This songs plus abd old one from ouur demo will soon be released as a 7" on a swedish label called BMR.And we have now finally found the fourth member that we have been searching after for a very long time.The new bassplayer is called Jocke and are also playing in a band called Funeral Feast!!!!We are now hoping that we can do a few more gigs that we have done so far.But we will see!!!By the way,the line-up is now:Larsson(18) vocals,Manuel(17) guitar,Jocke(18) bass and le Totte(17) on drums!That's it!!!

02 - Well,i would like to know,how do you describe your music?

Some people thinks that we are similar to Carcass and some others says Death.I don't think that both opinions are not correct!I think we have a quite original music style but it's still pure death metal!!!!yes!!!!What do you think!?!(Ron : Indeed i don't go contradict you that your musical style is original althought i feel Carcass influences)

03 - So,what are your main influences that inspired you to create such morbid atmosphere?

I think we don't have any influences,we only do the stuffs that sounds good to us.

04 - How many copies have you sold of the first demo so far?Are you still satisfied with it?

I'm sorry,i have stopped counted how many demos we have sold;but i guess that we have sold over 500 copies by now!!!I 'm still quite satisfied with it,even if there are a couple of shitty things about it.But you know it's our debut demo!!

05 - I think your gore lyrics are very much influenced by Carcass ,do you agree about that statement?

Yes our lyrics are quite Carcass influenced but not so much that people can call us Carcass rip-offs just because of that.There have been quite many that have accused us to be Carcass rip-offs and that's nonsense.Our music isn't a bit influenced by Carcass and we don't even play grind.As i said our lyrics is quite inspired by Carcass but you know it doesn't matter what you write about there have always been someone there before you who have written the some shit!!!

06 - Which songs got better reponses compared to the older ones and the newer ?

That's really varying.I have letters from people that likes our older songs more than the new songs but also the other way round.So it's very various but I most say that i prefer the new songs more than the old.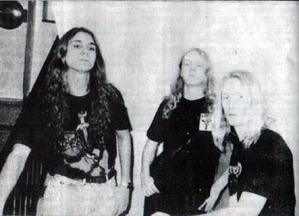 07 - Are you all happy to get a deal with Distorted Harmony Records?

I think they are ok!

08 - If I'm not mistaken you haven't ever played live yet when 'The Morbid act of a sadistic rape incision' 7' got out, for which main reason?

No we haven't played live yet because we have no bassist and only one guitarist.

09 - Do you write new stuff since this 7' has been released?

Yes as i mentioned before we have been into the studio lately to record our song ' A perfect night to masturbate '.But we are working on some new ones.

10 - To change topics what are your fave bands,mags and labels?

Fave bands:Black Sabbath,Abba,Rigor Mortis,Coroner,Fatal,Terrorizer,King Diamond,Macabre,Paradise Lost,Death,Bad Brains,Voivod,Battelion of saints,Bolt Thrower ect..Fave mags:Psychopathological Zine,Hymen,Slayer Mag,Brutal Mag.Fave labels:any!

11 - Do you hate some bands into underground scene ?

It's to mat to write down but if we are talking about underground bands then i hate those: rip off bands who's not answering their mail(Ron : fuck off to all these bastards!!!),Stevo of Toxaemia for being an asshole,faggot and a dickhead(Hehe Stevo i joke on you!)

12 - Sweden emerges a ton of many pretty nice blond girls,which is your impression about that?

Yeah we have but the situation to 99% is,have you seen one you have seen them all!!!Almost no girl is original.It's boring!!!It's also boring that almost no one of the girls like deathmetal.

13 - Would you like to play in France someday?

Yes of course,it would be great!!!

14 - Have you any plans for the future?

Play live and take it easy!

15 - Alright i wish you good luck with Traumatic,the last words being for u.Cheers!

Well,thanx a lot for the interest and support,i am sorry for my lame answers but i am so damm tired of all this writing.If anyone wants to buy our 7' then send 6$ to me!!!Thanx again and bye!!!

Special Thanks To Oliverdeath From Liquid Of Life Zine(R.I.P) For Help !!!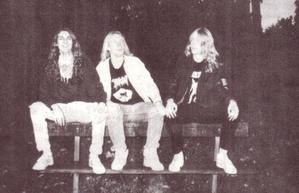 Interview : Kanz-Noz