8 août 2008
5
08
/

08
/

août
/

2008
11:44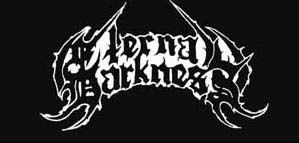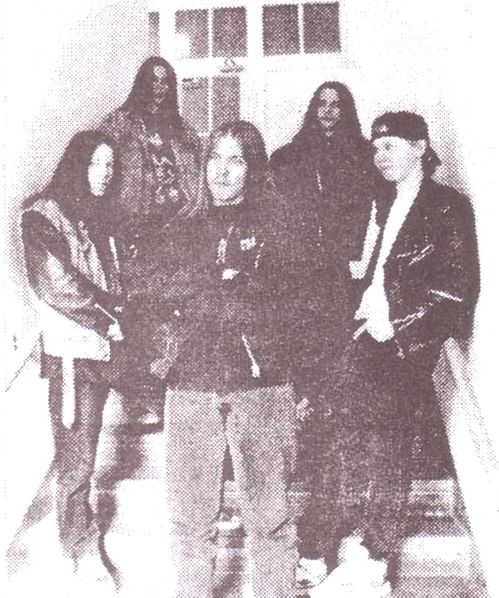 This was the case of the young high school students from Eternal Darkness who without any doubt horrified the population of Elskilstuna their home town in the first day of the year 1990 exposing rigorously a dark frenzy bursting paradise into flames in a suffocating atmosphere in the yard of which they dare musically to keep a distance from the Swedish tendency which was starting to lead into a sound in the style of Entombed.However, it was very important to across the rubicon.Such was the dark influence by Eternal Darkness in adopting a style extremely anchored in the macabre doom/death metal retracing the passage of English bands in their own way, making a sound in the feeling of melancholy of mixing wonderful melodies "shattering" the long and hopeless nights. All by letting distinguish 3 years of existence closing in the present time in passivity leaving aside the praising in order to vibrate our senses into madness. ..With firm attention I asked some questions to Make the drummer when the second demo " Suffering" was about to be released. Make being also the principal drummer of the occult black metal band The Black and keyboardist of the dark/ambient band Karjalan Sissit


01- Hello Make! Well, in the beginning I would like you to remind me of the background of Eternal Darkness.

Eternal Darkness started in the summer of the year 1990 under the name of Necropsy, as a death metal band. The line-up was: Janne Heikkinen (vocals), Tony Pietila (guitar), Jonas Strandell (guitar), Chister Burstsow (bass) and Make Pesonen (drums).We gave the bassist the sack because he was never motivated and he was replaced by Tero Viljanen.In April 1991 we recorded our first demo entitled "Ceremony of Doom" and after Jonas Strandelm left the band, he later joined Crypt of Kerberos. In June/July we found a new bassist named Jampa Kuurola and in August 1991 we recorded our second demo entitled "Suffering". Today the line-up is: Janne (vocals),Tony(guitar),Jampa(guitar),Tero(bass) and me in the drums. Our demos are sold out but we were at the studio Balsta in February and we recorded our 7'.It consists of two death metal songs, dark, macabre and slow. It has been released now, buy it because it's really super!!!

02 - So, how many copies have been created for the two demos and have your expectations been met?

Well, we have released only 200 copies of the "Ceremony of Doom" and it's already sold out but you can always obtain the demo "Suffering" from Osmose Productions. The demo "Suffering" has not sold more than 200 copies but we have created only 250 so I think it will soon be sold out. We don't want to create again more copies because we are not satisfied with these demos. It's better to buy our 7' because this is the best that Eternal Darkness have made and we are very satisfied with it
03 - So, how was the recording of the 7'?

The recording was really good, we had a better sound compared to that of the demos and it was recorded in 16 tracks. We recorded 3 doomed tracks (coming from the demo "Suffering")in a new version and one new track entitled "Psychopath". We recorded an old song from our first demo entitled "Ceremony of Doom", it's equally a new version and also a better one I think. This track will come out in a compilation lp/cd later this year.


04 - Could you reveal to me the name of the label from which it will be released?

It will be released from Distorted Harmony Records in April 1992.It will be a limited edition of 1000 copies. We will have 200 copies so you can order it from us or you can write directly to the label. The price is 6$.

05 - What are your lyrics about?

Our lyrics contain themes of gore and occult but they essentially talk about eternal obscurity!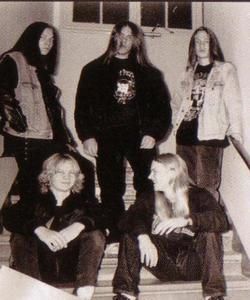 06 - Which bands have influenced you and which are your favourite bands now days?

Many people have said that we have been influenced by Paradise Lost (old) but I really don't know because we have always tried to play our own ideas!!! I have many favourite bands so it's really difficult to answer but I can always try. I am bored with bands that play fast death metal they sound all the same so it's not entertaining. I prefer the groups of doom metal like Cathedral (the demos, the first one, their maxi is equally super), Thergothon ("Fhtagn-nagh" and "Yog-Sothoth" demos) it's a Finnish doom metal band that play really slow doom metal (Ron : I knew that), Lord of Putrefaction (last demo and split LP), Rotting Christ (the mini lp, the single and the first full-length), The Grief Eternal (demo/cd), Necromantia(demo/split lp), Chorus of Ruin(demo),The Gathering(demo), God Macabre(demo and mini lp), Winter("Into Darkness" cd), Cabre(demo,mini lp) .These are my favourite ones in doom/death metal. I also listen to black metal like Samael ("Worship Him" lp) and Impaled Nazarene (demos, singles). Equally I listen to good heavy metal like Running Wild "Blazon Stone", Ozzy Osbourne "No Rest for the Wicked", Iron Maiden "Somewhere in Time" and the last one, Black Sabbath the old one with Ozzy only.


07 - Ok, I was wondering what was the main reason for choosing to play in such a slow tempo?

Why we have chosen to play so slow? Well, as I said before, we find boring all these fast death metal and grind bands so we decided to play slow death doom with brutal vocals! We aren't as slow as Winter or Thergothon are, but I think we are equally good!!!Slow parts with some fast parts, that's Eternal Darkness I think.

08 - To change the topic, what do you know about my country? .

Well, I was in Paris the previous summer, it's a beautiful city but there are many drug-addicts, tons of sex-shops and prostitutes!!!I looked for good record shops but I only found two or three and they sucked. The death metal scene is not very important in France, is it?(Ron : I m astonished that u know a few french death metal bands so i m sorry Massacra,Loudblast and Agressor being ever invited on studio TV yet ,anyway u are more addicted to french porn actress maybe seen the nice posters sticking on wall from your rehearsal room) I stayed for 7 days and I only found one death metal album, that of Carbonized. France is not a country for the death metal scene but there are many magnificent places there and the city is great!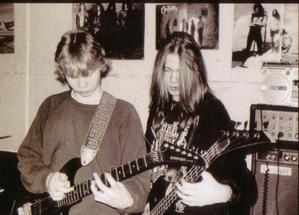 09 - I am curious to know about your plans after the release of the 7'?

Once the ep is sold out we will try to find a label for an album contract, we really hope we will be able to release an lp/cd in the beginning of 1993, we hate big labels, those of the underground are the best!!! We will see what will happen in the future. If we don't have a contract before the end of 1992, we will have to release a second ep.

10 - This interview comes to an end, I thank you for having sacrificed a part of your free time in order to answer my questions. Have you got anything else to add?

Thanks for this interview; it was really cool my friend!!!! Readers, buy our 7' from my address or from the label. The price is 6$(postage included)


.



.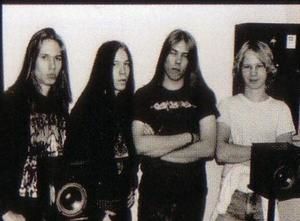 Interview : Kanz-Noz