1 août 2008
5
01
/

08
/

août
/

2008
08:04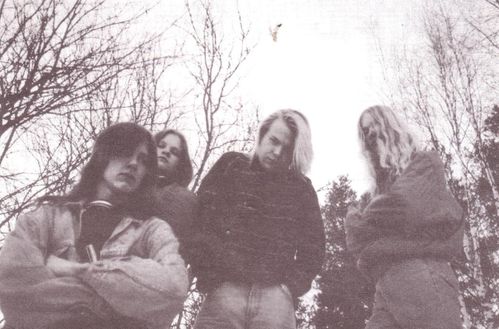 Another cult finnish death metal band was formed in autumn 1988 by Mikka Tenkula (vocals & guitar), Lari Kymanen (bass) and Tuure Helkkila (drums). At the time their name was Deformity, the compositions took the thrash metal direction, and played a few gigs without the help of a second guitarist. The line-up changed in spring 1989 when Sami Lopakka (guitar) and Vesa Renta (drums) joined the band, who then changed name for Sentenced: the time to play death metal had come. In november 1990 after countless hours of intensive rehearsing, they went into a recording studio for the first time and came out with 'When Death Join us', their first demo that got excellent reviews in the underground press. Ready to dare to experiment more, they reached the upper level with their second demo 'Rotting Ways To Misery', attracting more and more fans everyday until they finally got signed by french label Thrash Records (R.I.P.), then well-known for actively promoting the scandinavian death metal scene. This interview was made with Sami when they had just released their first demo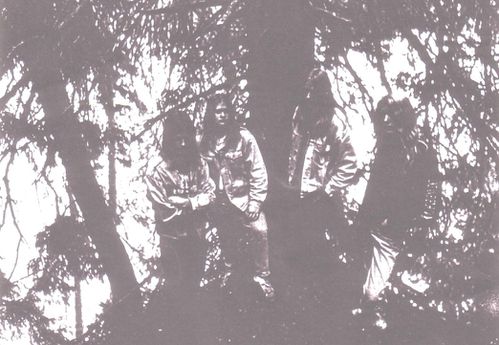 01 - Hello Sami! To start this interview I'd like to talk about your first killer demo, could you introduce it in details please?

Hail to you Ronan!!! Yeah we made our first demo in november 1990. It is titled 'When Death Join Us' and contains five tracks of aggressive death metal. We recorded it on 16 tracks in a professional studio and it has a good sound quality. Of course there are things we would have liked to change but I like it all the same. We will also record a new demo 'Rotting ways to misery' in june 1991, it will be even more brutal and aggressive I think!

02 - How is the demo received in the underground scene? Were the reactions good?

Yeah, reactions are great!!! The responses we got are very positive and it seems everybody like it. Several labels are interested too but we haven't signed yet so I don't want to tell more about it for the moment.

03 - Listening to the demo it seems to me that you are looking for a contract in the months to come, am I right?

Actually we don't, not with our first demo but who knows what will happen… We hope we will find a deal with our second demo.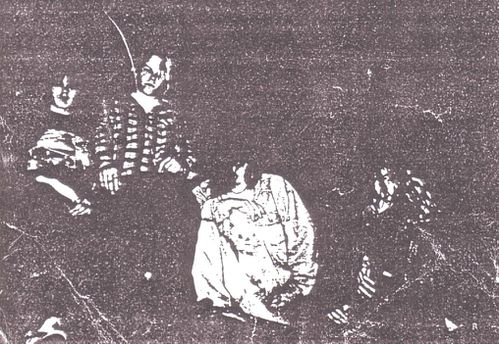 04 - It is pretty impressive to see how the finnish scene grows more and more everyday with the rise of all these talented death metal bands. What do you think about the developement of this kind of music? Give me the list of your favourite bands in that style please.

That's great!!! That pleases me very much to see that there are more and more death metal bands in Finland day after day. Here are my favourite finnish bands: Convulse, Demigod, Amorphis, Disgrace, Phlegethon.

05 - Do you often make live performances?

From time to time. We don't play gigs every week but when we find good bands to play with us, like Convulse, Demigod, Disgrace, Crematory and so on. I enjoy playing live when the audience is huge. I hope one day we will perform in France.

06 - A question I often ask in my interviews because I am a real music fan: in your opinion, what bands influenced you the most, and who are the best?

Our influences are: Death (old LPs), Morbid Angel, Entombed, Cadaver and Obituary. Other bands I like are: Incubus, Napalm Death, Afflicted, Carbonized, Morgoth, Deicide, Nocturnus and tons of others. We try to be as original as we can but you can never be too original because it is death metal.
07 - Now I'd like you to reveal the morbid depths of your lyrics.

Our lyrics tell mysterious and imaginary stories. Most of them deal with things such as the evil, death and the afterlife, fear and other stuff like that.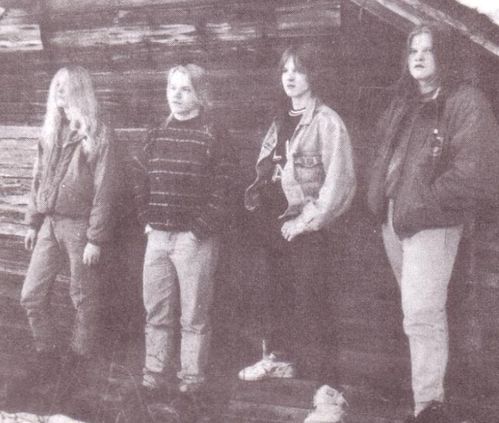 08 - What do you know about my dear country?

Unfortunately I don't know much about your country. I only know the Eiffel Tower, Paris, beautiful girls, you, Thrash Records, Putrefaction Records and I have heard about bands like Misanthrope, Merciless and Mortuary but I haven't listened to their music yet.

09 - May I spice this interview with a touch of humour: will you keep on listening to death metal when you are 60, hehe?

I doubt about it. When I am 60 there will only be the existence of a infinitely black universe without a sign of life.

10 - Judging from the macabre aspects of your compositions, are you the kind of guy interested in bestial and deviant 'trips', for instance wildly fucking a gorgeous slut on a grave?

Well, for me that sound is rather ordinary. I'd prefer something solemner like an impure relation in the mist of the ancient northern chambers.

11 - I am curious to know if you are interested in satanism/occultism?

I think these topics are fascinating but I can't say I am into that because I don't know much about. The people in bands shouldn't pose with satanism. In my opinion you really have to be familiar with it to say you are into it.

12 - By the way, what are your occupations besides music?

Me, Vesa and Mika are still in school and Vesa is on the dole. I spend most of my time listening to music and when I am inspired I sometimes write lyrics or draws pictures for the covers of fanzines or for other bands. But I don't get that inspiration that often.

13 - Do you have projects for the future?

To play as many gigs as possible and maybe record a vinyl album.

14 - Infinite thanks for having spent a part of your free time to answer this interview. Do you have something to add before leaving?

Thank you Ronan for this interview and for your interest in the band. Let the ancient wisdom talk to you and good luck. Readers, support us and buy our demos (5$ each). Rip-offs, don't write to us because we never give anything for free, OK? Hate!!!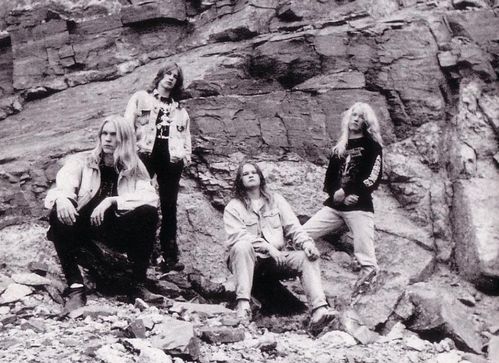 Interview : Kanz-Noz