12 juillet 2008
6
12
/

07
/

juillet
/

2008
18:31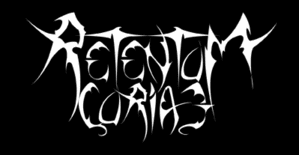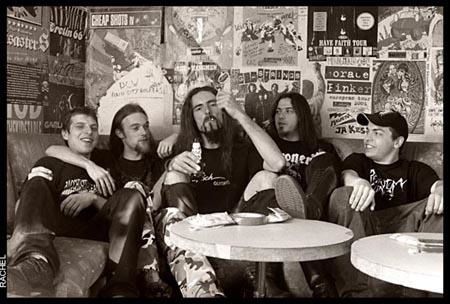 Breizh thrashers RETENTUM CURIAE, formed 2002 A.D., revived the great eighties era with their burning, aggressive and barbaric thrash metal, with the mystical topics that are common among black metal bands but rather unusual in their musical style. Since the demise of french thrash metal bands (who all blew up their amps as well as their furious crazy fans' eardrums) like Death Power, Asshole, Shud, Frayeur, Loudblast, Merciless... RETENTUM CURIAE embodied the rebellion.. against our rotten system, demonstrated at each of their gigs by powerful and breath taking adrenaline rushes. Among all of those so-called retro-thrash metal bands, I definitely put them at the top of the ladder for the very occult and personal feeling of their compositions standing far away from these fuckin' cliches and commercial bullshit we have heard (and unfortunately still hear) one thousand times before. They truly marked the ressurection of a forgotten style but unfortunately they don't exist any longer; however these unforgiven breton greats will forever remain in the memories of all the ones feeling nostalgia for a musical movement that will never die. At last I decided to interview these two old evil goats I know for a long time and with whom I had deadly boozy nights that sent me puking 'till dawn...
01 - What were the main reasons for the split of Retentum Curiae?

Pakal : I'd say the distance from the rehearsal place was the main. I was the only one to have a driving licence and my colleagues showed no sign of preparing the exam after four years, so I decided to stop working as a taxi driver for everyone! And my new house that is currently under construction will relocate me a bit further away so... there are times when you just have to make a choice.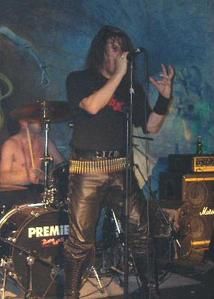 02 - Musicaly speaking, Retentum Curiae played old-school thrash metal with black metal vocals. Why deceiding for that kind of music in particular? What were the motivations to ressurect that musical style?

Pakal : For the simple reason that thrash metal is in my opinion the most fulfilling and interesting style of metal to play. For the motivations, there is not a particular one. I just played the music I liked without asking myself so many questions.
03 - Your first released material was a rehearsal session with 7 thrashing tracks. How long did it take to achieve these tracks? How was your work process like?

Pakal : Between the rehearsal and the first demo there was a gap of a few months. Actually we just recorded a rehearsal to hear how it sounded like. It allowed us to change what wasn't working and to improve the compositions. About our method for work, on the first demo I had already composed everything with my 4-track tape recorder, both guitar parts, bass, everything but drums. The other guys just had to play what I had written. Then a few songs were created during rehearsals (La Huitième Loge d'Hiram or Saturnus Heredis), Nico brought "Golem" which he had written at home and I brought "Lex Talionis".
04 - Some months later you made the advance promo demo 'Au Nom De La Bète' (In The Name Of The beast) which distribution was very restricted. Were you glad with the final mix of the first pressing? That demo resurfaced later with re-worked tracks and a new, more professional production, but limited to only 100 copies again. Don't you think it would have been more effective to press more copies to get known to a wider audience?

Pakal : We were glad with the result at the time. With the passing of time we realised the sound lacked range and power, which we tried to correct on the next one.
For the 100 copies pressing I thought it was far enough. They were hand-numbered, that made them collectibles. I know well that many people got them through peer-to-peer but I don't care!
05 - To talk about the cover of 'Au Nom De La Bète', the front picture comes from the 'Yeun Ellez',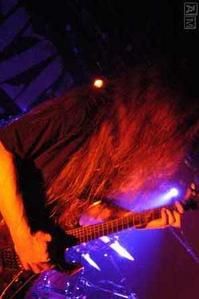 a strategic place at the heart of the Monts d'Arrées (mountains in Britanny), a wild land packed with old pagan gloomy legends... What symbolizes that mystical place in your celtic soul? Being a fervent connoisseur of the Monts d'Arrées, do you know uncommon places to visit? Why choosing that cover picture that isn't really adequate to the music atmosphere, I make reference to the tracks 'Barbe Bleue' (Blue Beard) and '666% Beer'?
Pakal : Actually the idea to use that picture came while reading a book about witchcraft in Britanny. It fitted the band's concept. The place in itself symbolizes nothing special to me. I visited the land and it is beautiful but that's all. 'Barbe Bleue' deals with Gilles de Ray so it is more or less witchcraft too. Well, it's true that '666% Beer' is a bit off context but that's pure fun to show we don't take ourselves too seriously about our lyrics and that it is just folklore!
06 - Pascal, could you tell me the meaning of 'Retentum Curiae'?

Pakal : That is a term from the inquisition. That was a sentence that consisted in secretly strangling the one condemned for witchcraft before burning him/her on the pyre. Of course he had to confess his sins before. That was very rarely done.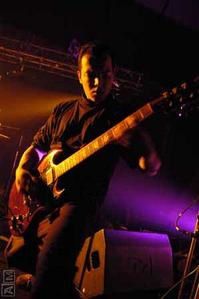 07 - The beast left his claw marks again in 2004 with the second demo 'Lex Talionis' released on the same base as the previous one, with a promo pressed before the final result. I had noticed an evolution in your writing style, with more brutality and musical skill. With the passing of time what do you think about it today?

Pakal : The tracks are clearly faster, more brutal and technical. The production is also clearly better. The track 'Le Sang de l'Innocence' was re-recorded for that release and the improvement is crystal clear. Having getting used to play together improved our synchronicity too. Our playing was more precise and you can hear it.
08 - Fred, the topics you deal with in your lyrics are related to the occult and influenced by great philosophers' works. From which books have you drawn the most of your inspiration?

Fred : Various books I find during personal researches. Anyway I don't have the pretention of being an eminent specialist in the field of occult sciences. My interest for that stays quite academic.
09 - I'd like to have your opinion about that new movement that seems to be all the rage these days, I mean that NS black metal wave; I'm asking you that because all of your gigs begun with an introduction of a track by MZ 412?
Pakal : We chose to use MZ 412 as an introduction to our gigs only because it sounded great and fitted our concept. I don't give a shit about politics in music. And about the NS black metal stuff, they just make me laugh. Black metal is SATAN and neither Hitler nor his philosophy. And for most of those bands this is just some cheap and easy provocation.

10 - I found very original but unusual that you sang in french. Did you want to keep your own identity? I remember many french heavy metal bands using that language in the 80's, but I'd like ot know what pushed you to sing in your native language? I suppose you were inspired by some singers...

Fred : Pakal had written the lyrics of the first RC songs in french, and when the time came to write lyrics for new songs I simply followed the path. It sounded pretty original to me regarding our style of music and as the band progressed, I added other languages that went along with the concept: latin, greek, yiddish...
Of course I was inspired by many singers, but strangely no one of them was a french: Mille Petrozza, Cronos, Quorthon, Dead, Tom G. Warrior...
11 - You have listened to metal for years. Tell me your 10 best albums from the 80's, the ones that are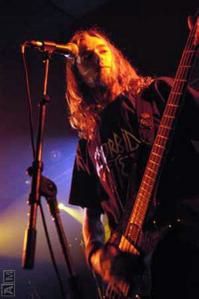 in your opinion essential in every pure fuckin' die-hard collection.
Fred : Rather 10 bands than 10 albums… Venom, Bathory, Celtic Frost/Hellhammer, Wasp, Kreator, Slayer, Mercyful Fate, Morbid Angel, Bulldozer, Motörhead and many other.

Pakal : The first three albums by Coroner, the two first by Forbidden, the first ones by Slayer, everything by Mekong Delta, the great 'Power and Pain' by Whiplash, the first Dead Brain Cells, the wonderful 'Neverending Destiny' by french Agressor and many other but well, we could write two pages about it!
12 - Retentum Curiae headlined a few gigs and opened for Impaled Nazarene, but you regularly played with hardcore bands. Were you well received by the audience during such gigs? Did you share the same state of mind? What memories do you keep of these intense evenings?

Pakal : We played with hardcore and punk bands indeed. It always went well, both with bands and audience. Punk rock bands have a total rock n' roll spirit: you come, you plug, you play. Nobody kicked a fuss for matters of sound, trigg or other futile things. Most of the time you play without a previous balance and it makes it the more powerful. Metallers should learn from that. My worst memories are about concerts with metal bands who spent hours for their balance and quibbled for bullshit!
13 - Pascal, to come back to your past musical experiences, your first band was Arkh'aam, who had dark and mystic influences... Personally, I thought your compositions with them sounded really new at the time, even avant-gardist. Please share the truth about their disppearance in the mist?

Pakal : I'd rather say that the Arkh'aam pupa turned into the Retentum Curiae butterfly! Many tracks came from that period. With Arkh'aam we moved toward thrashier compositions. I had recruited other members with Knarf with the aim to play on stage but differences of opinion lead us to disband. So I fired everybody and went on alone with my 4-track until I found adequate members to follow me in my project.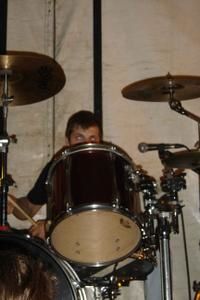 13 - Several years passed by before you formed Retentum Curiae. Why having radically changed your musical style? What happened in your mind during those dark years?

Pakal : My dear Ron you must have overused cocoa 'cause you ask me the same question two times in a row! Hahaha!!
Ron : Shit I hadn't noticed, I was probably still drunk from the eve. Old stinking goat, stop calling me by that silly nickname, you old bastard, I know this is very evil to drink cocoa before coffee for breakfast. I was the only one ot do so on that day, and I'll remember for a long time how everybody made fun of me with that stupid nickname, I guess it'll stick to me for long. Next time I'll drink a glass of whisky then puke on your glam rock vinyls, you fuckin' poser haha!
14 - Fred, how did you get in touch with Ancient Darkness Productions' boss? Had you already heard about his productions?

Fred : I had put tracks by RC to free download on P2P networks. Martin downloaded them randomly and liked them. He then contacted me to tell me he wanted to sign us for a 7" EP. But I had never heard about that label before.
15 - It has been a long time since the announcement of a split LP with David Lee Rot and a split CD with Autopsy Torment, supposely a single. I guess you've met some troubles in the making...

Pakal : At the beginning it should have been a 45rpm that finally turned into split LP and CD, LP with David Lee Rot and CD with Pagan Rites. The split LP has been recorded but I guess it will never see the light of day because the label went bankrupt recently. For the collectors who are interested in that, there exist 15 test pressing copies.
16 - Will we be graced to see R.C. on stage one day again ?

Pakal : I don't think so! Unless my mates finally take their responsabilities. Actually I think there are more probabilities for me to begin a new project!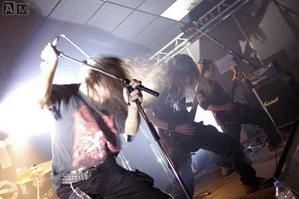 17 - Pakal, do you have a new project set for the future?
Pakal : Probably but not immediately! For the moment I build my house so I don't really have time for that. I sometimes play at home and I have enough material to make 6 or 7 tracks, but don't expect anything before 2 or 3 years!



18 - Fred, since the split of R.C. you formed a new band with Mathieu (former R.C. bassist) among others. Could you introduce it please?

Fred : I am not the one who has formed that new project and I have to say that for the moment I am not the most qualified one to talk about it. My personal and professional agendas don't leave me much time for it.
19 - I thank you for the time you spent answering my questions and reviving R.C. memory. If you have something to add to end this interview...

Pakal/Fred : Thanks to you for your support during all those years, and to all of those who bought our demos and came to see us on stage.
THRASH 'TILL DEATH !!!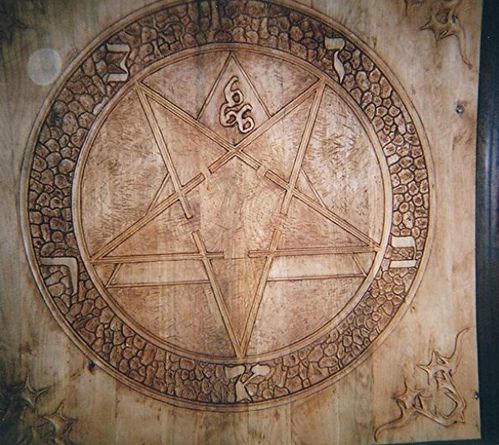 Interview : Kanz-Noz