8 juillet 2008
2
08
/

07
/

juillet
/

2008
17:22

Canadian nuclear black metal Blasphemy hailing from
Vancouver cityare a hellish piece of puzzle in darkest
history past and been the realpionnier war metal movement
which influenced a ton blasphemoushordes
around the world.First time when i bought 'Blood upon the altar'
demo i was strongly hypnotized by aggressivity and the
violence execution.Irreversible storm will continue
upon the sacrifice altar with ' Fallen angelof doom ' full lenght
captured raw metal,and problablyis a true masterpiece
in black metal undergound scene until my death.Sure,i recall
very well that my first attempt wasn't glorious to obtain a interview with them.So, i will send
request to Marco
(alias Traditional sodomizer of the goddess ofperversity)
which will accept immediately, after i receive with him much nice
praises coming from old interviews thus a osmose will rise
together. I very proud have these godz of apocalypse in
my pages,i would like to make a devilish hail
has Traditional as well as Black winds
to have answered very quickly...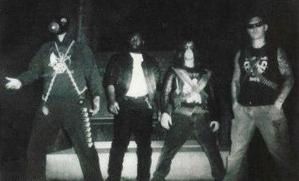 01 - Heilz fuckin' motherfucker from hell ! The horned goat prepare the sentence of death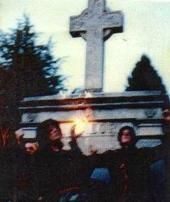 for the glory of the evil forces!!! Are you ready to receive the baptism of fire that will purify your damned soul?
AS ALWAYS
02 - Well, I'm gonna begin strongly this satanic ritual! My devilish mind is tormented since a long time because of the definition given to Blasphemy "Satanic skinhead", why? Because I remain quite confused about some details, for example Caller of the storms and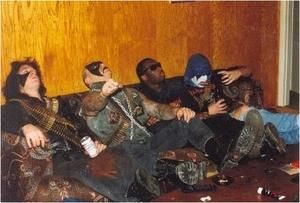 Sir noise terror (two of your fans on My space) are black! Black Heart has long hair and to finish the singer of Impiety who are parts of your personal contacts has muslim origins! Excuse me for my impertinence in regards to you but I have some difficulties to take you seriously when talking about your extremist thoughts! It's a real dilemma for me!!! I think some clear explanations would be welcome!
WE HAVE NEVER BEEN ASCOCIATED WITH RIGHT WING ATTITUDES THIS IS JUST WHAT PEOPLE ASSUME OUT OF IGNORANCE. WE SHAVE OUR HEADS FROM OUR YOUTH TO BECOME BLACK METAL SKINHEADS . POLITICS WE HAVE NO TIME FOR.WE ARE HERE TO DESTROY ANYTHING THAT STANDS IN OUR WAY, THAT WAS OUR WAR CRY FROM THOSE EARLY DAYS.
03 - The man who wrote the biography of Blasphemy on Metal-archives situate the creation of the band in the year 1984; In this period very few black metal bands were involved in the scene while heavy metal and thrash metal were atomizing the masses… What push you to play this kind of wild metal and to piss on the other musical styles? At this time you were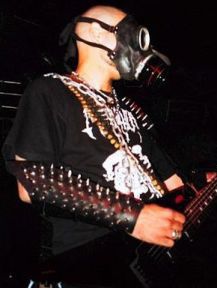 listening some punk bands like GBH, Discharge as well as other bands like Black Sabbath, Razor and Possessed! What would be your fuckin' regard on those 23 blasphemous years under the reign of perversity? As an observer, if I made an inference you were still fuckin' virgins but certainly already sexual maniacs, no? Ahah
SODOM AND BATHORY ARE OUR EARLIEST AND MOST INFLUENTIAL.ALL YOUNG MEN ARE SEXUAL MANIACS, IF NOT, GET HELP.
04 - Two crazy years separate your first rehearsal in 1986 (featuring some hellish covers like Slayer's "chemical warfare", Sodom's "blasphemer" and Bathory's "The return of darkness and evil")from your beginning! Was it important for you to play those mighty tracks before composing your own tracks or didn't have you found the path to joy! Lol! Was this tape passed around or was it reserved to your entourage?
NO THIS WAS NEVER RELEASED AND , PERHAPS JUST FROM EACH OTHER.
05 - In Anno 1989, the devil signs its mark: 5 bombastic hymns with a crushing production like hell, composed I assume some months before the release of your demo. Was it difficult for you to write these songs and what was the atmosphere during the working process? Ace Gestapo was still in the band but why he never wrote the music as well as the lyrics? What was its position in the band?
ACE GESTAPO WAS NEVER IN BLASPHEMY UNTIL 1993, HE WAS ONLY RECRUITED FOR A SHORT TIME.NEVER WROTE ANYSONGS AND IS NOT EVEN A PART OF BLACK METAL SKINHEADS .HE HAS NOT BEEN AROUND SINCE HIS SHORT STAY WITH BLASPHEMY.
06 - I've noticed that the members who formed Blasphemy were traditional sodomizer of the goddess of perversity, Ace Gestapo and Black priest of seven satanic ritual! But I read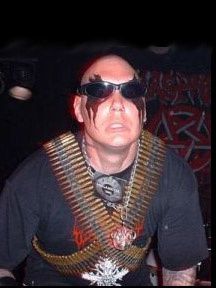 an interview of Nocturnal grave desecrator and Black winds who said that the band was formed by him and three black heart of damnation and impurity with the coming a bit later of Caller of the storms. Could you tell me the history of the band?
TRADITIONAL SODOMIZER DID NOT JOIN US TILL 1989.ACE GESTA[PO WAS ONLY IN 1993.BLAC PRIEST WAS AN ORIGINAL MEMBER AND SONG CONTRIBUTOR FROM84 TILL 89.
07 - The satanik orgy was commemored with « blood upon the altar » demo recorded on an infame nocturnal evening… Are you satisfied with the impact that this demo received? What was the budgect for the recording? How many days have you spent in the studio?
YES WE ARE SATISFIED.I BELIEVE 2 WEEKS IN STUDIO,
08 - I read that at this period 2 fan e-mail boxes already existed but you never accepted one! Maybe you wanted to have an official Blasphemy e-mail box and don't suffer of this competition that would have affected your notoriety!
THEY CAN RUN THE FAN SITES IF THEY WISH.
09 - A mini LP without title recorded around 1988/1989 and containing 5 war songs will be officially released through War command records with 3 bonus tracks taking from the demo "spiritis Satanist" with a huge delay. Why these songs didn't interest any labels at that time? I'm not 100% sure if this press was released before but there is a cd edition that also exist with a bonus live in Holland from 1993 called "the final Armageddon". Did you know the existence of this release? Are you into all these collector items that exist on the market?
THERE IS ALWAYS SO MUCH BOOTLEGS,RELEASES RE-RELEASES.TOO MUCH TO KEEP TRACK OF, WE HAVE MOST SENT TO US.SODOMIZER AND DEATHLORD HAVE EVERYTHING .
10 - Armageddon ravage everything on its way with « fallen angel of doom » full-length annihilation, extinction of the human race… A first gathering with Richard from Wild rags, nevertheless this perverse guy had a bad rip-off reputation like Seraphic decay and Lethal records. Tell me your own feelings about this recording as well as your signature on this American label!

WE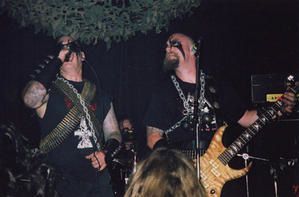 ARE SATISFIED WITH THE MARK WE HAVE LEFT. OUR STANDARD IS SET.
11 - The chaotic lyrics of Blasphemy take inspiration from the writings of Aleister Crowley, Anton LaVey, HP Lovecraft… based on ancestral occult rituals. So, do you know the 4 main elements of divination modes used since the 14th century by Cornelius Agrippa and others?
WE HAVE ALL THAT LITERATURE SO WE USED IT ALL.
12 - Blasphemy highly support nuclear. How about the gas masks that you wear on stage; Would it be a destructive message or in the contrary a warning against the world? Iran and North Corea hold this weapon and could I think use it at anytime . Do you think that these countries could trigger another world war?
THEY COULD ANYTIME THEY WANT, WHO HAS THE TIME TO GIVE A SHIT, WHEN AND IF SO BE IT.
13 - Black winds said in an interview on a Canadian fanzine that he wouln't be embarrassed to write political lyrics? So, what prevent you to treat this kind of subject?
JUST NEVER DID IT,SO IT NEVER HAPPENED.
14 - After the release of « fallen … » Mister Ludo Evil founded a Blasphemy and Sarcofago fan club, I remember that I bought a Blasphemy shirt from him with the same design than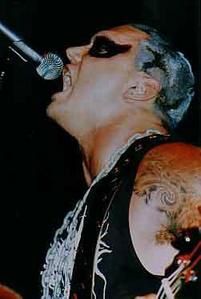 your official live but with a different logo. How did you enter in contact with him? What regard do you have on this merchandising?
EVIL LUDO IS A GOOD MAN, VERY TRUE TO THE OLD DAYS, ONE OF THE TRUE FANS FROM THOSE EARLY YEARS.WE WERE ALL IN CONTACT THROUGH TAPE TRADING BACK THEN
15 - Could you tell me what happened during these 3 long years that separate "fallen…" to "Gods of war" album?
JAIL,COURT,YOUTH DETENTION
16 - Osmose Productions has released « Gods of war » with a re-redition in digipack including the demo later. As you might know, many bands that signed on Osmose were very disappointed… I would like to know which budgect they offered to you? Are you satisfied with their work (promotion, distribution, royalties)?
THE RECORDING WAS O.K THE PACKAGE WAS A COMPLETE DISASTER AND 100% DIFFERENT FROM WHAT WE WANTED.
17 - « Gods of war » is a hellish combination of bestial black metal following the tradition of the mighty « fallen… » and played with such a fury that really blow my soul… How do you perceived it today?
IT IS FINE
18 - Evidently, the cover enclosed many dark messages… this concept is complex with an occult artwork giving a different aura… Could you explain to me the astrological and occult philosophy coming from these esoteric symbols dedicated to the goddess of death who spread terror through the cosmos? Among all these sciences exploiting on this cover, the combination of the final solution could develop the clairvoyance…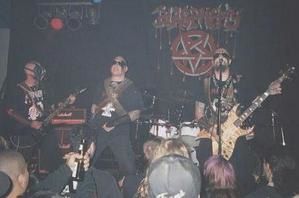 THE TITLE IS GODS OF WAR, THE SYMBOLS CORRELATE WELL.
19 - Since your demo you have changed your logo 3 times, I assume you took this decision together but this intrigue me!!!
MANY PEOPLE HAVE DONE ART FOR US, SO WE USED WHAT WE LIKED.
20 - During the year 1993, Osmose has organized a European tour under the name « Fuck the christ tour » with Rotting Christ, Immortal and you as the headliner. I was there at Gibus, I had strongly appreciated your performance… I was a bit schocked by your funny look : Black winds was wearing a blue tracksuite with a bumbag at his belt, Caller of the storms had sunglasses and 3 black heart had big glasses without forget the ridiculous make up of Black winds ahah! Personally, I think there was a lack of serious! Which memories do you keep of this tour? Was the osmose cordial between the bands? Who decided that you would be the headliner? Which band got the biggest success?
ALL BANDS DID WELL, ALL WERE TREATED THE SAME.DONT RECALL WHO DECIDED ON HEADLINER.
21 - The most extreme crowd was Freiburg in Germany, the fans mutilated themselves and bleed like hell during your show! How do you react to these beheaviours?
VIOLENCE AND MUTILATION IS A PART OF MOST BLASPHEMY SHOWS.
22 - Black wind, I have a question for you that will maybe make you a bit nervous, sorry man hehe. In the past, I've heard that you left the tour with Gorguts because of your addiction to drugs, were you dying for a hit? Do you think drugs correspond to the Black Metal ideology? Are you still addicted to these shits?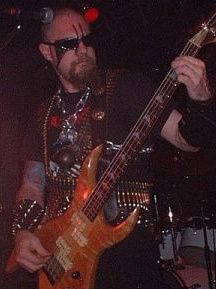 NO
23 - Your first gig will remain in the memories because in the end of the concert, there was a riot in the street! Was it due to outside elements or due to the sound power that you spread?
ALL OUR SHOWS WOULD END THIS WAY, THAT WAS WHY WE WERE ALWAYS BANNED FROM OUR OWN CITY.
24 - Talk to me about the talented artist Christophe Moyen who made several Blasphemy covers as well as for Beherit, Incantation … How did you enter in contact with him? Are you satisfied with his work?
EXCELLENT ARTIST, I BELIEVE HERVE GOT IN TOUCH WITH HIM BACK THEN.
25 - The lightning bolt felt on Blasphemy, the band split up after "Gods of war". What was the exact reason?
NOTHING REALLY.NEEDED TO TAKE CARE OF OTHER PERSONAL THINGS
26 - What have you done during this long period, musically and personally?
PRISON.COURT.
27 - 21st July 2000 will remain, I think, an unforgettable event in your mind. The war machine was back on the battlefield… Did you think about this reunion since a long time? In which circumstances the band reunited?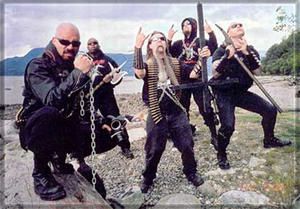 AFTER DEATHLORD OF CONQUEROR MOVED HERE FROM ROSS BAY WE DECIDED TO DO SHOWS AGAIN.
28 - Your first come back gig on July 2001 with Black Witchery has proved a big determination… Tell me the feelings between all of you during these dates ?
FIRE AND HELL IN OUR LUNGS AGAIN
29 - « Die hard rehearsal 2001 » is the bonus on « Live ritual Friday the 13th » but only on cd and not on vinyl. The bloody massacre…the return of the war…the motherfucker Blasphemy are back with force and stronger than ever imposing terrible suffering. Old hellish songs played with anger and hate under a devastating sound. It was time to play again these ancient hymns in order to show that the Canadian skinheads were still alive! Why don't we find any unrealeased tracks on this release? I've focused on the powerful production which is huge! What kind of material have you used and how many time have you spent on the studio?
THE REHEARSAL IS ON VINYL ENTITLED RETURN OF THE HOODED DEMONS.
30 - From beyond productions has released « Live ritual Fiday 13th" on cd and Nuclear War Now productions the vinyl version, another die-hard vinyl version has been unleashed through Lecter productions. What do you think about these pathetic editions? Why the rehearsal don't feature on the vinyl?
SO MANY WILL JUMP ON THE BAND WAGON WHILE THEY CAN.
31 - Nuclear War Now Productions had the chance to re-release "Fallen…" on vinyl and picture Lp that could have been seen as a way to make easy money and to satisfy these fuckin' present trendies that infest the movement with their musical taste devoted to the extreme musics (silly attitude!)! I'm saying by this that this fuckin' album was sold out for a long time and the prices on this Jewish egay site are really insane! Tell me your feelings about this!
NWN STILL WISHES TO RELEASE THE F.A.O. D. ON PICTURE DISC.ONE CAN SELL ANYTHING ON E BAY, IF YOU SELL IT AS KVLT BLACK METAL YOU CAN SELL ANYTHING FOR THOUSANDS.YOUNG KIDS WILL DO ANYTHING TO BELONG AND FEEL LIKE THEY OWN SOMETHING MORE THAN THE NEXT.ALL TEENAGERS ARE THIS WAY.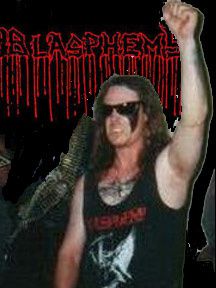 32 - Nowadays, there is a huge quantity of bands involved in this new "war metal" movement fighting against christianity… You remain the supreme elite for them… What's your opinion about these newcomers lauding destruction and extermination of feebles?

IF ITS GOOD THEN LET THEM IF NOT WHO CARES.
33 - Unfortunately Black priest left the band because of his girlfriend. I never understood the attitude of some musicians who have two facets that are not always compatible with the ideas and the extreme music played. Lots of this kind of people hide a certain frustration towards the fair sex, so many find refuge in the brutal musics that can be a good therapy… Do you think that sometimes girls can be heckler elements for the career of a band? Tell me if the positive elements towards your lady-love would be an outrage to the black metal, holding an inhuman soul?
BLACK PRIEST LEFT IN 89 BECAUSE AFTER HE ROBBED A GRAVE OF A SMALL CHILE HE WENT INSANE AND SAID HIS MIND WAS PLAGUED BY DEMONS.GIRLFRIEND, BAH! NEVER!
34 - About the labels that would be interested in signing you, osmose wouldn't be your outsider anymore… So would I have the honour to know which ones are your favourites ?
NO FAVOURITES
35 - All the members of Blasphemy are fuckin' sadistic perverse maniacs obsessed by the carnal pleasures under the desires of the torture implicating atrocious pain to the slaves. As a fiery worshipper of the Marquis de Sade, I would like to discover your most extravagant impulses that you have inflicted to some of your followers?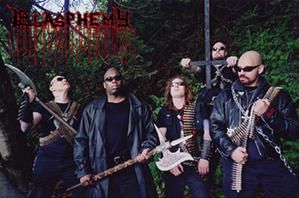 MANY THINGS HAVE HAPPENED OVER THE DECADES.
36 - I read in Franang Zine an interview of Belphegor. They said they have done a gang bang and that this will stay a good experience. Did you have the opportunity to see such an orgy once? (if yes I would like to know all the details aaarrghh)
IN THE MUSIC INDUSTRY THESE THINGS ARE NORMAL, ALL PART OF THE PROGRAM AND NO BIG DEAL FOR US ANYWAYS.MOST WOMEN IN THIS LIFESTYLE ARE WILLING TO DO ANYTHING.
37 - I hear that something happened in Wacken open air between Caller of the storms and KKK from Destroyer 666..
NO THAT WAS BETWEEN BESTAIL SAVIOUR AND KK AND THEY HAVE SINCE MADE UP.KK AND STORMS HAVE NEVER MET.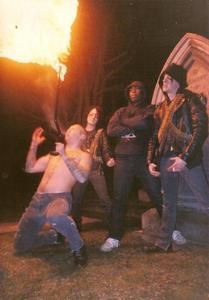 38 - Vancouver must be full of sex shops and fuckin' whores… So If one day I'll visit your fuckin' region, could you advice me on places where I could salve my libido?
WE HAVE A LARGE SEX TRADE BUT WEAK IN COMPARRISON TO PARTS OF EUROPE AND ASIA.
39 - Ok, this interview ends in the total decadence! Anyway I hope you spent a good moment in my company! Anything to add about the future plans for Blasphemy?
WE ARE AS WE HAVE ALWAYS BEEN, ROSS BAY CULT ETERNAL!BLACK METAL SKINHEADS,WE ARE BLASPHEMY.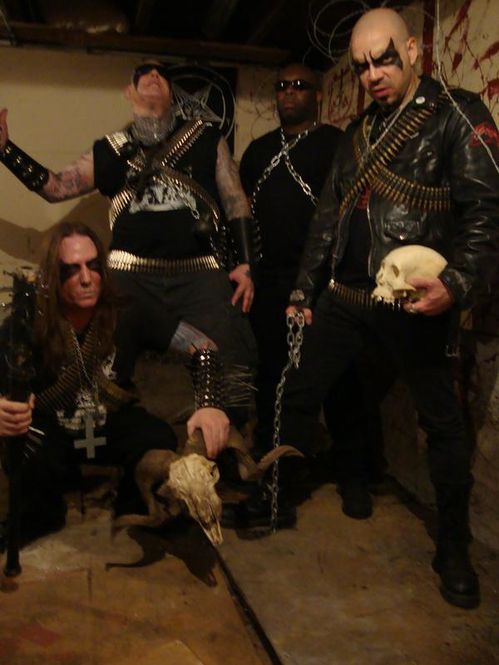 Interview : Kanz-Noz