28 novembre 2005
1
28
/

11
/

novembre
/

2005
15:07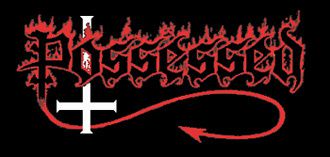 The gods POSSESSED will always remain in all minds as a true 80's reference. Their satanik death metal have proved a superior musical quality compared to the majority of the bands of this period.. Nowadays, many present black or death metal bands mention them as a main influence. Nevertheless, as a first hour fan, my dream comes true. With pleasure, I propose you a memorable tribute to the legendery compositions coming from San Francisco. The really likable Jeff had the kindness to answer my call.The gods POSSESSED will always remain in all minds as a true 80's reference. Their satanik death metal have proved a superior musical quality compared to the majority of the bands of this period.. Nowadays, many present black or death metal bands mention them as a main influence. Nevertheless, as a first hour fan, my dream comes true. With pleasure, I propose you a memorable tribute to the legendery compositions coming from San Francisco. The really likable Jeff had the kindness to answer my call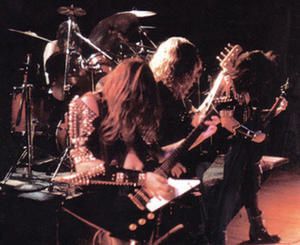 01 - All right Jeff, how are you and your family doing at the beginning of the new year 2004?
We are all great! Thanks for asking.
02 - Before I shall start the interview, I'd like to give you my most sincere thanx. I would never have imagined having a POSSESSED interview in my pages one day!!!
It is always a pleasure Ronan! I am just honored that people are still interested in Possessed's music and history. It's always amazing whenever people still show interest in my music. My music is very important to me and it makes me glad when people are still into it.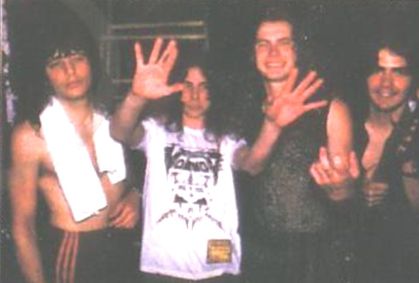 03 - Well, my first question follow: when you founded Possessed, you were all very young, I think! What was your aim through playing satanik death metal?
We were all pretty young(I was 15 years old). We set out to try and become the heaviest band ever. We definitely had to have heavy lyrics and we couldn't sing about flowers playing that fast..lol !
04 - You were a most surprising band as you got involved in the extreme metal scene when bay area thrash metal reigning. You appeared as really different from most other bands. Then, how were your extreme blasphemous horde received?
To tell you the truth not very well at first. But after a few shows we began to grow on people and people began to take us more seriously. The bay area has always been a tough crowd as it is so full of musicians and as we all know musicians can be extremely critical.
05 - One can say that'Seven chuches'was the milestone of death metal. Having all its ingredients and setting a sulphur mood unleashing the legion of hell. It's a pure masterpiece! Did you get good reviews? Can you give a precise amout of the album's sales?
Actually we did receive extremely good reviews to our surprise because in actuality we were really trying to offend people. I do not know precisely how many records were sold.. but it is safe to say,'a lot'!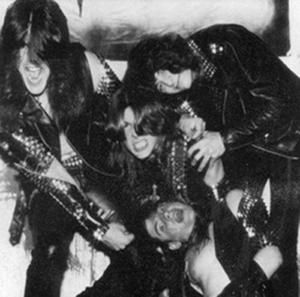 06 - The lyrics deal with themes relating directly to black magic and occultism. I don't want to be offensive but were your lyrics serious or just for fun, a bit like Venom's treatment of the whole thing? You must certainly have read both bibles, Satan's and the Holy one. What are your impressions about these books?
I have always cried out against the hypocrisies of chistianity and this was the perfect platform to express my unhappiness with chistianity. I believe that the christian devil is far worse than what the devil really is. From my experience, chistians can be far more evil than those who are not christian

07 - Do you still keep relations with the other members of the band? Sadly, Barry fisk who was part of the inception of the band died. Could you please tell us the reason of this tragedy? How would you analyse the musical involvement and compositional skill of your colleagues?
Barry killed himself because his girlfriend broke up with him. He was under a lot of stress from what I gather and just couldn't take it anymore. As far as the compositional skill of my colleagues I think that we were all completely different musically. Larry was really into all different types of music and very skilled. Mike torreo wrote most of the rhythms and was self taught. I came up from classical to rock to metal and Mike sus was really into jazz drumming and very skilled. Because of this we all contributed equally to our band and this came out through a distinctively unique sound.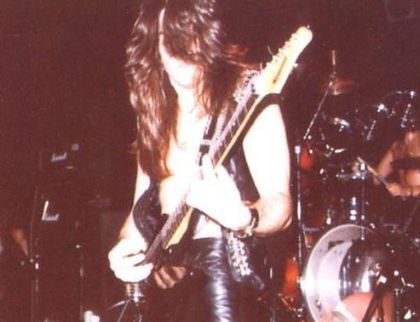 08 - The beast was striking again in'The eyes of horror'. This mini-album contained genuine satanik hymns with lots of feeling and technique.Your music reached the upper level. Do you agree on that with me? I feel that it got the attention of some magazines, am I right?
The eyes of horror did have many lyrics about Satan. Also the lyrics had a lot to do with drugs and insanity. Joe satriani produced this album at Fantasy studios and we got more of a commercial sound(if that is possible). Because of the catchier tunes this album was highly praised by the commercial media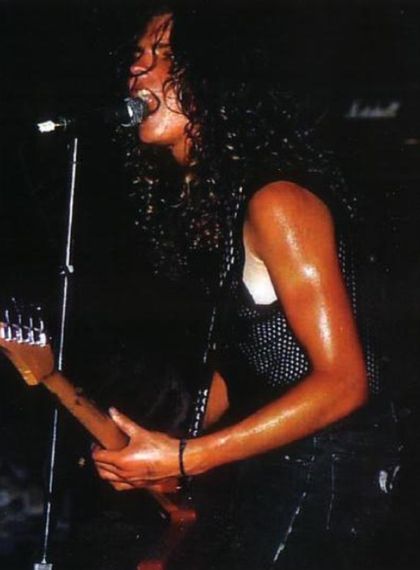 09 - Final damnation came'Beyond the gates', its bombastic cover perfectly matching the unhealthy quality of the musical content. What do you think of your ultimate black pearl? I noticed a tiny change in the production.
I think that some of our best work was done on this album.We rehearsed far longer before this album(more than the others put together). Although the final production was a bit thin but I believe that this was a great representation of what we could do

10 - I was miserable when I learned that you split up. Could you explain how it happened? Why did Mike torreo continue with his incarnation of Possessed without you, the frontman of the band? Do you appreciate the demos from 1991/92?

Well to tell you the truth we all needed a break at the time. We had been pressed to the limit and were having many internal problems. We should have worked through them with 20/20 hindsight but we just couldn't. Larry was going into Blind illusion and we just couldn't muster the energy to break in a new guitarist. It's a shame but as we all know..shit happens..lol !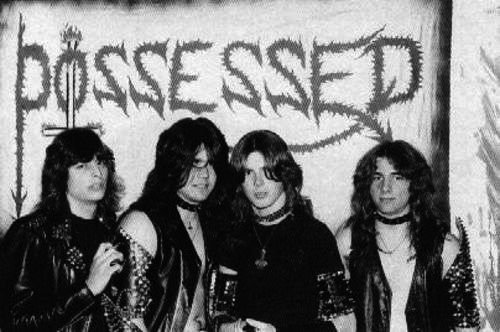 11 - Looking at the inner sleeve of''Beyond the gates' vinyl, it seemed you held a crazy maniac party with the member of Nasty savage and Tom of Celtic frost. Was there some kind of osmosis in the air?

That was from the Canada WWWIII show. It was a crazy night, Tom from.C.frost got in a fight with his 18 year old bass player and got kicked in the jaw, and he ended up doing the show with his jaw wired shut.The next day Nasty Ronnie had two naked chicks in his room. Me and Torreo partied all night. The gig was huge with tons of people there and it was covered by the local television station. It was definitely a night to remember!

12 - Possessed official website gives lots of info, most noticeably keep of your appearance at the legendary Aarschock festival. Do you still keep vivid memories of this? Could you give me the names of the bands who made the bangers ears bleed on that occasion?

Well, actually I can't LOL! If that was in Europe we were touring with Deathrow and Voivod. Maybe you can refresh my memory. Like I say these were crazy time!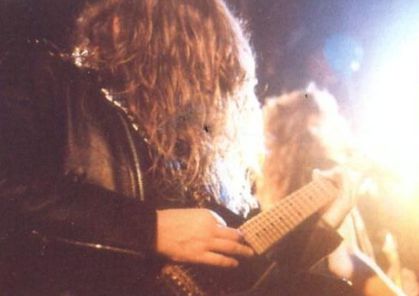 13 - The ghost of Possessed still lurks up on us through bootlegs such as'Live San franscisco83/San diego86', split with M.angel' etc. What is your opinion about this merciless commerce?

I love bootleg music!!! I say the commerce the better! We would have never been known if it wasn't for underground illegal trading.That is the essence of hardcore.

14 - Lately, Agonia records(pol) released a 300 copies limited picture disc vinyl collectible named 'Resurrection'. Is there record deal between you and them? May I have some clues about the 'Side effect' project?

I would call it more of an agreement. I am more about keeping our namesake alive for the future. We are planning on releasing some more tunes in the near future with Side effect so keep a good look out if you would.

15 - To finish it up in harmony, you did a guest spot on the Sadistic intent single'Morbid faith' for the cover of the immortal track'The exorcist', nostalgia prevail! Are you satisfied with this collaboration? A big thanks to you Jeff for your total devotion

Sadistic are simply great guys all around. It was an honour and privilege to jam with them as they are a total legend in their own right. I was happy to get back in the groove by jamming with them and it was an all night bash.Thank you Ronan for your kind words and for this cool-ass interview! Stay in touch. As always I would like to send my love to my wife Sheila, my son Jeffrey jr, and my new daughter Sonny. Stay metal forever!(Ron : I 'm touched by your nice word!!)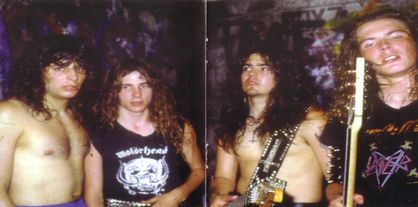 Interview : Kanz-Noz